Meghan Cook, PhD, is the Coordinator of Library Operations and Content Expert for the USF Geosciences Research Platform Team (RPT) at the USF Tampa Library—as well as the co-host of our podcast Calling: Earth. She is graduating this Spring with her PhD in Geology, specializing in Geoscience Education! Dr. Cook loves to spend time with her partner and three kids, and explore the outdoors by hiking.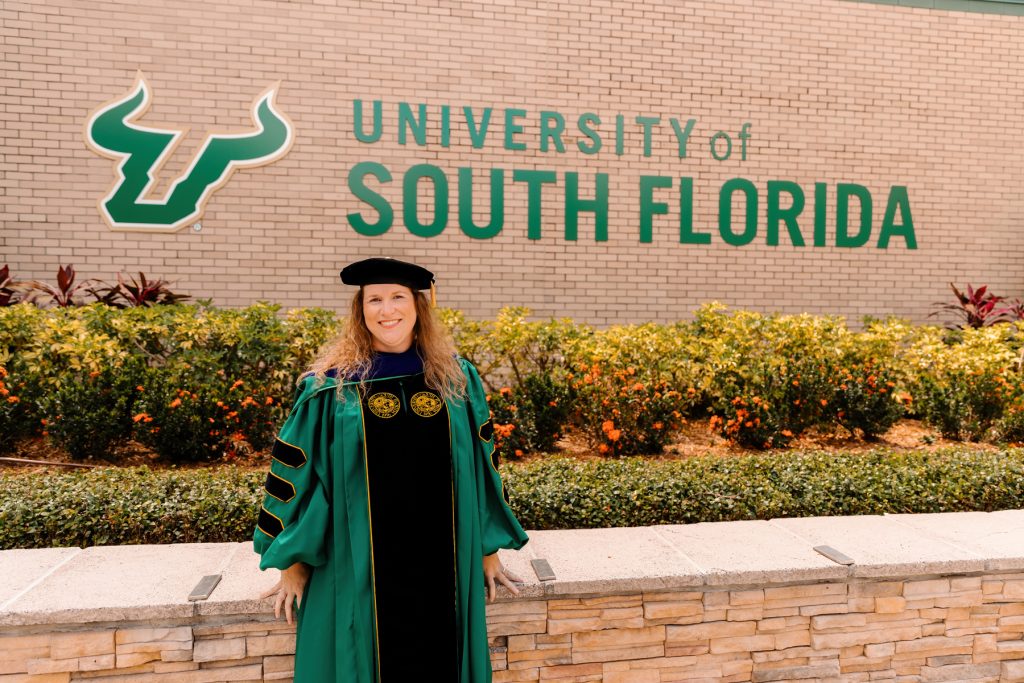 HOW HAS THE LIBRARY CONTRIBUTED TOWARD YOUR ACADEMIC GOALS?
Without the support from the Library, I would not have been able to complete my degree. I have a flexible schedule, which allowed me to time manage all the things I needed to accomplish to earn my degree.
HOW HAS WORKING AT THE LIBRARY AIDED IN YOUR CAREER GOALS?
I work in a transdisciplinary context so the addition of library and information science to my toolbox has only furthered my overall career goals.
WHAT ARE THE NEXT STEPS IN YOUR CAREER?
To officially start my MLIS degree in the  Fall 2021 semester, and to become faculty in the Library so I can do research and teach credit-bearing courses.
WHAT ADVICE WOULD YOU GIVE SOMEONE ON A SIMILAR PATH AS YOURS?
My path has been very unconventional so I am not sure anyone would follow my path, however, the advice I would give to someone who would like to take a similar path would be to make as many bridges with folks outside of your specific domain. You never know how your life will go, and the more people you know, the more opportunities you have available to you.
HOW HAS IT BEEN WORKING AND STUDYING DURING A PANDEMIC?
I had my third child during the pandemic and also completed my PhD all while working from home. It was difficult to say the least. But I had the support of my family and that allowed me to keep pushing and finally finish.
FACED WITH THESE CHALLENGES, HOW DID YOU BALANCE IT ALL?
I am not so sure I found a balance, but I got really good at multi-tasking (e.g., breastfeeding a baby while writing).
WHAT'S ONE SKILL OR FACT YOU LEARNED ABOUT YOURSELF OVER THE PAST YEAR OF THE PANDEMIC?
That I am really determined and stubborn, and will not give up. I also learned how much people mean to me and to appreciate the people in your life.
IF YOU WEREN'T SOCIAL-DISTANCING RIGHT NOW, WHAT WOULD YOU BE DOING?
I would be at Disney World celebrating my graduation with my family!
---
Congratulations on graduating, Dr. Cook! We are so proud! Thank you for your ongoing contributions to the USF Libraries and ensuring our students' and faculty's success. We're lucky to have you! GO BULLS! 🤘