As I begin my final year serving as Dean of the USF Libraries, I am feeling a little sentimental, reflective. When I began this journey in 2015, we had a long list of accomplishments that we hoped to log during my tenure – the "we" being a wonderful team of colleagues led by exceptional people committed to bringing the USF Libraries closer to eligibility for membership in the prestigious Association of Research Libraries (ARL). We made a plan and launched it immediately.
Nine years later, we are close, oh so close. Our focus on distinctive research collections sharpened and we made great strides in building out a series of truly innovative collection directions. These include the Florida Environment & Natural History collection, strong primary research materials supporting LGBTQ+ scholarship, digital heritage content, and much more. Our Research & Instruction team initiated a range of new services supporting research and learning across the curriculum. The Special Collections department hired its first two in what we hope to be a series of curators who will provide exceptional leadership in contextualizing the collections that they steward. The Digital Heritage Collections department was successful in being recognized as the Center for Digital Heritage & Geospatial Information, a state certified center that positions the library uniquely with the State University System. Today, each of our departments are healthy, robust, and capable of supporting the AAU member institution that USF became in 2023.
We experienced a major challenge in managing the Covid pandemic, one which demonstrated that our team's preparations for continuity of operations were exceptional and up to the task. Within 24 hours of receiving the instructions to close the libraries and shift to virtual operations we were fully functional, delivering all services and collections remotely and safely while the pandemic raged. With the exception of not being able to provide physical study spaces for our students, we delivered all the services that they needed to meet their educational goals. To see everyone pull together and make the plan work so quickly and effectively was a proud moment.
And, as if that were not enough, we underwent a "reconsolidation" process that reunited the "band" – the USF Tampa Library, the Nelson Poynter Memorial Library (St. Petersburg), and the Library Services at USF Sarasota-Manatee. Our experience was extremely positive, and we are all better for it.
As the time nears to move to my next assignment, we are working to finish "the list" of planned accomplishments. In the Spring semester we will be renovating the front entrance of the Tampa Library to improve usability and promote safety. We are deeply engaged in shifting the libraries from a long-standing incremental budget model to a Responsibility Centered Management (RCM) model. And the search for my successor will begin. So this semester will be hectic (as all are!), but the outcomes will be important to the USF Libraries' future!
Todd Chavez
Dean, USF Libraries
tchavez@usf.edu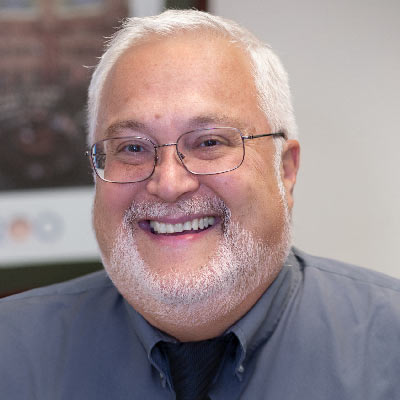 ---
Administrative Contacts
Terry Hutchings
Director for Library Initiatives
tdhutchi@usf.edu
| 813-974-4497
JoAnn DeLarm
Administrative Assistant
jdelarm@usf.edu
| 813-974-1909