Please join us in congratulating Meghan Cook, our Research Platform Team Geosciences subject expert, for being awarded the Iris Moreno Totten Geoscience Education Research Award! This award is given to geoscience education researchers who "investigate the ways in which people interact with, understand, and connect to Earth and Earth processes."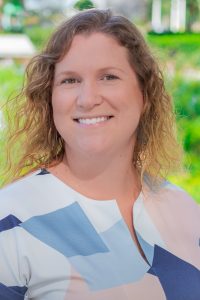 Meghan was chosen for this award after presenting at the annual meeting of the Geological Society of America. Her presentation, "Virtual Field Experience: Impact on Student Affective Domain," was taken from her dissertation research, where she interviewed students about their experience taking a virtual field trip that she created in association with USF's School of Geosciences and Advanced Visualization Center. Meghan's presentation was formally recognized as being of exceptional quality and moving the discipline of geoscience education forward.
Meghan is a Ph.D. candidate graduating this semester from the USF School of Geosciences, specializing in Geoscience Education, and has a Master's in Geology on igneous geochemistry and petrology. She loves teaching others about the Earth, and this award demonstrates her stellar ability to do so.
Congratulations Meghan!