Madison Veeneman is a Library Research Assistant (LRA) in the Library Student Success department at the USF Tampa Library. She is graduating this Spring with her Bachelor's in Sociology and English, Literary Studies, and will be starting her graduate degree in Sociology at USF in the Fall! She loves dancing, playing violin, going for daily walks, reading, or binge-watching a new show.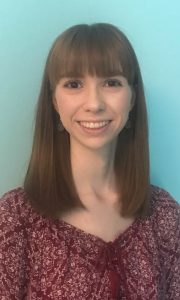 HOW HAS THE LIBRARY CONTRIBUTED TOWARD YOUR ACADEMIC GOALS?
I have relied on the library resources for every research paper and project I have worked on for both of my degrees and Honors College courses.
HOW HAS WORKING AT THE LIBRARY AIDED IN YOUR CAREER GOALS?
My career goal is to be an academic librarian, so working at the Library has provided excellent experience and knowledge about my future career. Talking to the librarians at USF has also been helpful in learning more about the job.
WHAT ARE THE NEXT STEPS IN YOUR CAREER?
I will begin the Sociology MA program at USF this Fall, and after earning that degree I will pursue a Master's in Library Science. My goal is to work as a subject liaison for the social sciences as an academic librarian.
WHAT ADVICE WOULD YOU GIVE SOMEONE ON A SIMILAR PATH AS YOURS?
If you are interested in library science, I would recommend working at the Library to see what reference work is like and if you enjoy it. I also highly recommend talking to as many people as you can about their careers. I have talked to all the librarians at USF and they have been amazing resources for learning more about the job!
WHAT HAVE YOU ENJOYED MOST ABOUT WORKING AT THE LIBRARY? WHAT WILL YOU MISS MOST?
I enjoy helping students with their research questions and teaching them skills that will aid them throughout their academic career.
HOW HAS IT BEEN WORKING AND STUDYING DURING A PANDEMIC?
My senior year has been entirely online, which was less than ideal since I have always preferred in-person classes. However, during the pandemic safety comes before anything else. To help feel more involved in online classes, I definitely recommend keeping your camera on during classes and being an active participant in discussions.
WHAT'S ONE SKILL OR FACT YOU LEARNED ABOUT YOURSELF OVER THE PAST YEAR OF THE PANDEMIC?
I have learned that I am more resilient than I knew.
IF YOU WEREN'T SOCIAL-DISTANCING RIGHT NOW, WHAT WOULD YOU BE DOING?
I would attend a play, dance performance, or concert at USF. I would also return to performing in dance and orchestra concerts myself. I miss live performances—both watching and participating!
---
Congratulations on graduating, Madison! And thank you for your ongoing contributions as an LRA. We look forward to continuing to work with you this summer, and wish you all the success as a continuing Bull. 🤘