The USF Libraries hosts millions of information resources, which include over two million volumes of print and e-books, over a thousand database subscriptions, and over two million digital images. The department who manages these numerous resources is Collections & Discovery (C&D). Not only do they acquire, organize, and maintain our collections, but ensure that they're balanced, secure, discoverable, and accessible. Their efforts support USF research, teaching, and learning – allowing our students and faculty to explore materials from around the world.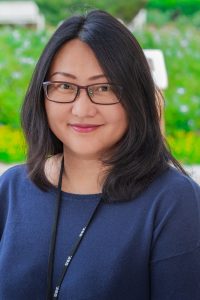 As C&D's new metadata analyst, Ling He processes data for e-books at the Libraries. E-books are electronic books, and the USF Libraries have thousands of them accessible to users that cover a variety of disciplines. Ling is currently working with her colleagues on building an efficient data management system for these e-books.
Ling received her PhD and Master of Science in Management Information Systems from the University of Florida, and Bachelor of Science in Economics. She wanted to pursue a library career for the academic environment.
Ling grew up in Beijing, China, and moved to the United States to further her studies. She moved to the Tampa Bay area for family, and enjoys traveling, food, and movies. Her favorite book is Pride and Prejudice by Jane Austin.
Ling's office is located on the 6th floor, #627, and you can reach her at hel1@usf.edu and 813-974-6278.
Please join us in congratulating and welcoming Ling to the USF Libraries!