In the USF Tampa Library, we have a team of hardworking human resources staff that are integral to our Libraries' success. They post job opportunities, recruiting and onboarding talent, as well as manage our benefits programming, employee performance, and our lovely student employees. The newest edition to the HR team, Joyce Sams, offers a helpful and friendly face as the new staff assistant.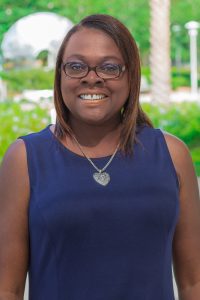 Joyce started on June 3rd, and has been attending online and classroom trainings to learn the dynamic elements to her new position. She shares, "Learning and using the skills for position competency has been a process that's allowed me to enjoy new ways to accomplish things and assist our employees." She's also been working heavily on employee payroll and recruiting for the current open positions at the Tampa Library.
Joyce is a USF alum, and has a Bachelor of Arts in Interdisciplinary Social Science. "I liked that the degree gave me insight on several disciplined social areas in which I could work," she shares. Her time studying in the library also proved to assist in her professional endeavors. "It was a nice place to study and do research, and I thought, it would be a nice place to work as well!" She enjoys being back on campus, especially in the Library, and shares that the environment is her favorite part of the job – "Completely different, and somewhat surprising, from my student experience."
Joyce was born and raised in Florida, and grew up just over the bay in Safety Harbor. She enjoys singing contemporary gospel, like Kirk Franklin and Tye Tribbett, along with R&B, like Rihanna and Mary J Blige. She loves watching movies, and her favorites include War Room and Breakthrough. "I guess you can say I like to pay to go to the movies and cry through them!" she laughs. Her most recent read was Becoming, the memoir by U.S. first lady Michelle Obama. She also regularly brushes up on her sign language skills. She shares, "I have a deaf sister that I only see every once in a while, since we are adults who live in different cities. But growing up, I was her interpreter whenever she needed one, for appointments, events, etc. I helped her understand, and not be so isolated about what was being said and going on outside of the deaf community."
Joyce is looking forward to learning all she can here at the Libraries, adding newly learned skills to her existing, and assisting the HR department and Library employees. We're thrilled to have Joyce here, and look forward to her contributions to the Libraries as a whole.
Joyce's office is located on the 6th floor of the Tampa Library, Lib 627, and you can reach her at jsams2@usf.edu and 813-974-4328.
Please join us in congratulating and welcoming Joyce to the USF Libraries!