The Library Services Desk is the face of the Tampa Library, the first floor one-stop-shop offering a welcoming environment for every patron throughout the day and night. From checking out materials to providing reference assistance to supervising our student employees, the Services Desk's primary goal is to aid and support student success and our staff, faculty, and community. As the new Library Operations Supervisor, Jeff Hadsock is excited to make the library an enjoyable place to visit and work.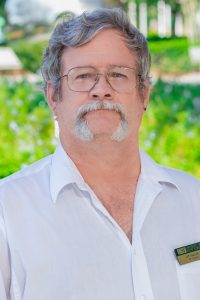 "The library is more than just working with books; it is a microcosm of society. It offers me the opportunity to help others and interact with a large number of people. It also provides me the opportunity to help others who might need assistance in life," Jeff shares.
Jeff will be supervising and training student employees, assisting with management of the supply budget, and will begin to take on more departmental responsibilities as needs arise. Jeff earned his Bachelor of Arts in English, specifically Creative Writing, and is currently working on his Master of Science in Intelligence Studies with a focus on Strategic Intelligence – both degrees from USF. Jeff was born in St. Petersburg, Florida, and has lived all over, in Tampa, Gainesville, Lake Butler, Bell, and Macclenny, Florida; as well as Hamilton, Winfield and Fayette, Alabama.
"I joined the United States Air Force at 17 years old, and I continued to grow up around the world. I spent 22 years, 1 month, and 1 day in the United States Air Force before I retired, and was able to visit a lot of countries and learn about many cultures," Jeff shares.
When Jeff retired from the United States Air Force, his wife encouraged him to finish his career back in Tampa, where he was born and adopted. His daughter was already enrolled at USF too, and she informed her dad that USF had the degree program he wanted to pursue for his Bachelor's. "I enjoy writing poetry, short stories, and novels," Jeff shares.
Jeff also enjoys reading works by his favorite authors, Andre Norton and David Eddings. His two all-time favorites are Witch World by Andre Norton and The Belgariad by David Eddings, a five-book fantasy series. He also enjoys painting pewter figurines of science fiction and science fantasy characters and creatures. "I am a D&D nerd from the late 70s," he says.
Jeff started with us on April 19th, and is currently working on a manual to assist new Library staff with the multiple tasks they accomplish as Services Desk personnel. You can usually find him behind the desk on the 1st floor assisting students, and you can reach him at jhadsock@usf.edu and 813 974-1610.
Please welcome Jeff to the USF Libraries!