Reading Time:
3
minutes
Stephanie Mackin is the Stacks Supervisor at the USF Tampa Library. She is graduating this spring with her Master of Library and Information Sciences (MLIS). Outside of work and studying, Stephanie watches a lot of movies, plays video games, visits museums, and loves to explore new places, domestically and internationally—and, as she shares, "I suppose the usual librarian things like read, research, and drink coffee and tea."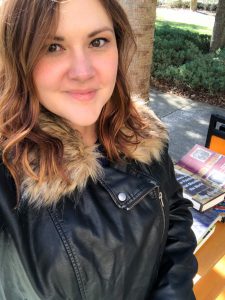 How has the Library contributed toward your academic goals?
The resources that the library provides have greatly contributed towards my academic goals. I was able to save so much money due to most of my textbooks being available, digitally, through the library. If we did not own it, then the library's interlibrary loan service was able to retrieve from another library for me to utilize.
How has working at the Library aided in your career goals?
Working at the library has been the reason why I was finally able to obtain my MLIS due to the employee tuition program. I have worked in libraries for over 10 years, but could never afford the tuition required for a graduate degree. The library has given me the opportunity to obtain that degree in order to move forward, professionally.
What are the next steps in your career?
My main focus in the MLIS program was in Archives and Records Management, so I hope to continue that pursuit and find a position in an archival or special collections library.
What advice would you give someone on a similar path as yours?
My best advice would be to get library related field experience any way you can. Apply for a job, volunteer, work study, internships, etc. A degree is important in this field, but experience is just as valuable and necessary to land that dream position. If you can do them simultaneously, then you will be better prepared, professionally, when you graduate.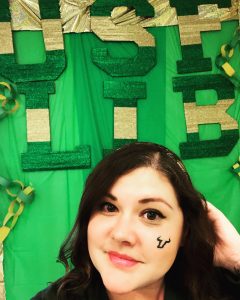 What is one skill or fact you learned about yourself over the past year/through the pandemic?
I learned that I am not as introverted as I have always claimed to be. For the first couple months of the pandemic, I worked remotely and it really started to effect my mental health by not having any in-person interaction and by not being able to go anywhere outside of my apartment. When the opportunity arrived to go back to work in person and to participate out in the world again, safely, I jumped at it.
What has been most exciting to get back to now that things are returning to a new normal?
Now that things are returning to a new normal, it has been exciting to travel again. I recently returned from a trip to San Francisco, CA and it was such a great time. I look forward to continue traveling around as things become more "normal."
---
Congratulations on graduating, Stephanie! We are so lucky to have you and thankful for all your many contributions to the USF Libraries and in supporting our students. GO BULLS! 🤘