Reading Time:
3
minutes
The writing, most of it in pencil, has faded with the years. Each small page in the sixty-two palm-sized notebooks bears the name of a new life ushered into the world by a remarkable Sicilian midwife born in 1880.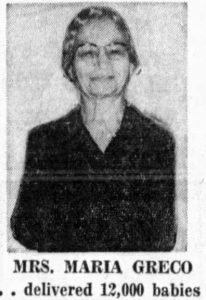 Like most of the Italian immigrants in old Tampa, Maria Messina Greco hailed from the small inland town of Santo Stefano Quisquina. She earned her degree in midwifery from the University of Palermo. By the time she relocated to Tampa in 1906, she had delivered two thousand children and was a seasoned midwife. Shortly after arriving, she married her husband Salvatore. In 1908, after a brief break, Greco began work as a midwife in Tampa, one of about eighteen at the time. She performed her vital function in Tampa's immigrant community, working in the private homes of her clients. She often delivered four children in a single day, and up to forty-five a month, and her fee hovered around fifteen or twenty dollars per delivery. Most of her clients would not have been able to afford hospital visits. Greco eventually delivered another ten thousand babies between 1908 and 1939.
Sadly, at age 78, Greco thought she had contracted an incurable illness. Not wanting to be a burden and missing her husband Salvatore who had passed away months before, she walked into the Gulf of Mexico weighed down by rocks. She drowned by suicide at Redington Beach in 1957, but her work lived on through the lives of those she delivered. The names on any given page still resound in the Tampa Bay area, which include Leto, Spoto, Mirabella, Ferlita, Licata, Ficarotta, Reina, Messina, Greco, and thousands more.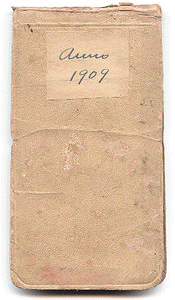 Before the notebooks came to the USF Tampa Library, a dedicated team of four spent nearly two years transcribing the records into a spreadsheet. Sharing their knowledge of the Sicilian language, along with talent in deciphering the handwriting, the monumental task was organized by Vienna Fuente and accomplished by Angelo Lorenzo and Jeannette Tamborello, with technical assistance by Rosemarie Chambers — people who all share a passion for Tampa history and its heritage. As vital records, Greco's notebooks have been transcribed and preserved through the Church of Latter-Day Saints on Microfilm.
The original notebooks are available for viewing in Special Collections, in the Greco Tampa Midwife Records. You can also see the transcribed list of names in an Excel format, and learn more about Greco's story on the website TampaPix, a longtime community curator of all things Tampa.
---
(This piece is part of the USF Libraries' Women's History Month, aiming to bring women to light, to increase the visibility of the many who have made diligent efforts to create momentous change.)