Reading Time:
4
minutes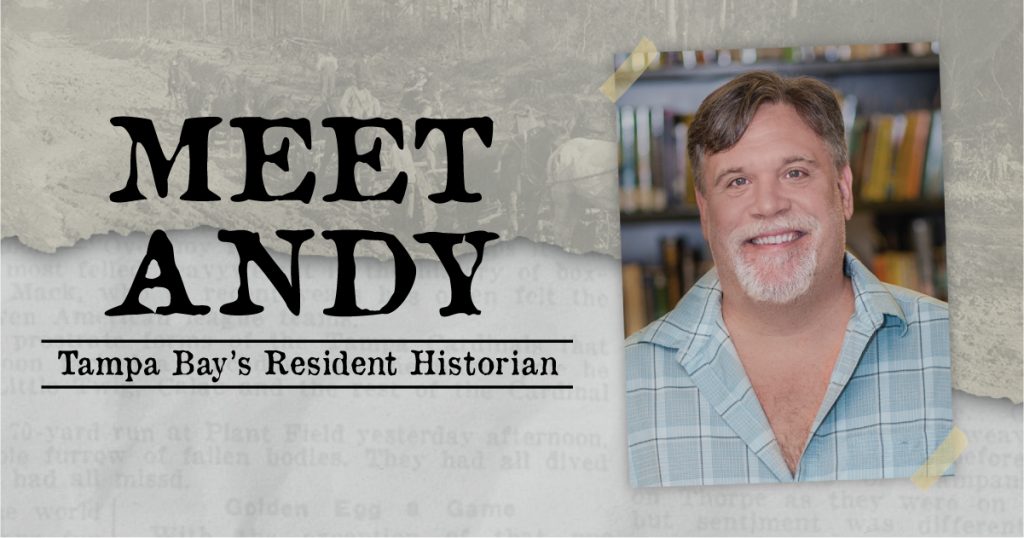 Born in Chicago but still very much a Floridian, Andrew T. Huse is an Associate Librarian in Special Collections who has been with the USF Tampa Library for almost 22 years. Better known as "Andy," he's a proud USF Bull, earning two Bachelor's in History and English, and Master's degrees in History as well as Library and Information Science. Rising through the ranks from a part-time position in 1998 to faculty in 2005, Andy specializes in Archival Management with subject specialties in history, Florida, USF, and local history. An avid bookworm and writer/author since way-back-when on the typewriter, it is no surprise that he made the USF Libraries his home.
"Before, when I was writing fiction, it was fun but it was more like a plaything. With history, I felt like there was more meaning behind it. To be able to reach out and find stories that have been forgotten or discarded, and share it, is meaningful in the sense that all history is built upon what we have to work with."
Beyond such, Andy was instrumental in acquiring new archival materials for Special Collections, including the records of various Audubon Florida sanctuaries and the papers of several environmental scholars.
"I have always seen the Library not simply as a passive repository for published material, but as an active, dynamic generator of unique content. When I was earning my Master's in Library and Information Science at USF, I was assigned to write a paper about a local cultural institution such as a museum. I chose to write about the work I was engaged in here as an example of a library functioning as a cultural institution. If I didn't believe it, I wouldn't be here."
In the late 2000's, Andy also served as a Roads Scholar for the Florida Humanities Council, speaking all over the state about Florida foodways. Recently, he has also been elected as a Director for the Society of Florida Archivists. You can also find him teaching courses for the Honors College, the Florida Studies Program in St. Petersburg, and more recently, Osher Lifelong Learning (OLLI) courses. His activities also involved conducting dozens of interviews for the Library's Oral History Program.
"I have always been a big advocate for oral history. I reveled in my role as an interviewer. Each interview is unique and priceless in a way."
Andy's passions can also be perused in his published works. He's best described as having a "historian's eye for accuracy and a storyteller's ear for delicious anecdotes." His latest book entitled From Saloons to Steakhouses: A History of Tampa, is a comprehensive journey that tells the story of Tampa's past through various social spaces―many of which cannot be found in official histories. Its predecessor, The Columbia Restaurant: Celebrating a Century of History, Culture, and Cuisine, is an in-depth look at the people who made Florida's oldest and most honored restaurant. Before that, he was the Lead Researcher for the USF published work "University of South Florida: The First Fifty Years" in 2006. Andy is also often interviewed by newspaper and television journalists as a historical consultant.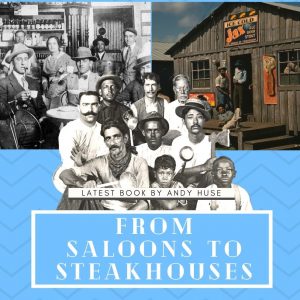 Aside from his professional feats, cooking and food studies will always be his favorite obsessions. He says, "Some of my colleagues and professors in the History department didn't understand my interest in food back in the 90s. Since then, the field has really exploded and most academics understand its value today."
An article he wrote about the Cuban sandwich became part of the national discourse on the subject when it was re-published in "Corn Bread Nation 5: The Best of Southern Food Writing." The issue became national news in 2012 when Tampa's City Council claimed the Cubano's true historical home is in Tampa. He was inundated with calls from journalists and food writers who all converged on the subject, the Wall Street Journal, New York Times, Saveur, and so on.
With cooking, he maintains the ideology that "those who don't know how to cook simply don't like to eat enough to learn."
"Like many other men, my cooking career began outdoors over open flames, but soon graduated to the comforts of the kitchen. Much like writing, cooking is impossible to master completely. What I lack in an emotional vocabulary I often make up for by cooking for those I love. There is nothing more intimate and meaningful than feeding someone."
Whether he is writing, speaking, helping fellow researchers, or making grilled cheese to raise funds for the University, Andy does it with passion.
Read his latest work From Saloons to Steakhouses: A History of Tampa and watch the recording of Andy discuss A History of Tampa at the Tampa Bay History Center.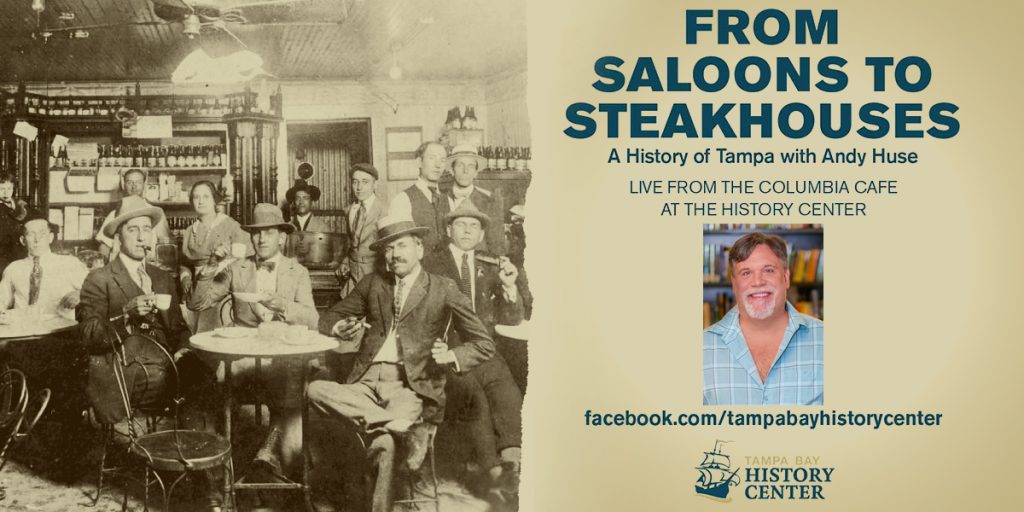 Andy is available for consultations and questions about our collections at ahuse@usf.edu.