Reading Time:
2
minutes
Jessica Santory is the Information Commons Student Assistant on the USF Sarasota-Manatee campus. She is graduating this spring with her Bachelor's in English Literature! When she has time between assignments and deadlines, Jessica enjoys studying Tarot and Astrology and attending paranormal events.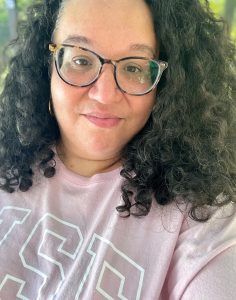 How has the Library contributed toward your academic goals?
Library services provide access to resource materials (journals, databases, and books), which have helped me enhance my research skills. Exposure to technology has also enhanced my personal knowledge and learning experience.
How has working at the Library aided in your career goals?
Enhancing my research skills has aided me in inquiring about further education and certifications.
What are the next steps in your career?
Preparing for the Florida Teacher Certification Examinations (FTCE) and preparing to apply for the Master of Arts program at USF for Secondary English Education.
What advice would you give someone on a similar path as yours?
Follow your passion but always lead with compassion. I am not the stereotypical English major or college student (returned to college after 20 years), but I realize from settling that I was not truly thriving. And remember, in an academic climate it is easy to be overwhelmed. Always take time out for yourself to do something fun and enjoyable. It is important to step away to find your bearings.
What have you enjoyed most about working at the Library? (What will you miss most?)
I love the small campus experience because it is more personable. I will deeply miss engaging with the students and being their biggest cheerleader during exams, midterms, and finals. And more than anything, the fabulous library staff, Jessica Szempruch and Evan Fruehauf. They both provide a positive, approachable, supportive, and fun work environment. This is the best place to work, and I will miss it.
What is one skill or fact you learned about yourself over the past year/through the pandemic?
Just like many, I improved my baking skills. I was given a KitchenAid mixer for my wedding and the pandemic allowed me to put that baby to use! I did not bake bread. I decided it is more important to focus on desserts.
What has been most exciting to get back to now that things are returning to a new normal?
I get to spend more time with my extended family and friends.
---
Congratulations on graduating, Jessica! Thank you for your many contributions and good luck in all your future endeavors. GO BULLS! 🤘