Reading Time:
3
minutes

What makes an authority on a topic? How do we balance diverse voices with the canon from an academic discipline? Are we perpetuating systems of oppression with the texts we choose?
These thought-provoking questions and more were discussed in depth during a USF Libraries workshop presented on February 25, 2022 to the spring cohort of the Inclusive & Equitable Pedagogy Faculty Learning Community (FLC). Twenty-one faculty members have participated in semester-long faculty learning communities funded by USF's Center for Innovative Teaching and Learning (CITL) during the 2021-22 academic year. The goal of this learning community is to provide faculty with the tools and resources to revise one course based on the principles of inclusive and equitable pedagogy.
Librarian Emily Mann, Chair of USF Libraries Diversity and Equity Committee, led a session each semester to provide historical context on how diversity is considered in library collections, as well as strategies and tools that can be used to identify diverse voices in USF Libraries' digital and print collections. At the conclusion of the session, the facilitators organized break-out discussions for faculty and librarians to discuss how to identify inclusive resources that aligned with specific course content.
Many of the faculty members met with their liaison librarian multiple times over the course of the semester. The librarians identified alternate resources and media, helped design assignments and projects, and identified gaps in research. During focus groups that assessed the participant experiences after the conclusion of the FLC, one faculty member reported, "Working with my liaison was a rich experience that aided in the process of evaluating my course's literature, mission, and vision, to make the course more equitable."
The participating librarians also found the collaboration to be valuable. One librarian stated, "It was a great opportunity to learn more about diverse resources related to subject areas I serve, and to build relationships within the department."
Facilitators Dr. Ashley Reese and Dr. Michelle Madden expressed their appreciation about the librarians' willingness to partner, as well as Emily Mann's coordination of the partnership. After the fall cohort completed their work, Dr. Reese from CITL stated, "Thank you for suggesting Emily work with us for the learning community. The faculty really enjoyed her presentation, and she's been an excellent resource during discussions too. We're looking forward to working with her again in the spring!" Dr. Madden, who is the Campus Diversity Officer on the St. Petersburg campus of USF, invited Emily to present her workshop to the St. Petersburg Regional Chancellor's Advisory Diversity and Inclusion Committee (CADIC), thereby broadening the impact of this initiative.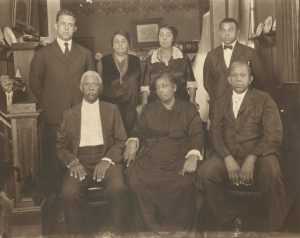 A range of USF Libraries' resources and services were utilized during the faculty-librarian collaborations. For example, the Textbook Affordability Program (TAP) and the Open Educational Resources Guide provides faculty with multiple ways to identify free or low-cost teaching materials for students. The Diversity, Equity, and Inclusion webpage provides access to many relevant resources and exhibitions, such as the online portal dedicated to the African American Experience in Florida, which includes items from the USF Libraries Digital Collections.
More recently, Emily Mann and fellow librarian Susan Ariew have developed a new research guide in support of Academic Freedom and the Inclusive and Equitable Classroom. This guide was created to help educators navigate inclusive and equitable pedagogy in the context of academic freedom. Challenges to teaching and learning materials about sexual and racial identity are not new in American schools and libraries. What is new is the way in which such books are being used in politics as bills across the country, and conservative states are attempting to ban not just books but free speech in the classroom about critical race theory, gender identity, Black lives matter, and even the Holocaust. This guide focuses on pedagogical resources and strategies that deal with subjects that are considered controversial in communities across the nation.
Facilitating faculty and librarian partnerships within the context of a faculty learning community dedicated to inclusive pedagogy was a productive and fruitful endeavor that advanced USF's goal to foster a diverse and inclusive community for learning and discovery. The USF Libraries participation in this faculty professional development initiative has shown that USF librarians can directly support faculty success and student learning, while collaboratively working to advance diversity and inclusion across our USF community.