Remember March? It feels simultaneously like yesterday and years ago, when our work and home spaces merged, and our collective work/life balance became muddled. Even 9 months later, some are juggling work with caring for, entertaining, or educating loved ones in a confined space and some have been self-isolating without anyone to interact with or talk to. For a multitude of reasons, many of us are experiencing the same feelings: overwhelmed, tired, bored, and worried.
With the holidays upon us, we wanted to connect you with resources that we hope inspire you to practice self-care and act as catalysts for your imagination, curiosity, and creativity. From crafting and cooking to mindfulness tutorials, this guide has something for everyone. Try something new, find an unexpected hobby, and maybe even unearth a hidden talent by exploring the resources below.
Be(come) a Chef
While many of us may be tired of our kitchens, it's always nice to show some love for yourself and others with a home cooked meal or yummy treat.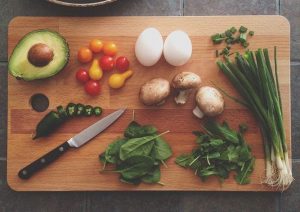 Eat Well
In order to keep your body and mind healthy, it is important to eat well. The USF Center for Student Well-Being offers advice about nutrition and hydration, as well as various recipes for healthy and affordable snacks, meals, and desserts for every college student.
Baking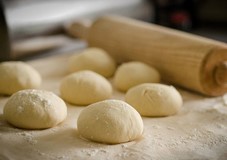 Baking bread seems like a scary proposition, especially if you have never done it before. But it can be a simple, rewarding process. From white bread and dinner rolls to banana bread and cinnamon buns, it's a fun activity to make with the whole family.
Try Some New Recipes
Associate Librarian in Special Collections Andy Huse has a personal recipe for Picadillo that he likes to use for parties (a great dish to try for the holidays). A tip from Andy is to "half the ingredients if you want less because it makes a good amount." If you like chili dogs, this picadillo can substitute the chili topping. Yes please!
Andy Huse's Picadillo Recipe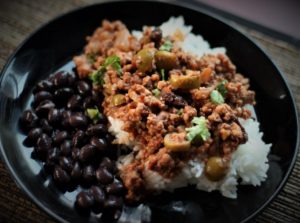 Ingredients
Directions:
Brown meat and set aside. Drain the grease, leaving a bit to sauté the onions and peppers until they're soft.
Add tomato, garlic, spice and cook 2 minutes. Mix in meat and simmer 5 minutes.
Add capers, olives, raisins, wine, sugar and vinegar. Simmer on low, partially uncovered, one hour.
Adjust the flavor with hot sauce and the olive brine (for salt) before serving.
Huse has also written books relating to Cuban cuisine in Tampa, with his latest entitled From Saloons to Steakhouses: A History of Tampa, which is a comprehensive narrative that tells the story of Tampa's past through various social spaces―many of which cannot be found in official histories. Its predecessor, The Columbia Restaurant: Celebrating a Century of History, Culture, and Cuisine, is an in-depth look at the people who made Florida's oldest and most honored restaurant.
Gardening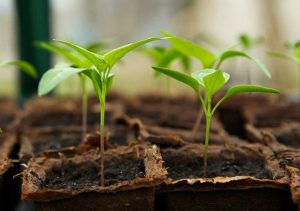 Being home gives us a unique opportunity to work on our yards more often, and grow some of our own food! Remember growing a lima bean plant in a paper cup in elementary school? Well you clearly have the talent to grow a little garden in your windowsill! Herb gardens are great for small spaces, and if you have a deck, patio, or yard, try growing larger plants. University of Florida's Institute of Food and Agricultural Sciences can get you started with their "Herbs in the Florida Garden" guide.
Be Creative
Coloring
Coloring can be very calming and meditative. In a time where everything seems to be virtual, it can feel nice to create something you hold in your hands.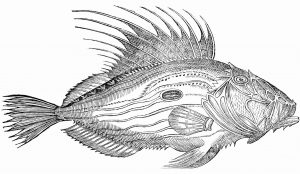 USF St. Petersburg's Nelson Poynter Memorial Library has a printable Briggs Collection coloring book featuring ichthyology and natural history titles that span from the 16th to 20th century! It includes fine illustrations, forage paintings, lithographic prints, and unique bindings.
Knitting & Crocheting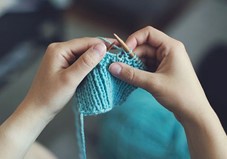 Knitting and crocheting are relaxing activities that you can do pretty much anywhere at any time. From scarves and blankets to potholders and stuffed animals, knitting and crocheting allows you to make and create for yourself and others.
Embroidery
Are you staring at your closet wondering when you'll ever put real clothes on again? Or maybe you're staring at your tired accent pillows on the couch. Embroidery might be the answer to your dilemmas! All you need is an embroidery hoop, thread, and sewing or embroidery needles. Embroidery is just one of many types of needlework; you can also try needlepoint, cross-stitch, quilting, and mending.
Paper Crafts
From card making to origami, the medium of paper allows you to be creative in endless ways. Make paper mache animals like bunnies or penguins, or holiday decorations.
Be Entertained
Escape to fantastic lands from the comfort and safety of your home.
Open Access Books

Free open access books allow you to explore the classics, dive into fantasy, and discover new facts. Head to the Libraries' Lib Guide on Open Access Book resources.
Go (Virtually) to the Theater!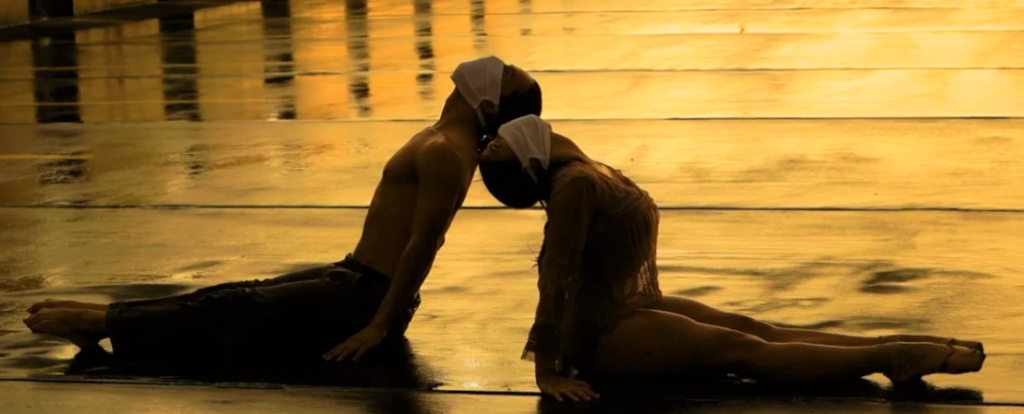 In response to the COVID-19 pandemic, Paula Nuñez, USF Instructor of Dance, presents 102 Degrees, a short film about the cycle of life and an homage to the 1918 cigar factory workers in Ybor City who were among the hardest hit by the Spanish Flu in Florida. The film is dedicated to healthcare providers and essential workers risking their lives everyday to serve their community. It also recognizes the spirit of perseverance and generosity woven into the history of Ybor City.
Check out other famous productions by Acting for a Cause, which brings actors together remotely to perform plays for a charitable cause, such as Romeo and Juliet, Twelfth Night, and Pride and Prejudice. On Josh Gad's YouTube channel, you can see the casts of some of your favorite films reunited, including The Lord of the Rings, Back to the Future, Ghostbusters, and The Goonies.
Be Mindful
It's important to take time for yourself, especially with how easy it is to work too much, stay up too late, and watch too much tv. Check in with yourself and practice good self-care.
Mental Health Resources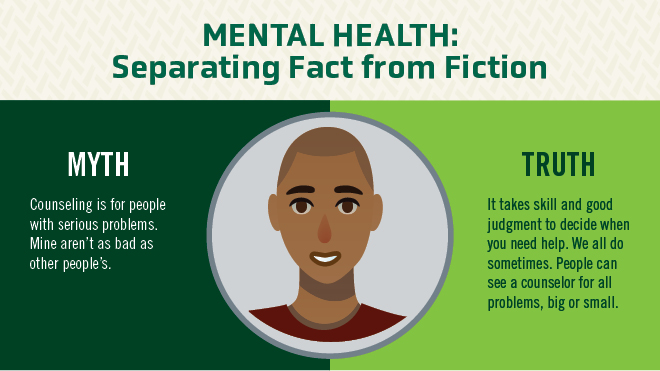 If you feel overwhelmed and wish to talk to mental health professionals, USF provides its students with extensive resources that can help. You can find mental health resources, psychiatry and behavioral therapy, and LGBTQ+ friendly therapists at the USF Counseling Center.
The Counseling Center has also recently partnered with Student Government to offer USF students (16 years or older) FREE, 24/7 access to an online mental health platform, Togetherall. Togetherall allows students across the world to support and learn from each other safely and anonymously.
USF Student Outreach and Support also offers academic resources, homeless resources, resources for victims, physical health resources, and many more.
Go Outside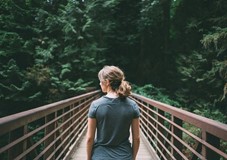 Sometimes, you have to ask yourself, "When was the last time I took a walk?" or, if we're being honest, "When was the last time I left the house?" Without realizing it, our world can become small and secluded. Seeing the sun and feeling the wind on your face can really lift your spirits. Take a moment each day to take a break from your screens and step outside to relax your body and mind.
Ease your Stress
Meditation and exercise are great outlets for stress, and can allow for control and awareness over your actions and decisions. Explore mindful mediation, walking off the beaten path around Tampa Bay, and yoga. USF Sarasota-Manatee's campus Counseling & Wellness Center offers a list of ways to relax and achieve better sleep during stressful times.
Connect with Others
And lastly but maybe most importantly, remember to stay connected—whether it is phoning a friend, chatting up your neighbor across the street or hopping on a Zoom call. Research has shown that social support wards off the effects of depression, anxiety, and other health problems, so check in, reach out, connect, especially during this holiday season.
From all of us here at the USF Libraries, take care of yourself, have some fun, and BE WELL! Happy holidays, and GO BULLS! We'll see you in the new year!
---
(Unless noted otherwise, all photos in this article are from Pixabay.com and Needpix.com, which are licensed under either Creative Commons Zero License for Public Domain or the Pixabay license that does not required attribution.)