Reading Time:
2
minutes
Oktoberfest is just around the corner!  What started as a horse race celebrating the marriage of King Louis I, the king of Bavaria, in 1810 grew into a food and beer celebration in 1818.  It is now a world-famous two-week celebration of German beer in Munich, Germany.  Many cities in the United States also celebrate, including Tampa.  This year, Oktoberfest is from September 18, 2021 to October 2, 2021.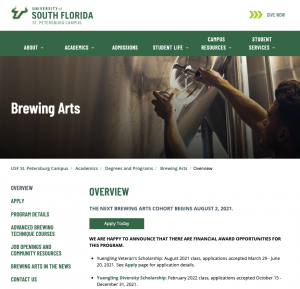 In celebration of Oktoberfest, Digital Dialogs wanted to highlight a few digital archives and special collections that focus on the brewery industry.  Did you know, we have our own USF Brewing Arts program on the St. Petersburg campus? 
Brewing Industry Archives & Special Collections
Oregon State University
Oregon State University has the Oregon Hops and Brewing Archives, which was established in 2013 to preserve the brewing history of the Pacific Northwest.  The archive contains digital content, such as photographs, scholarly articles, and oral histories.    Their special collections archive contains "the papers of world renowned beer historian Fred Eckhardt; the records of the Oregon Hop Growers Association; extensive industry periodicals and book collections; and research reports on plant disease, breeding, and processing. The archives also include oral histories with growers, brewers, and scientists; homebrew club newsletters; industry periodicals; photographs; memorabilia; and advertising materials and art from breweries throughout the state." Their Research Guide is helpful for locating content. 
Miami Craft Brewery Collection
Other interesting archives include the Miami Craft Brewery Collection, which aims to preserve the Miami, Florida brewing scene. They have a collection research guide, along with a brewing timeline.   
California State University San Marcos
California State University San Marcos has Brewchive, an online collection of newsletters, labels, and oral histories.   
University of Michigan
University of Michigan has an online exhibit called The Reflection of Technology in Brewing.  It contains a history of brewing, along with images and texts from the eighteenth century to the mid twentieth century.   
San Diego State University
San Diego State University has the Bottoms Up! Oktoberfest and Beer in Special Collections archive that includes both digital and physical materials. 
Additional Resources
For additional online resources regarding breweries and brewing industry archives, check out the websites below: