Reading Time:
5
minutes
Guest post by Dr. Lori Collins,  Research Associate Professor and co-Director of the Digital Heritage & Humanities Collection (DHHC) in the University of South Florida Libraries.
The Digital Heritage and Humanities Collections (DHHC) at the University of South Florida Libraries, working in partnership with the Tampa Bay History Center, are using the latest in digital and mapping technologies to create a virtual presentation of Tampa through time. Connecting collections of important maps, historic images and documents, and museum objects, our research team continues to work on gathering newly created digital imaging and 3D models of the current Tampa landscape. These data allow for comparisons and research on how past and present come together in a changing city-scape. Building and structural records, documents, images, and block level details in Geographic Information Systems (GIS), allows for a look at the past in relation to the present.  3D mapping and imaging of selected site locations, is also a means of fostering new ways of exploring collections that connect library and museum assets.
The DHHC uses the latest in Reality Capture, 3D, and spatial documentation strategies to record heritage sites, landscapes, and objects from around the world. We are creating digital learning tools and library collections from these data that promote heritage preservation, research, education, and tourism interpretation strategies. Our work in applied historic preservation, leverages digital technologies to rapidly record, analyze, visualize, and share 3D, GIS, and imaging information. Our projects are having local, regional, national, and international impact – increasing stewardship and conservation, and helping guide 3D and spatial data research standards and ethics into the future with actionable results. Bringing traditional 2D collections together with 3D digital models, produces a number of new experiential opportunities for virtual tours, interactive engagement, and immersive learning.
One of the first 3D landscapes selected to document for our Tampa through Time project was the Jackson Rooming House on Zack Street. Our architectural and GIS survey to date has included research on the historical background and literature review, the digitization of historic maps, images, and records, and bringing data sets together in a viable archive that can now be visualized and analyzed. This bringing together of extant data sources is an important aspect in assisting with the storytelling and presentation of the project to the public, and also with the archival database and collection assemblage that is an ongoing effort involving historians, librarians and University of South Florida (USF) faculty researchers. Our Geographic Information Systems (GIS) approach, is allowing us to see the neighborhood and landscape through time, and will be one of the tools we use in presenting the broader context area to the public (Figure 1).
The Jackson Rooming House in downtown Tampa, Florida is one of the last of an era of homes used as segregated boarding structures for African Americans before the 1965 Civil Rights Act. The Jackson house is/was located close to the thriving Black business district and nightlife areas in Tampa, and was adjacent to the Union Station. Many famous performers like Cab Calloway, Duke Ellington, and Ella Fitzgerald are said to have stayed at the house. Constructed in stages from c. 1901 to 1920, today it is highly imperiled despite listing on the National Register of Historic Places. The house is in ruin and imperiled, awaiting decisions on preservation or demolition.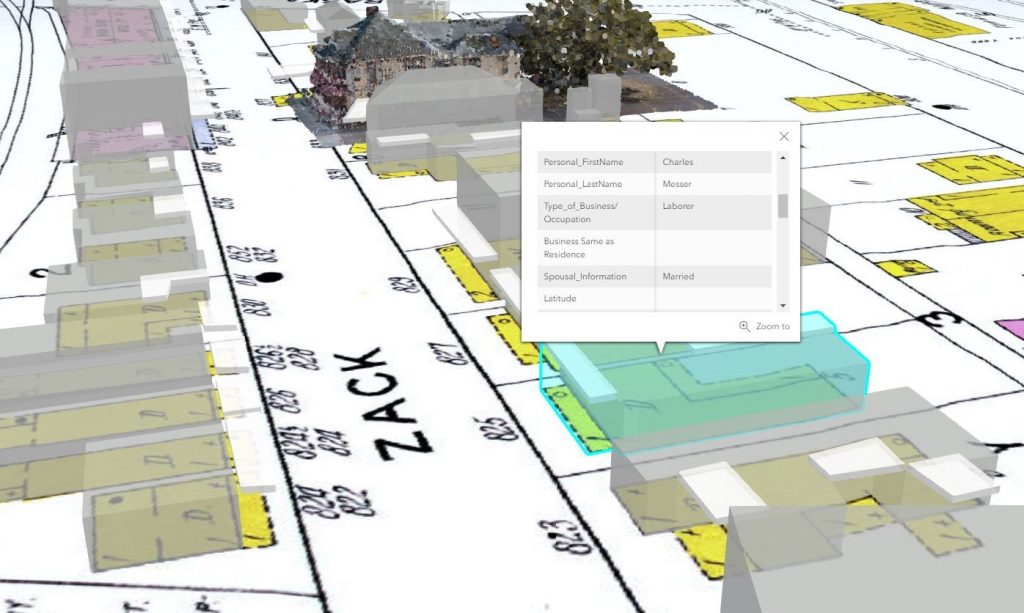 Figure 1. Using GIS, maps showing building and parcel details from 1915 are helping to reconstruct the neighborhood and environs around the Jackson Rooming House, and linking to relevant business, household, and census information.
Our Jackson Rooming House field work collaboration partnered the Tampa Bay History Center (TBHC) and the USF Libraries, and centered on the use of specialized imaging and spatial mapping tools to document the entirety of the Jackson Rooming House exterior and accessible interior areas. Data capture at the architectural level has involved applications with drone and 360 imaging, and terrestrial laser scanning survey documentation (Figure 2). We have also conducted close-range 3D scanning of interior features of note (plaster wall area, hardware and architectural details). Our imaging with the drone has also provided neighborhood and environmental setting documentation (Figure 3). From these data, we are creating detailed architectural models and renders using the as-is current condition documentation (Figure 4). These data will be used to create models of the structure as it might have looked, and allow for the foundation of a digital exploration of the site as part of our exhibition design at the TBHC. These data are also useful as an archive of the structure, and could be used for engineering or preservation applications in the future.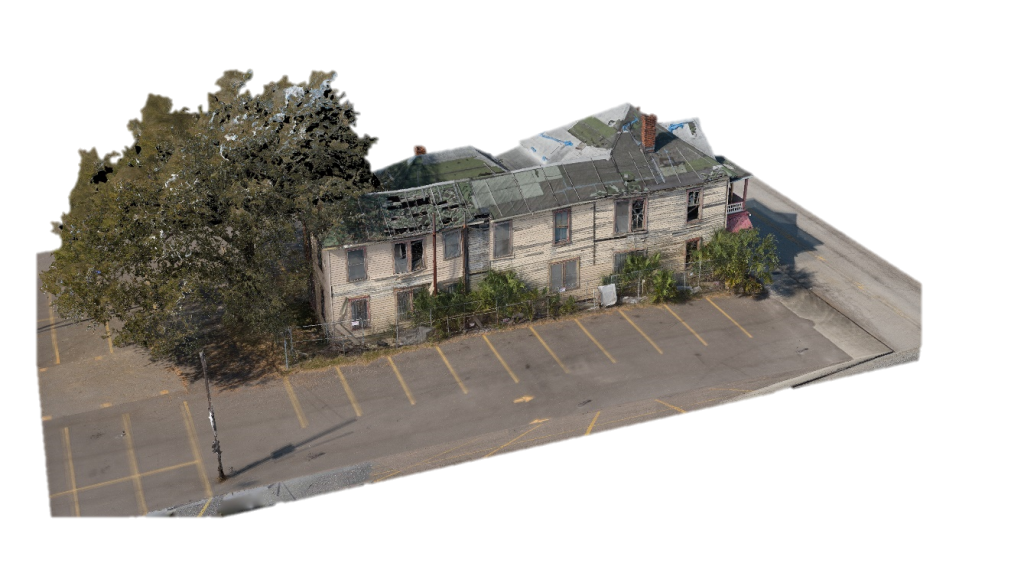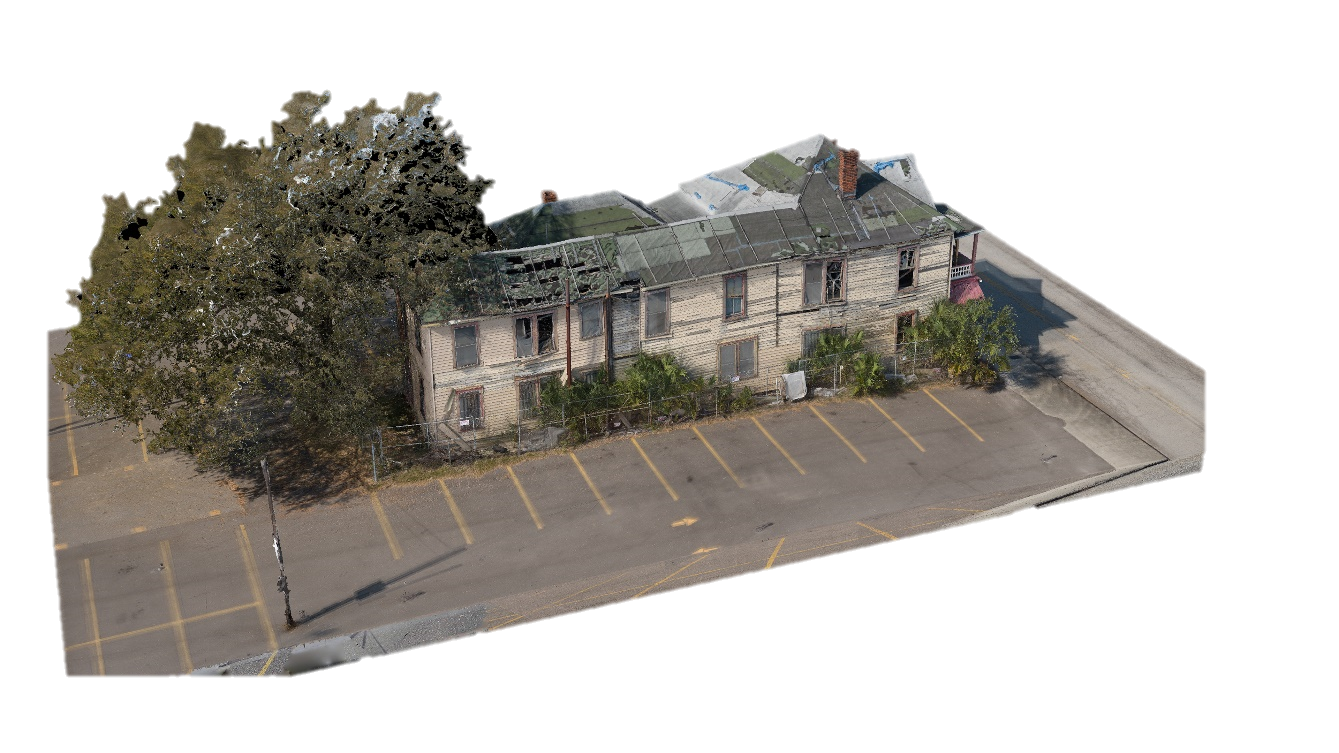 Figure 2. 3D model showing the exterior of the Jackson Rooming House from survey data collected.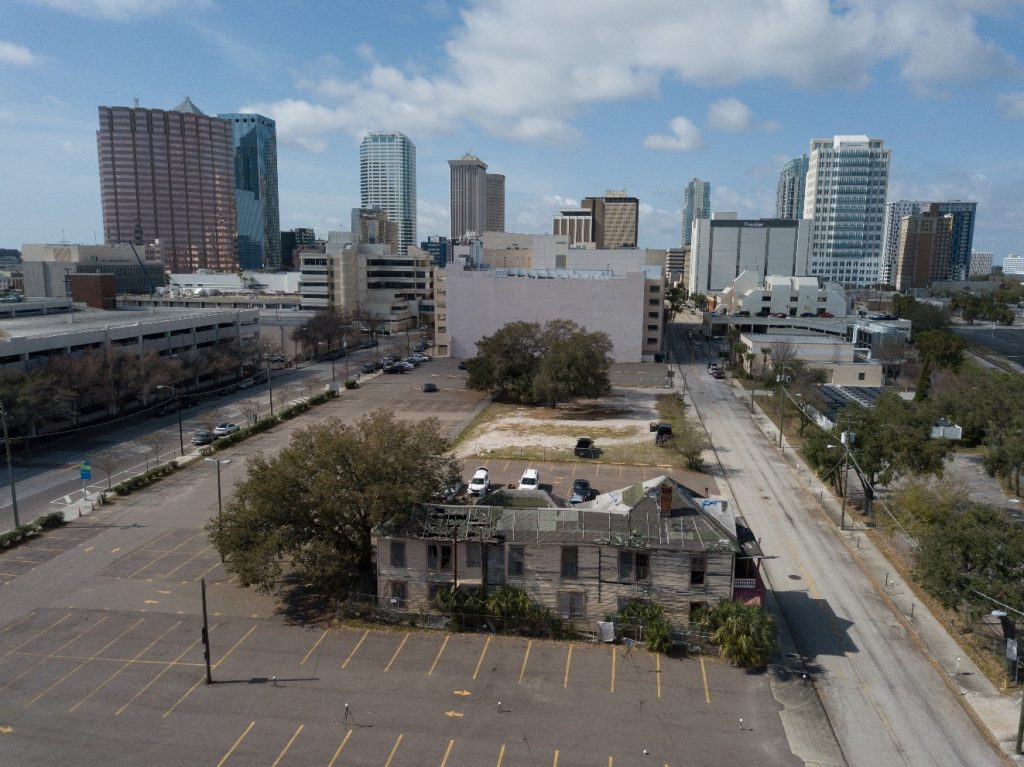 Figure 3. Drone imagery showing documentation of the surrounding neighborhood and setting at the Jackson Rooming House.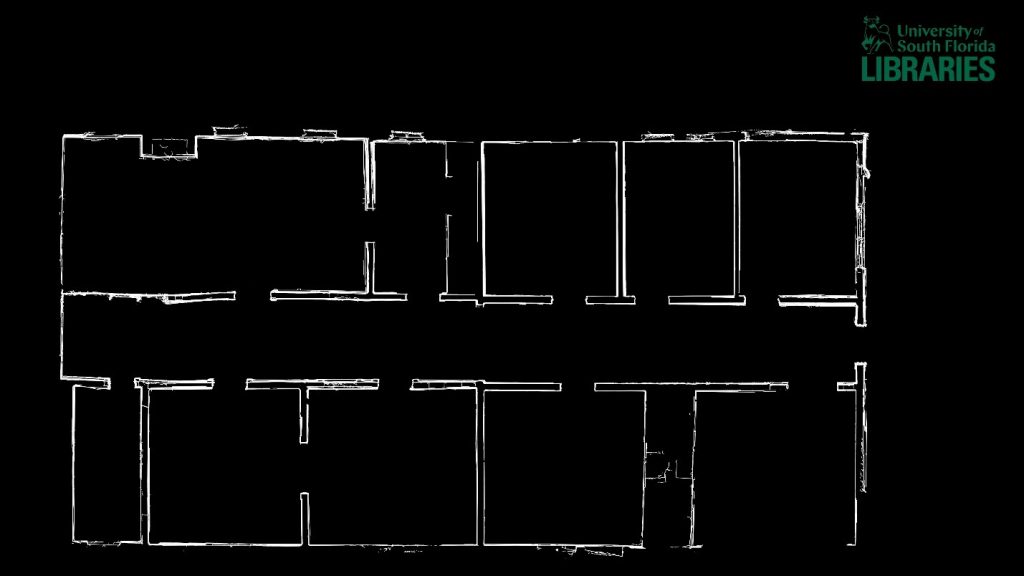 Figure 3. 3D CAD floorplan from the laser scanning data collected, showing the room configurations on the first floor of the Jackson Rooming House.
Our plans ahead for the project include a USF Libraries online collection and a Tampa Bay History Center museum interpretive exhibition featuring our partnership in preservation and showcasing the Jackson Rooming House models. These online and physical exhibition designs will showcase not only information about the site, historical context and setting, but will include technological applications and how these data will be used in heritage preservation and documentation, and how we can visualize the past using historical approaches in combination with these types of documentation surveys.  You can now see our 3D models online and take an annotated or virtual reality tour of the site. These data will be part of the future TBHC exhibition where we are looking to fabricate and create replica designs along with providing digital content that will help bring the past to life.
3D Annotated and VR Tour: https://skfb.ly/6NyBt
3D Video Animation: https://vimeo.com/339908494
To learn more on our partnership with TBHC: https://vimeo.com/310213712
And explore our growing online 3D collections including those from the TBHC:  https://sketchfab.com/USF_digital