Reading Time:
6
minutes
Happy Earth Day! We here at the USF Libraries are committed to the preservation of, and access to, resources concerning impacts on Florida's natural environment. We invite you to celebrate Earth Day this year by exploring our Florida Environment and Natural History (FLENH) collections — and we have many new resources to share! Through data, archives, books, reports, and other media, the diverse FLENH meta-collection serves as an entry point for scholars studying topics ranging from marine science to ornithology, climate change, and environmental policy. Across the library, faculty and staff are working to bring in and develop new collections, exhibits, and programs that foster the initiative with an eye on recording Florida's environmental past in order to better situate us for the future.
New Collections & Digitization
Since the start of 2021, Special Collections has acquired three completely new FLENH archival collections, as well as expansive additions to existing collections, like the papers of the Audubon Everglade's Science Research Center. Along with these exciting new archival materials, the library has added over 300 books to Special Collections, as well as thirty-one environmentally focused children's and young adult books to the circulating stacks to support faculty requests from the College of Education.
Florida Ornithological Society Records
The records of the Florida Ornithological Society were transferred to Special Collections in spring 2022. This exciting acquisition includes the institutional records of the organization, as well as the papers of renowned ornithologists dating back to the 1930s. The field notebooks, letters, and manuscripts of Allen and Helen Cruickshank, for example, provide a Florida-focused and international look at birding over the majority of the twentieth century. USF Libraries is also working with the FOS to digitize these materials and promote them at the organization's upcoming 50th anniversary celebration. To learn more about these exciting developments, check out this announcement from archivist Andy Huse.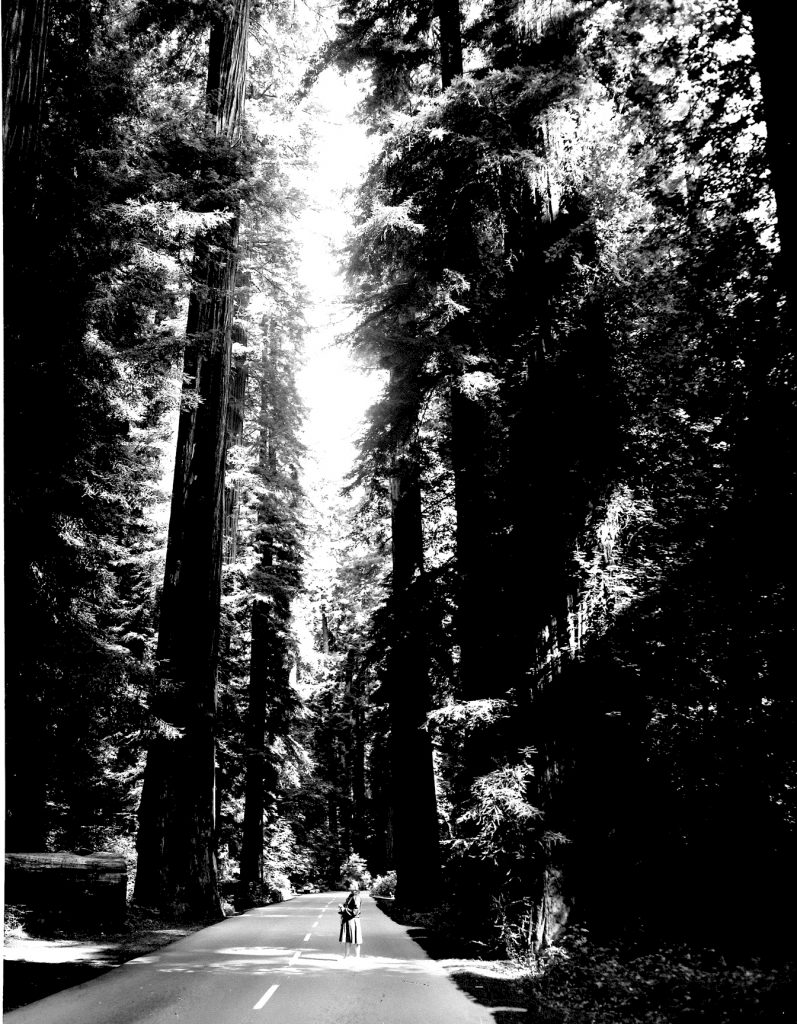 Audubon Everglades Science Research Center – New Additions!
In 2022, Huse traveled to Tavernier to uncover even more surprises at the Audubon Everglades Science Research Center, and returned with over 100 boxes of new materials, including data sets, field notes, and other Audubon records. These items are currently being processed and prepared for future digitization.
And More!
Other new additions include books and reports from the library at Corkscrew Sanctuary Swamp in Naples, the Barbara J. Schmidt Egmont Key Research collection, and the Hollins Family papers.
The John C. Ogden Caribbean and Coral Reef collection will be growing in 2022! Efforts to digitize the materials are ongoing, and portions will be available soon on Digital Commons. In addition to the significant collections donated by Dr. Ogden, he has also generously been supporting a student scholarship for researchers working on his or related FLENH resources. Stay tuned for exciting new content!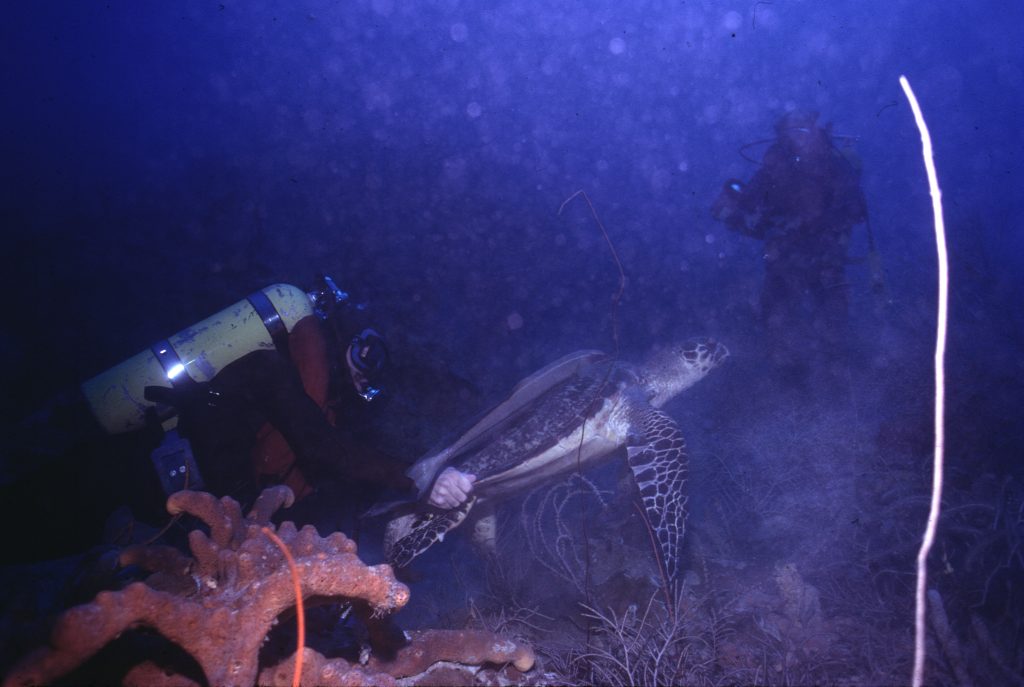 This month, we will be welcoming the papers of Sally Thompson. There are not many Floridians who have done more to protect the state's ecology than Thompson, who has held an impressive series of environmental posts in her retirement. A founder of the Tampa Bay Conservancy Land Trust, she is a steadfast champion of conservation.
Calling: Earth
The USF Libraries and the USF School of Geosciences are inviting faculty and recommended graduate students from the Geosciences, Marine Sciences, and Sustainability to be interviewed for the Calling: Earth podcast. Listen to any of our 50+ episodes, going back to the start of the show in 2019. Each interview covers the research, teaching, and other aspects of the interviewee's academic life and career. Episodes are also hosted in our repository and on various hosting platforms (like Apple Podcasts, Google Play, Spotify, etc.). If you'd like to participate, or suggest a student or colleague, email podcast host and USF librarian Matt Torrence.

Exhibits
To help researchers better connect with the FLENH collections, teams across the library have been actively curating new exhibits for researchers. Digital exhibits have offered an exciting way to work across our consolidated campuses and share materials with viewers at USF and beyond. The sweeping scope of the FLENH collections come into focus when viewing two of the newest exhibits, including stunning sixteenth-century illustrations in the John C. Briggs collection and the exciting new collaboration with Drs. Thomas Hallock and Amanda Hagood on the Creative Loafing series #Creekshed.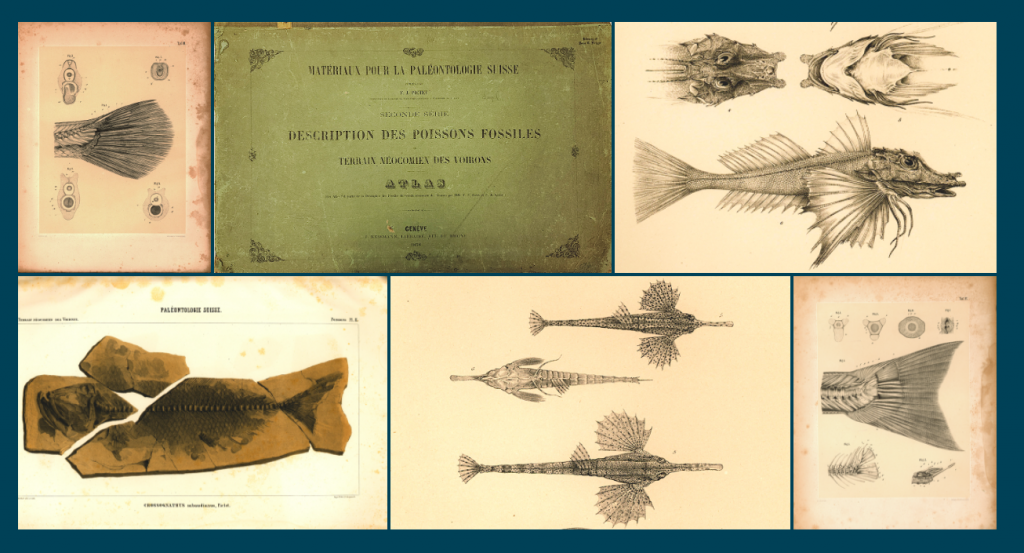 The significance of the initiative is front-and-center in Saving Florida's Flamingoes: How the USF Libraries and Audubon Florida Helped Reclassify Flamingoes to Native Species. The archives also help to shed light on contemporary issues like the leak at Piney Point. This event and related archival materials were shared in Eyes on Piney Point Florida Phosphate and the Environment. If that closer look at phosphate piques your interest, be sure to check out Environmental Pressures on Florida: A Look at the History and Factors Involved, created by FLENH Intern John Clarke.
Students also had the chance to interact virtually with the collections as part of the HIS 3002 History Primary Source Document Hub, which has an entire section dedicated to resources on environmental history.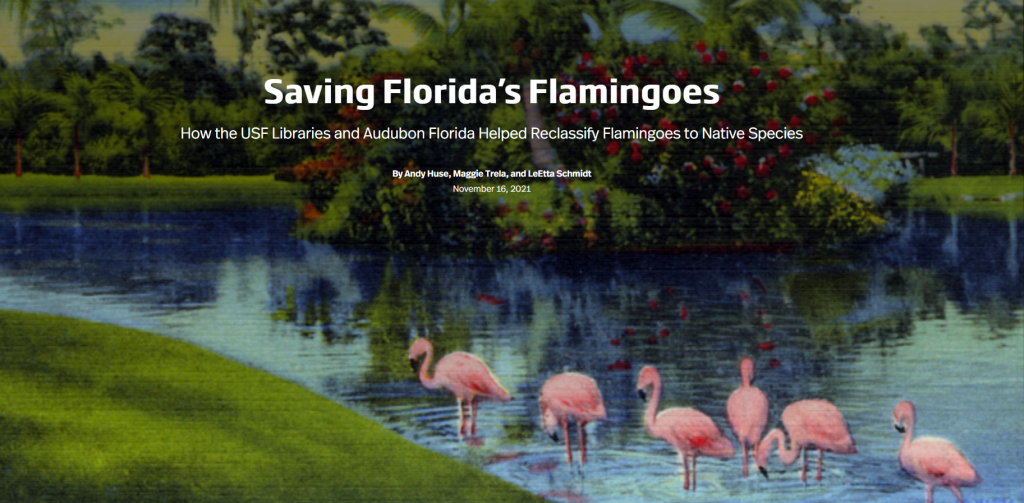 Collaboration
USF Libraries is actively collaborating with faculty in various departments to support their work on FLENH projects. Librarian Susan Ariew and Amanda Boczar from Special Collections collaborated with Dr. Alexandra Panos from the College of Education to win a Carnegie-Whitney Grant from the American Library Association to develop the Eco-Literacies for Climate Action in Florida: Teaching and Learning Resources Portal, launching in late 2022. This exciting new project was forged from the "Developing Open-Access Media to Support Florida Interdisciplinary Climate Justice Education" Faculty Learning Community grant awarded by the USF Center for Innovative Teaching and Learning.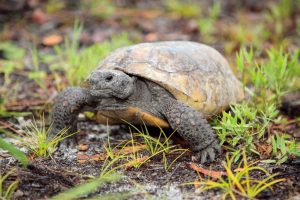 Events & Promotion
USF Libraries and Special Collections have been actively sharing updates and insights on the FLENH initiative on their social media channels. From Gopher Tortoise Day hosted on the Sarasota-Manatee campus to Draw a Bird Day, there are a lot of fun ways to follow along with FLENH.
Our virtual event, Showcasing Special Collections' FLENH for OLLI members, provided an additional way to connect with the community when in-person events were not possible.
The International Federation of Library Associations and Institutions launched a new section in 2021 focused on Environment, Sustainability and Libraries. USF Libraries was thrilled to share information about the FLENH collections in their inaugural issue, which you can view here.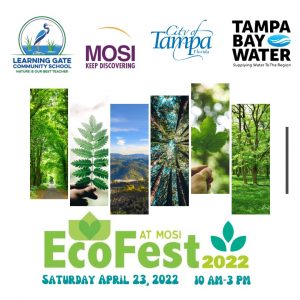 And this weekend, Special Collections will be at EcoFest celebrating Earth Day 2022! This community event celebrates the many businesses, organizations, and individuals in the Tampa Bay area dedicated to the principles of sustainability, ecology, equity, and economy. Come see us to grab some USF Libraries swag and complementary #ColorOurCollections coloring books. We'll be sharing information and materials showcasing our FLENH initiative. We hope to see you there!
For more information on FLENH, make an appointment with Special Collections.