EcoFest 2022
Saturday, April 23rd
10AM-3PM
Reading Time:
2
minutes
Special Collections will be at EcoFest celebrating Earth Day 2022! This community event celebrates the many businesses, organizations, and individuals in the Tampa Bay area dedicated to the principles of sustainability, ecology, equity, and economy.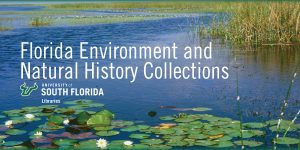 Come see us to grab some USF Libraries swag and complementary #ColorOurCollections coloring books featuring images from our rare books and archives. We'll be sharing information and materials showcasing our Florida Environment and Natural History (FLENH) initiative. FLENH is committed to the preservation of and access to resources centered on the impacts to, and effects on, Florida's natural environment. Through data, archives, books, reports, and other media, this diverse meta-collection serves as an entry point for scholars studying topics ranging from marine science to ornithology, climate change, and environmental policy.
Come celebrate Earth Day with the USF Libraries! Saturday, April 23rd at MOSI (4801 East Fowler Ave., Tampa, FL 33617) from 10AM to 3PM. Admission is free. There will also be live music, demonstrations, informational booths, green living products and services, and over 75 local vendors, food trucks, and more.
More info at fb.me/e/1JTmgFUEn. And if you're not able to make it in person, you can view our virtual FLENH portal to follow along with USF Libraries resources.