Reading Time:
2
minutes
The USF Libraries are proud to announce that Kaya van Beynen, associate Dean, Library Research & Instruction, has been selected as a 2023 Association of Research Libraries (ARL) Leadership Fellow.
The Leadership Fellows Program is a 13-month hybrid experience that provides the next generation of senior and executive leaders with exceptional opportunities for growth in research libraries and archives.
"In her acceptance letter, Kaya was praised for the strength both of her application and her exceptional record of achievement. Further illustrating her accomplishment in being selected, EBSCO Information Services has awarded her with a partial scholarship to support her participation in the program's many activities," notes USF Libraries Dean, Todd Chavez.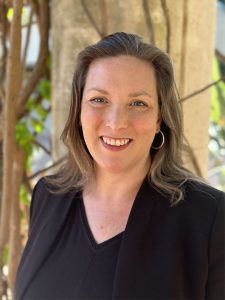 Kaya received an MSc in library and information science from Simmons College, an MA in geography from McMaster University, and a BA in anthropology from McGill University. She started her career as a social science analyst at the Smithsonian Institution then worked at the Hispanic Health Council, where she received two Environmental Protection Agency (EPA) Environmental Education grants.  In 2003, she became a librarian and has since worked for the USF Libraries, primarily at the USF St. Petersburg campus.  Kaya has served as chair of the Education & Behavioral Sciences Section (EBSS) of the Association of College & Research Libraries (ACRL), as well as the evaluation chair of the St. Petersburg Science Festival, where she participated in a National Science Foundation (NSF) grant on informal public science education. Her multidisciplinary research focuses on academic libraries and engagement. In 2021, she received the EBSS Distinguished Education & Behavioral Sciences Librarian award from ACRL.
The ARL is a nonprofit organization of research libraries in Canada and the US whose vision is to create a trusted, equitable, and inclusive research and learning ecosystem and prepare library leaders to advance this work in strategic partnership with member libraries and other organizations worldwide. ARL's mission is to empower and advocate for research libraries and archives to shape, influence, and implement institutional, national, and international policy. ARL develops the next generation of leaders and enables strategic cooperation among partner institutions to benefit scholarship and society.