Reading Time:
5
minutes
On a beautiful spring day last Friday, April 23rd, the USF Tampa Library acquired a particularly special collection: The Tampa Chapter of The Links, Incorporated archives. The Links, Incorporated is an international, not-for-profit corporation established in 1946, whose membership consists of more than 16,000 professional women of color. It has 292 chapters located throughout the United States, as well as in the Commonwealth of the Bahamas and the United Kingdom. It is one of the oldest and largest volunteer service organizations in the country, with a membership of extraordinary women committed to enriching, sustaining, and ensuring the culture and economic endurance of African Americans and other persons of African ancestry.

Links members include influential and distinguished local leaders who make a difference in their communities through the shared vision of providing educational, civic and inter-cultural activities — including Services to Youth, The Arts, National Trends and Services, International Trends and Services, and Health and Human Services. Members contribute more than two million documented hours of community service annually!
Here in Tampa Bay, the local St. Petersburg-Tampa Chapter was chartered in 1951 with 13 visionary women from St. Petersburg and Tampa. They led a dynamic influence in Tampa Bay until 1987, when the chapter considered making separate chapters to best fulfill their community needs. On June 26, 1987, the newly organized Tampa Chapter of The Links, Incorporated was chartered with 24 outstanding and dedicated members — including Gloria Adams Andrews as First President, who has gone on to serve the organization and community for 55 years. The St. Petersburg Chapter and Tampa Chapter still hold a strong legacy of friendship and service that continues today.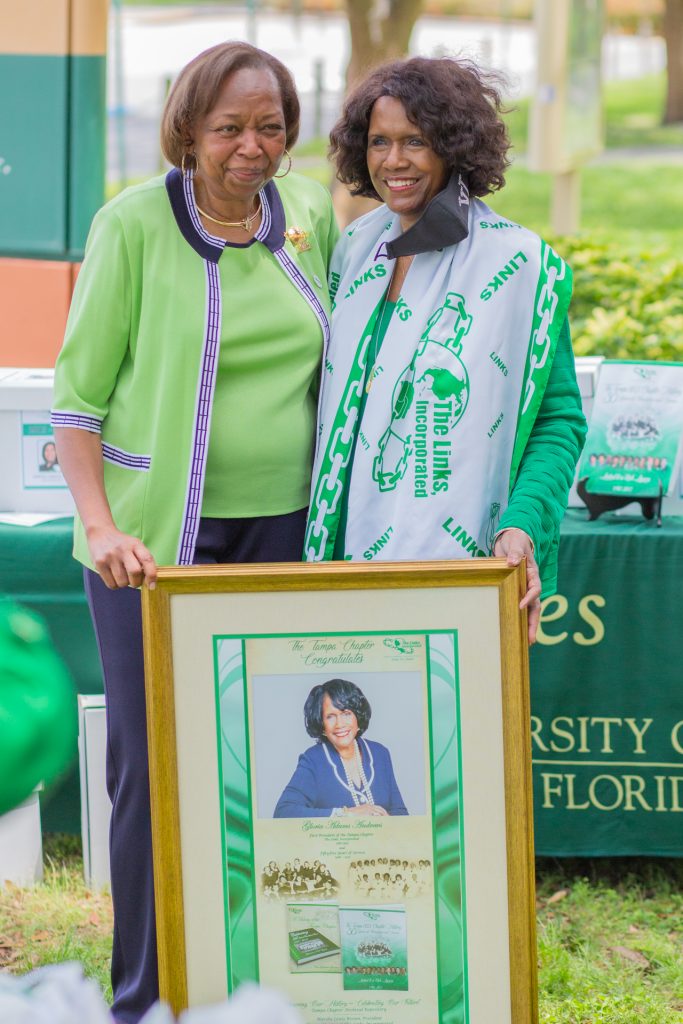 The USF Libraries' Tampa Special Collections was selected as the archival repository for the Tampa Chapter archives after a year of extensive reviews performed by its members. The reviews included conversations via Zoom, impressions from prior visits, reputation, and regard for the collaboration. Something of utmost importance to the members was the institution's relationship and reputation with the Tampa Chapter — aligning with their respective values and vision of preserving history and honoring the culture of those who make such history.
Juel Shannon Smith, PhD, a long-time friend, faculty member, and donor of USF, facilitated the acquisition with USF Libraries Associate Director of Development, Christina Wisz. Dr. Smith received her PhD from USF in 1987, and had a long career in several positions including University Counseling Psychologist, Founder/Executive Director of the Institute on Black Life and Center for Africa, and Founding Executive Director of the Women in Leadership and Philanthropy. She was also inducted into the Hillsborough County Women's Hall of Fame in 2013. Dr. Smith has been a Links member for 31 years, and is the Archives and History Chairperson. She shares:
"The [Tampa] Special Collections archive at USF is well known for housing collections of historical significance to Tampa Bay and surrounding areas. [It makes] an ideal home to house our archives and history, as we are in a unique position to continue to build and visit our cultural collection and lend our voices to amplify the archives and history. This collaboration will enrich our communities beyond measure, while also preserving our rich and robust cultural heritage."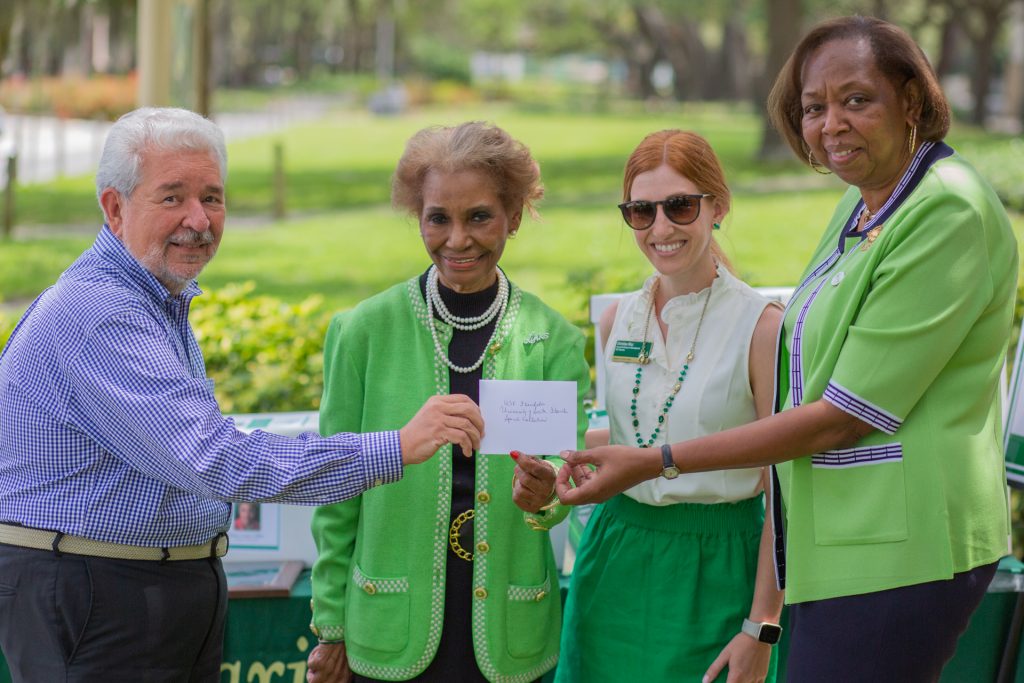 The materials donated include documents and history from each of the 12 presidents of the chapter, along with additional supporting documents including membership rosters, school and community partnerships, news clippings, financial statements, meeting minutes, newsletters, photographs, scrapbooks, speeches, and so much more. Over the summer, Andy Huse, Associate Librarian in Special Collections and resident historian, will interview some of the Tampa Chapter members to give additional context to these materials and preserve the legacy of its members in perpetuity.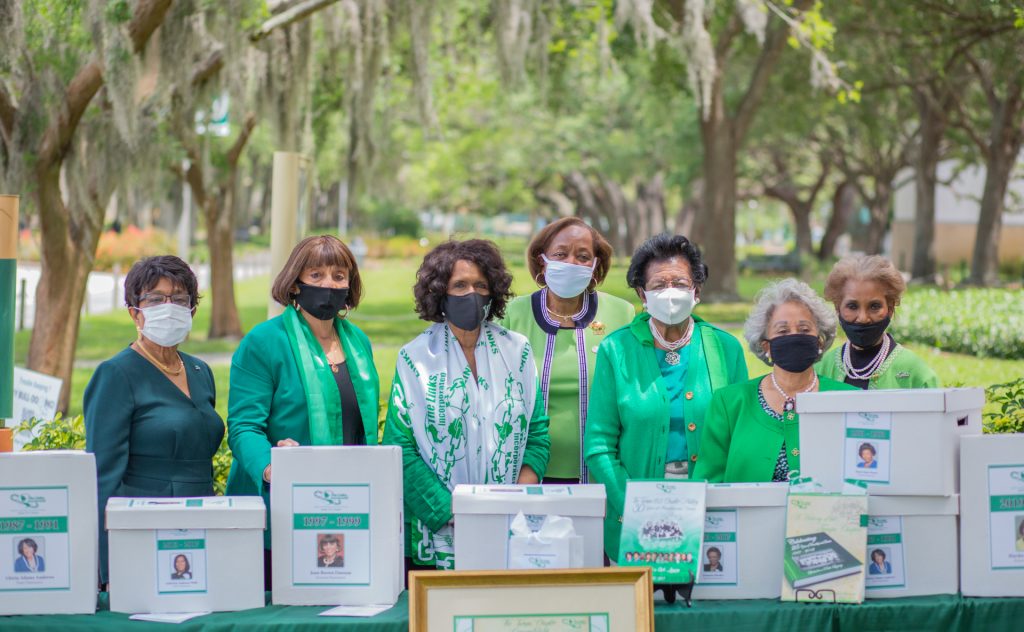 The Tampa Chapter donated their archives on Friday, April 23rd in a small ceremony outside of the USF Tampa Library. Boxes containing the materials will be catalogued and added to Special Collections, available for use by any interested parties. The collection will be added to the African American Experience in Florida portal (AAE), joining other collections based in the community. As the portal states, "In many ways, the history of African Americans in the Tampa Bay area is the history of communities."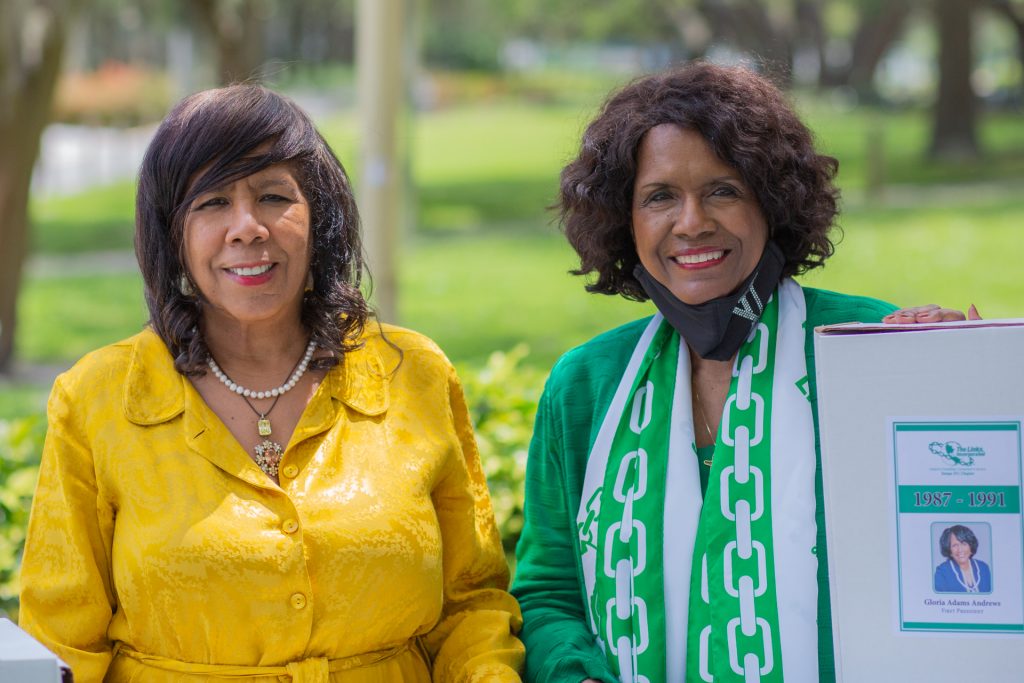 The collection will also intersect with more than 40 women's collections in Tampa Special Collections, and is the first and only African American women's service organization to join these records. Back in June 2020, after the murder of George Floyd, Dean of the USF Libraries, Todd Chavez, shared that we as libraries can contribute to the solution of dismantling systemic racism by "leveraging existing collections to promote peaceful solutions and promote social justice for all." The Links, Incorporated archives are a significant addition to our collections and contribute to the vital representation of African American women. The USF Libraries are excited and honored to house and preserve these archives and to help share these women's stories, experiences, history, and heritage.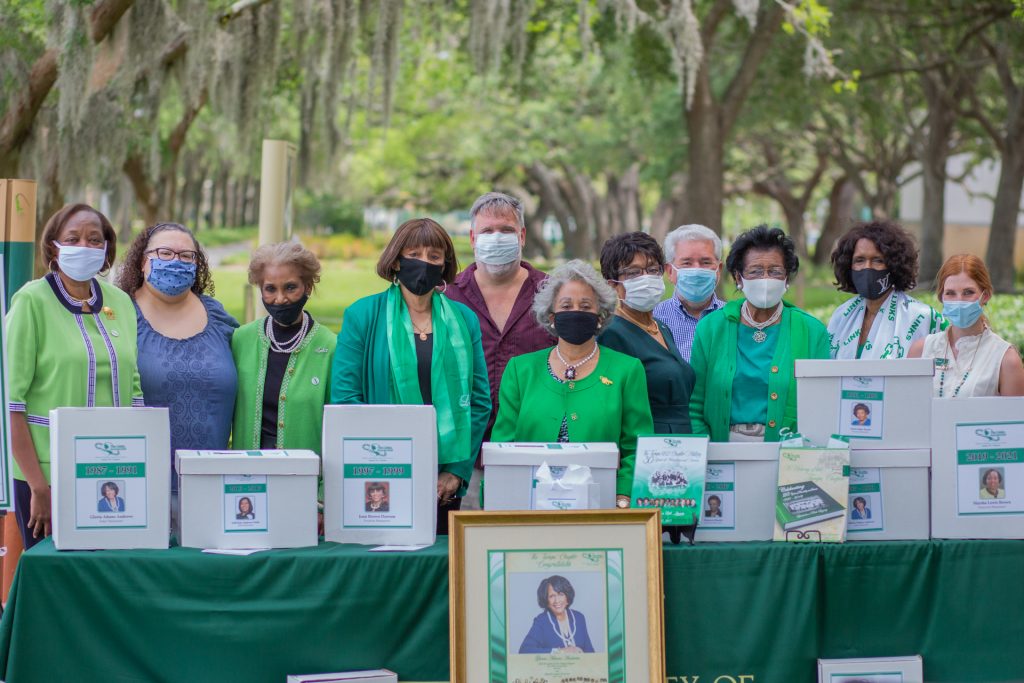 If you'd like to learn more about these materials, contact Tampa Special Collections at spcinfo@usf.edu or Christina Wisz, Associate Director of Development, at cwisz@usf.edu.
---
(The ceremony was hosted outside of the USF Tampa Library, practicing CDC and University guidelines.)