Reading Time:
6
minutes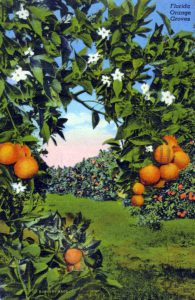 Since the mid-1800s, Florida groves have been peppered with oranges, grapefruit, lemons, and limes. While not native plants, their fruit have become irrevocably linked with the Florida landscape. From postcards and packaging to advertisements and film, the image of Florida is one that combines beauty, sand, and citrus. For over 150 years, farmers have invested in citrus crops, laborers have relied on the fruit's growth for work, and canneries have preserved these pieces of edible sunshine.
Today, Florida is home to approximately 569,000 acres of citrus groves, 74 million citrus trees, and 76,000 workers[1]. With Florida citrus production making up 70 percent of America's citrus supply and coming second in global orange juice production, this nine-billion-dollar industry has nourished the Florida economy.[1]
From grove to grocery store, citrus fruit can take many different paths. First, the fruit is grown, picked, graded, sorted, washed, and packed. Then, some fruit is sent to processing plants where it is canned, juiced, or frozen. Because of Florida's temperate climate, several crops were grown year-round, creating steady work for agricultural laborers and migrant workers.
In 1918, the Sanford Board of Trade Labor Report "showed that Florida citrus growers agreed to set maximum wage scales for each position" (Padgett 69).[2] In addition to setting wages by position, wages were also determined by gender. This labor report showed that women faced pay disparities at every turn. While "men and women could work as packers and sorters, but women earned a dollar less than men packing and twenty-five cents less sorting … Only men and boys were allowed to be nailers. Women were employed to make metal strips, but they were paid seventy-five cents less than boys under eighteen years of age doing the same work" (69).
In the early days of this industry, Florida citrus workers not only faced pay inequalities based on gender, race also played a significant role. Racial segregation was sometimes seen in groves and packinghouses. Padgett notes that "packinghouses were spaces where whites, often white women, worked. The presence of white women in the workspace of packinghouses precluded the use of black labor in much the same way that blacks did not work in cotton mills where women worked" (64).
Like the female workers in Tampa's cigar and cigarette factories, the women of the Florida citrus industry substantially contributed to fruit production and processing while working within a flawed and unfair system.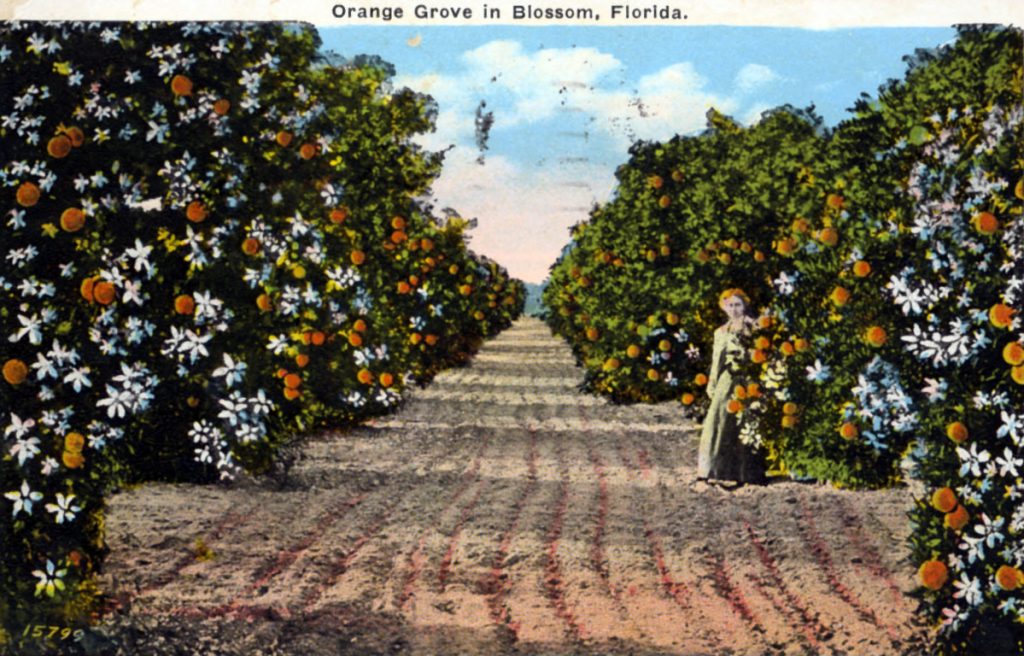 In honor of Women's History Month, Digital Dialogs is delving into USF Libraries' Digital Collections for pictorial documentation of the early contributions women made on the local citrus industry.
Take a stroll through the varying aspects of the Tampa citrus industry below…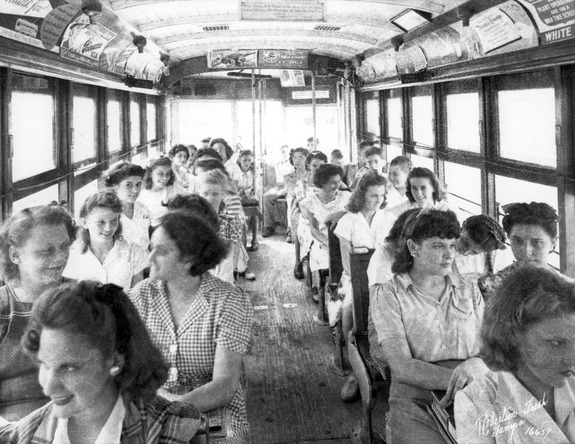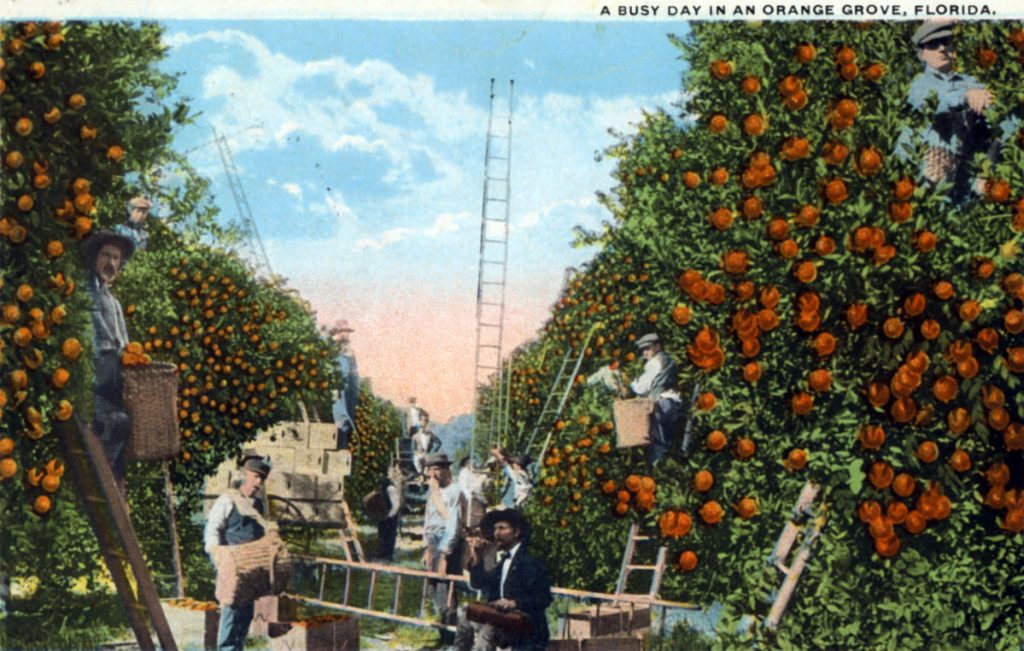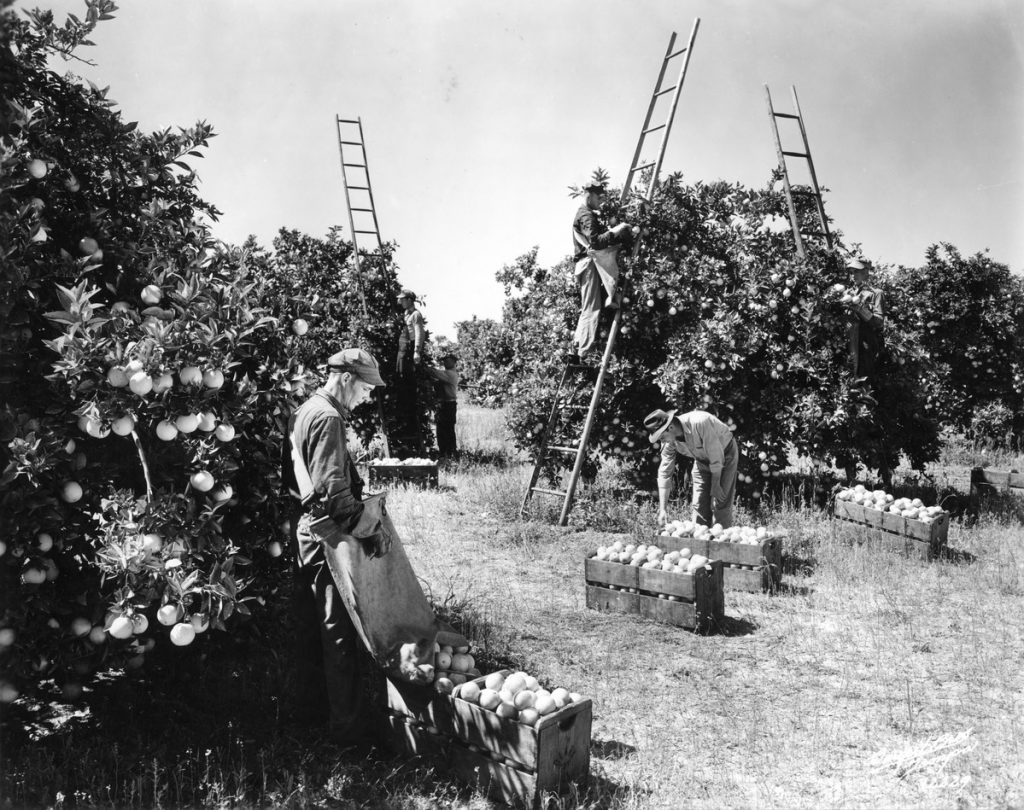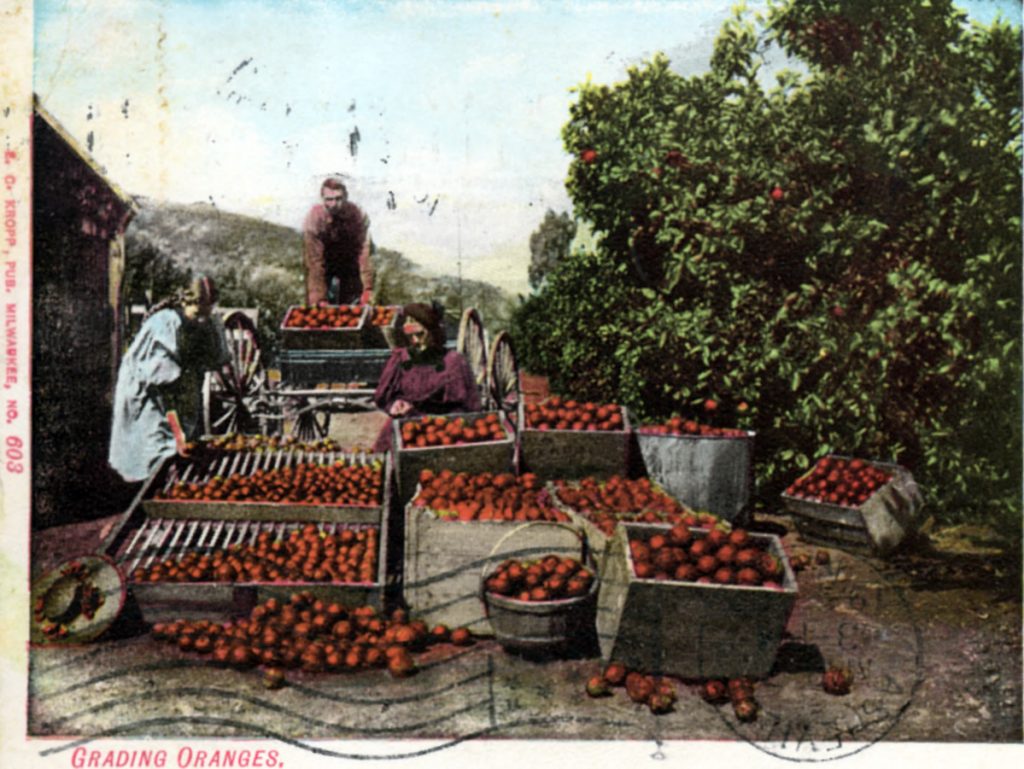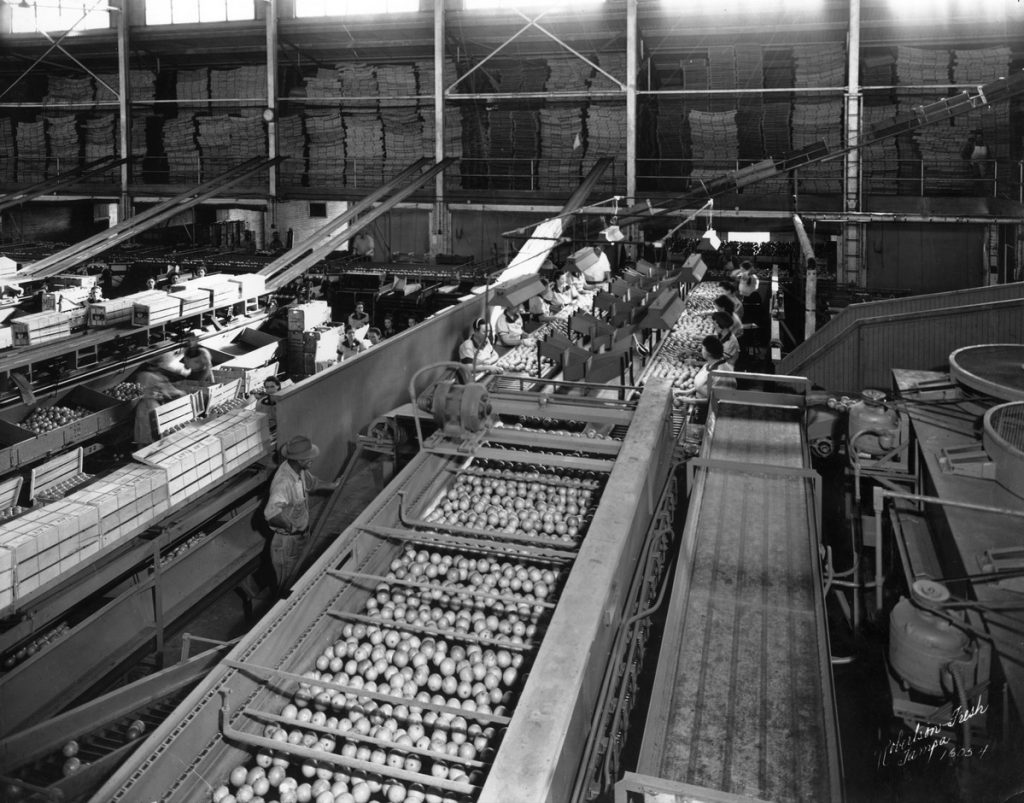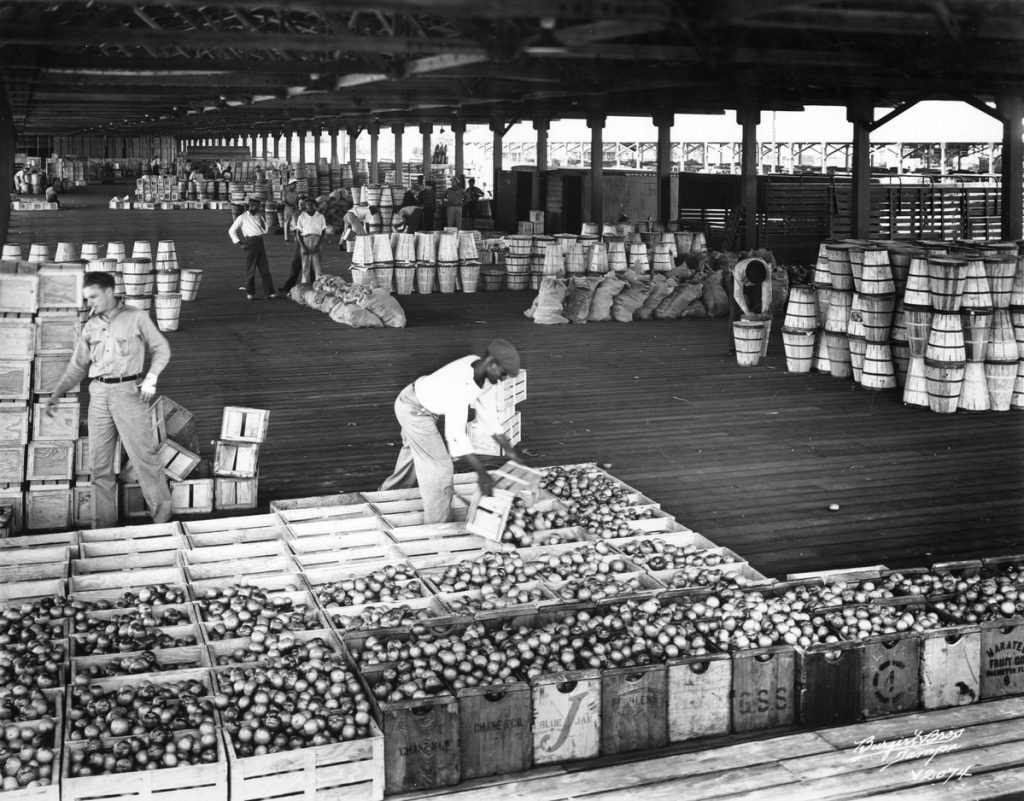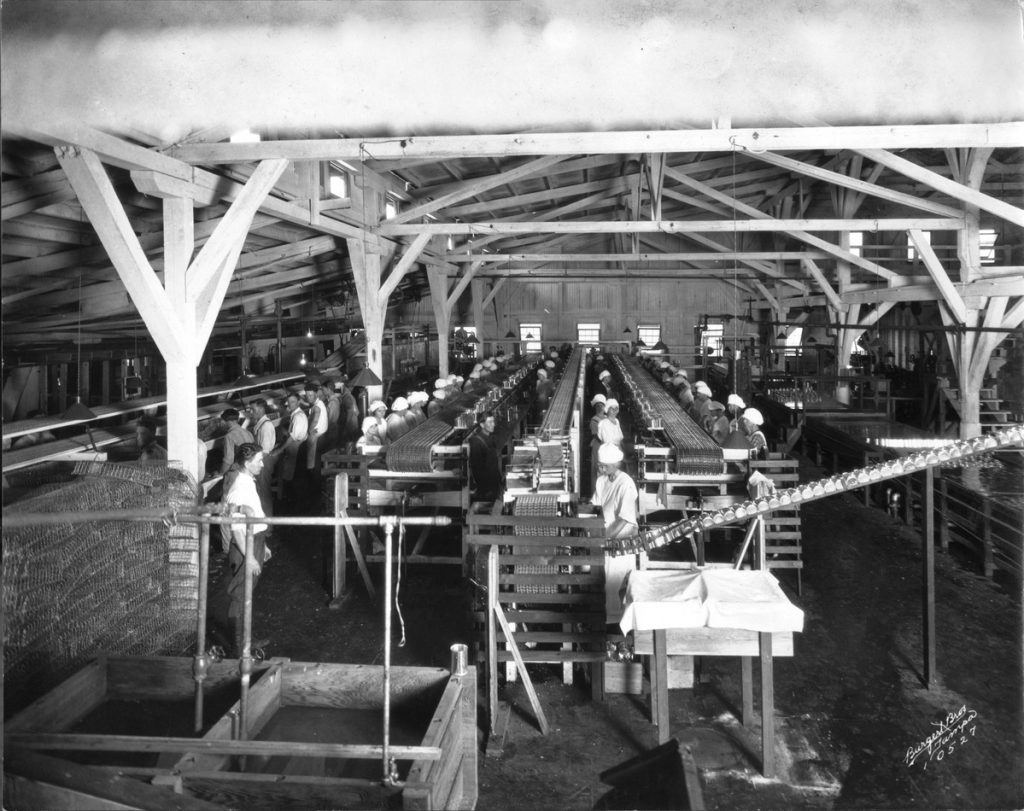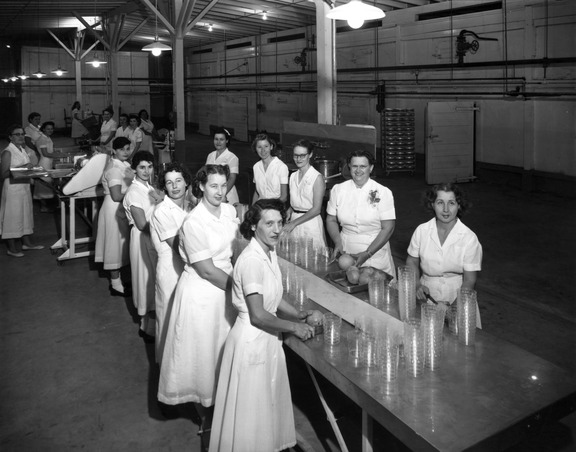 ---
Florida Citrus Industry Materials
Learn more about the Florida citrus industry by exploring USF Libraries' collections and resources.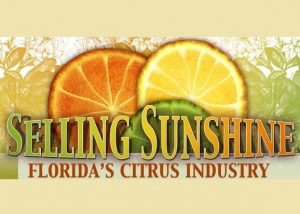 "Selling Sunshine: Florida's Citrus Industry" Exhibit
This exhibit explores the history of Florida's citrus industry through various materials held by USF Special Collections: post cards, sheet music, rare books, promotional materials, industry documents, and political correspondence. These materials served as the glue that joined Florida's identity irrevocably with the citrus industry in the public's mind.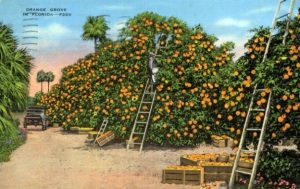 Florida Citrus Oral History Project
In a collaborative project between University of South Florida (USF) Libraries' Oral History Program and the USF Patel Center for Global Solutions, oral historian William Mansfield conducted 20 interviews on the impact of globalization on the Florida citrus industry.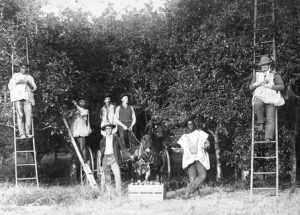 Stokes Collection of Florida Plant Railway Photographs
Concentrating on the Pinellas Pasco region, professional photographer C. H. Stokes found his subjects along the route of the old Orange Belt Railway. Railway companies used his photographs to promote tourism and development, projecting a rustic vision of Florida in the late 1890's.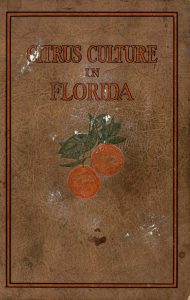 Florida Studies Collection
The Florida Studies collection contains materials relating to Florida's history and culture, especially the Tampa Bay region and its relationship with the Caribbean Basin. The collection centers around the themes of immigration, race, ethnicity, and gender and place them in a global context. The digital collections included here provide a sample of the materials available at the USF Tampa Library.
Citrus Culture in Florida (1923) by H. J. Wheeler, housed in USF Digital Collections.
---
Celebrate Women's History
Discover more compelling stories by reading Digital Dialogs' celebrations of Women's History Months past.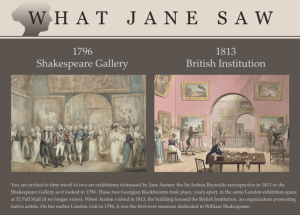 2018: What Jane Saw
This article focuses on What Jane Saw, an online time travel experience to two museum exhibits that were held in the same exhibition space and visited by Jane Austen. Two hundred years after Austen visited the exhibits, this project recreates the rooms and the artwork as they could have appeared during the exhibitions.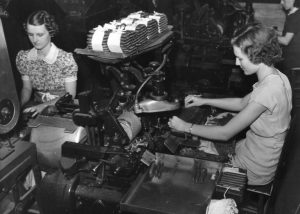 2020: Burgert Brothers Collection of Tampa Photographs
This article traces the history of women working in Tampa's cigar and cigarette factories as well as women's collegiate education starting in the early 1900s. From poor working conditions, harassment, and prejudice to sexism and social norms, women faced a variety of challenges as they entered into these working and learning spaces.

Additional Resources From USF Libraries: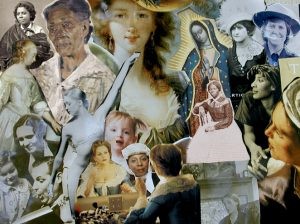 "A Reading List of Remarkable Women in History" by Barbara Lewis, Digital Learning Librarian
This guide provides two bibliographies of online items in the USF Libraries catalog: 1) Women's History lists books and videos about contributions women have made in specific fields, eras, and countries and 2) Women's Biographies introduces women who's names and legacies you may not recognize.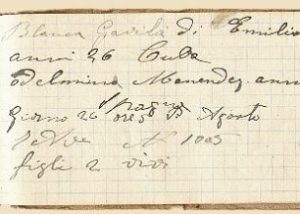 "Prolific Midwife Made Her Mark in Tampa" by Andy Huse, Special Collections Associate Librarian
This article focuses on Maria Messina Greco, a local midwife. Throughout her long career, she recorded approximately six thousand names in her notepads, each one for a life she ushered into the world. The Greco Tampa Midwife Records is housed in USF Libraries Tampa Special Collections.
---
REFERENCES
[1] Facts About Florida Oranges & Citrus. (2021). Visit Florida. Retrieved February 18, 2021, from https://www.visitflorida.com/en-us/eat-drink/facts-about-florida-citrus-oranges.html.
[2] Padgett, James (2018). Rebuilt and Remade: The Florida Citrus Industry, 1909-1939. University of Central Florida Electronic Theses and Dissertations. Retrieved from https://stars.library.ucf.edu/cgi/viewcontent.cgi?article=7736&context=etd.