Reading Time:
2
minutes
Ah, Firenze!  Located in the Tuscan region of Italy, this ancient city was a center of trade, finance, and culture in medieval times.  Home to the Medici family, whose power and control over the region began in the mid-15th century, Florence is considered by many to be the birthplace of the Renaissance.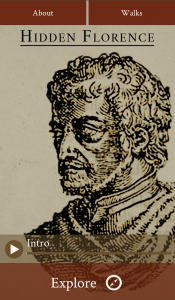 For anyone interested in returning to that time,  Fabrizio Nevola and David Rosenthal, bring us Hidden Florence, a smartphone app that guides you around Renaissance (1490s) Florence by Giovanni, a local wool worker.  A goal of the app is to present a non-traditional view of Florence; to visit locations not included in most tourists' agendas and to see the city through the eyes of a non-traditional tour guide. The character and audio narrative of Giovanni was developed from extensive research into the history and lives of the laborers of that time and through his narrative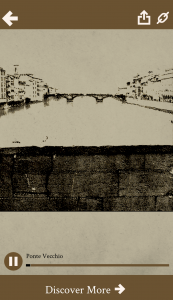 "… the visitor is given a sense of the Renaissance city as a lived experience: the structures of everyday life; and the rhythms that took men to taverns, streetcorners, the piazza, the workplace, and the food market. Giovanni also goes to several of the monumental sites that feature in any tourist itinerary, such as the Palazzo Strozzi, Orsanmichele and the Piazza della Signoria."
The app also features Giovanni's audio in both English and Italian.  A nice addition would be the provision of transcripts so the hearing impaired could also enjoy the tour.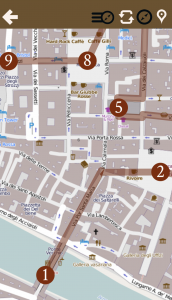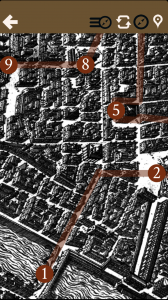 Using geo-location technology, Hidden Florence may be used as a self-guided tour while you're actually visiting Florence or you may use the app and "visit" the city from the comfort of your home or workplace. The tour uses the Bonsignori historical mapor you may switch to the conventional modern street map.
In addition to the Central Walk, which is downloaded with the app, you may also download two National Gallery walks, the Sant'Ambrogio walk, and two walks around Toronto.  Both the Central and Sant'Ambrogio walks worked well on an iPhone X.  Unfortunately, the other walks failed to load and crashed the app.
Overall, Hidden Florence is a well-designed, interactive, and informative app useful to the average tourist or a student of the Renaissance. Unlike the typical walking tour app, through the character of Giovanni, Hidden Florence brings the city to life and gives a glimpse of the past.
To learn more about the project, visit http://hiddenflorence.org.