Reading Time:
2
minutes
The Farid Karam, M.D. Lebanon Antiquities Collection is on view at the Tampa Museum of Art from November 11, 2021 to April 11, 2022. Fifty-six items from the 149-item collection are included in the exhibit and are on loan from the USF Libraries Tampa Special Collections. The collection was generously gifted by Dr. Farid Karam and Jehanne Karam in 1998. This is the first time since that donation was made that a selection of these ancient objects will be on view for the general public.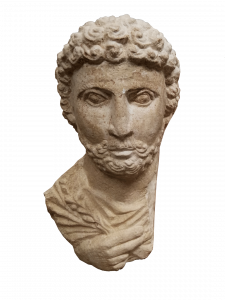 The collection as a whole is comprised of Roman and Phoenician antiquities, including jars, goblets, bottles, oil lamps, unguentaria (small ceramic or glass vessels), busts, and figures. Most of the items come from Roman Syria and date from the Middle Bronze Age to Early Medieval period. The collection consists of metal, stone, ceramic, and glass artifacts, including medical tools dating to the Hellenistic and Roman periods and Bronze Age toggle pins and other decorative objects. The ceramic artifacts include eight lamps, dating from the first to thirteenth century CE, and a series of unassociated bowls. The glass artifacts comprise unguentaria from the first four centuries of the first millennium and a few vessels dating to the Hellenistic period. Stone items are represented by three alabaster artifacts.
The Karam Collection exhibit is paired with Taking Shape: Abstraction from the Arab World, 1950s–1980s through January 16, 2022. Taking Shape explores mid-20th-century abstract art from North Africa, West Asia, and the Arab diaspora—a vast geographic expanse that encompasses diverse cultural, ethnic, linguistic, and religious backgrounds.
We invite you to explore the collection at the Tampa Museum of Art, which is open 7 days a week. USF students get in free with their college ID, adult admission is $20, Florida educators $12, and children 6 & under are free. You can find hours of operation and address at tampamuseum.org/visit.