Reading Time:
5
minutes
In October 2019, USF Innovative Education's Digital Learning production team premiered their docu-short "Our Last Chance: Preserving Cape Canaveral," which chronicled USF Libraries Digital Heritage and Humanities Collections' (DHHC) ongoing preservation work with the cultural resources division of the 45th Space Wing at Cape Canaveral Air Force Station.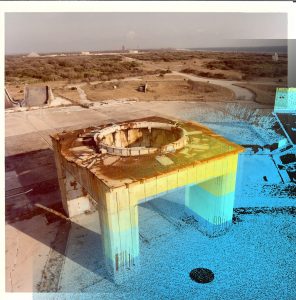 DHHC's National Historic Landmark project focuses on preserving Cape Canaveral's launch complexes that took us to the moon. These massive structures weren't built for permanency, and they've been left behind destined for destruction by climate change and sea level rise. By using the latest in 3D laser scanning technologies, DHHC is working to save these imperiled historic structures for future research and learning. The history being documented represents our nation's early space history, and in creating a digital record of information as it exists today, it provides opportunities to learn from our past and where we're going in the future.
Many awards and nominations rolled in for the documentary early this spring; the full awards list can be found at the bottom of the page. We spoke with Digital Learning Creative Director, Jared Brown, and Producer, Gary Granger, as well as the co-directors of the DHHC, Drs. Lori Collins and Travis Doering, to discuss the project's successes.
Why did you want to capture the work DHHC and the 45th Space Wing were doing?
Jared Brown: We couldn't wait to be a part of a project that is impacting how our country's space exploration history is remembered.  It was a dream to be able to step foot on and capture such iconic structures and sites that we all grew up learning about. 
Gary Granger: 2019 was an incredible year for the renewed interest in space exploration. Historic events with Space X, Blue Origin, and the 50th anniversary of the Apollo program not only made the story appropriate, but in our minds, an essential part of the space exploration story. To walk the launch complexes, to film and tell the stories of the incredible work being done to digitally preserve this important part of our history drove our team's passion for this project.
What piece of this story moved you the most while filming and producing?
JB: The fact that DHHC may be the last group to document and digitally preserve these historical sites, is incredible.  I think that the impact all of this work will have, may not feel significant in the present, but will be extremely important for future generations.  I am so grateful that we were able to be a part of this project.
GG: As we were filming, Lori walked us down to the beach, where she was explaining that the buildings are literally disintegrating into the ocean. As we stepped onto the beach, Lori looked down and started picking up rusted pieces of metal and showed us where they came from. Walking through the complexes and seeing how quickly such an important part of our history is being eroded struck home with us. The title "Our Last Chance" sums it up for me; the DHHC team is employing the best of today's technology to preserve this part of our history before it's too late.
How has this
film
affected your relationship with your work at Cape Canaveral?
Dr. Lori Collins: Documenting and providing the behind-the-scenes look at research is so valuable because it helps convey all the effort and research development process that goes into a project, and conveys the meanings and outcomes in ways that are engaging and readily understandable to a broad audience.
Dr. Travis Doering: For our grant research, it has greatly assisted us in being able to also communicate results and outcomes to our funding agencies and collaborative supporters. Better communication of these results leads to increased opportunity development and helps our partnering agencies further outcomes and results and share successes. Part of this research involves the development of workflow strategies for digital heritage preservation on base installations for our nation that extend beyond Cape Canaveral, so this type of documentary of the research also assists in communicating the importance of this work for national outcomes.
How do you see this project, and its associated data, being utilized in research and teaching?
JB: I believe this project will help students and researchers continue to learn from and improve on future space programs long after these structures are gone.
GG: The film serves a few functions: 1) To share how DHHC collects their data. 2) To show how they add context to create detailed information about the history of the Cape. 3) To show how they give meaning to the information in order to give it a sense of reality. 4) And finally, to give insight into the understanding and possibilities of how the data can be used in the future. Our hope is to inspire students and other researchers on the possibilities of the research DHHC is doing!
What excites you most about the potential this project holds?
JB: The most exciting thing to me about the work that DHHC is doing, as well as the documentary about it, is the lasting effects the work will have to preserve our nation's history.  The next generation may never get to physically see these structures, but these projects will give them an opportunity to see what they looked like and how they functioned.  As well as getting a behind-the-scenes look at how the team documented it all.
GG: Agreed!
LC: Having a direct impact on the long-term preservation of threatened and imperiled sites, especially ones of this significance and National Landmark status and import, is of utmost importance to the DHHC mission. Not only does this research help to provide means for protecting these vanishing places, but through our digital collections and archive of this project we are creating a permanent record that assists our nation's social memory of this place and all the events and people.
TD: For teaching and education, we are excited to see that not only will we have an incredible collection archive through the USF Libraries of our nation's space history, but we are connecting to other important collections and means of global sharing, such as through collaborations with the Smithsonian Institution, Google Arts and Culture Program, and through our partnership initiative OpenHeritage, which makes data openly accessible and freely available to future researchers and educators.
How are you feeling about the awards and nominations?
JB: We are extremely proud and grateful for the success that this project has seen.  Our team worked very hard to make sure that we captured the importance of the work being done, as well as teach students how they could be a part of history moving forward.  I think the accolades are validation that we were able to do that in a way that captivated the audience to want to learn more.
GG: It is an honor to have received selections and awards from some of the world's most renowned science film festivals and award shows, and it is a true testament to the work DHHC is doing.
Watch the award-winning film:
Awards and nominations for "Our Last Chance: Saving Cape Canaveral"
2020 Suncoast Regional Emmy Award Winner for Informational/Instructional Video
2020 Suncoast Regional Emmy Award Winner for Best Directing
2020 Suncoast Regional Emmy Nomination for Best Editing
2020 Silver Telly Award for Best Documentary
2020 Webby Award Honoree in Science and Education
2020 Official Selection into the Sarasota Film Festival
2020 Official Selection into the Raw Science Film Festival
2020 Official Selection into the SCINEMA International Film Festival