Reading Time:
5
minutes
Written in collaboration with Dr. Amanda Boczar, the Operations Manager for Tampa Special Collections. Amanda is a historian who specializes in digital humanities and digital pedagogy. 
Headlines reporting a movement to pass massive book bans have been making the news across the United States.  Parents have requested the removal of books in Missouri, Kansas, Utah, and Ohio (Wang, 2021; Migdon, 2021; McMickle, 2021).  In Virginia, the Spotsylvania County Public School Board has called for a book burning, and in Texas, the concerns of a parent organization have been taken up by the Governor and a state legislator (Waxman, 2021; "When Schools Ban Books," 2021).   
The majority of the books on the proposed ban lists have LGBTQ+ themes or characters, like In the Dream House by Carmen Maria Machado, All Boys Aren't Blue by George M. Johnson, and Gender Queer by Maia Kobabe.  Books centered on the topic of race and racism, like Beloved and The Bluest Eye by Tony Morrison and This Book is Anti-Racist by Tiffany Jewell, also make up a significant percentage of the lists. The complaints from parents and parental organizations primarily point to sexually explicit passages included within the books questioned and the Governor of Texas' request to the Texas Association of School Boards calls for an investigation of pornographic content.  The subject matter of both the books and the parents' complaints are only two aspects of a complicated situation that encompasses other issues like whether the books are in the curriculum versus simply included in school libraries and whether the politicians backing certain ban lists are up for re-election (Waxman, 2021; "When Schools Ban Books," 2021; Migdon, 2021).   
This is not the first time book banning and book burning have made headlines in recent years.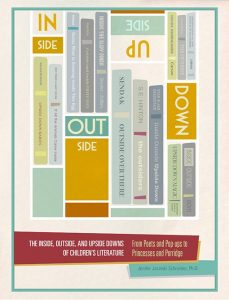 USF professor of Literacy Studies, Dr. Jenifer Schneider's The Inside, Outside, and Upside Downs of Children's Literature: From Poets and Pop-ups to Princesses and Porridge tackles the history, content, beliefs, and layers of cultural issues that are incorporated in banning books in her chapter "Banned and Burned:  Why Worry? It's Just Kiddie Lit."  She sets the stage by asking the reader how they feel about children reading objectionable words, words that include concepts ranging from sex and race to politics and religion.  Book bans are all about how an individual's opinions and beliefs interact with another individual's rights and freedoms.  
School libraries don't end up with books that aren't already vetted and selected by qualified experts, and challenges to book titles in schools can have a chilling effect on the librarians employed to select materials and the teachers employed to teach materials in school (Jacobson, 2016; "When Schools Ban Books," 2021).  The American Library Association has been keeping track of banned and challenged books every year, and keeps an archive of the most banned books on the ALA Banned & Challenged Books page of the ALA Office for Intellectual Freedom.   
Banned Books in Special Collections
USF Libraries – Tampa Special Collections has a diverse holding of rare or curated books that are either now under threats of banning or have been the target of book bans in the past. Two collections, the Children's Literature collection and the Ted Hipple Collection of Young Adult Literature, are dedicated to books that have frequented challenge lists. At over 18,000 volumes, the Children's Literature collection is home to a wide variety of predominantly nineteenth and twentieth century works for young readers. The Hipple collection is a large, growing, and diverse collection with approximately 8,000 volumes ranging from signed first editions of classic teen novels to proof copies and multi-lingual editions of new best sellers.  
Across the Special Collections, the library has countless challenged books to discover in the stacks, including those featured in "Banned and Burned." See some examples below: 
Captain Underpants,
Dav Pilkey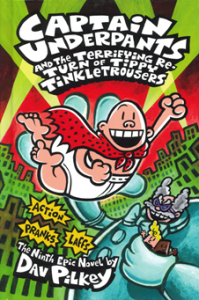 Dr. Schneider recognizes the popular children's series Captain Underpants as the most frequently challenged book since "the main characters dislike school and they disrupt and disturb the people who run the school." As Schneider explains, however, concepts like emulation are complex (329). Special Collections holds two Captain Underpants books, including one signed volume of Captain Underpants and the Terrifying Return of Tippy Tinkletrousers: the Ninth Epic Novel and a publisher's edition of the twelfth novel that came with a special edition character cape. 
Forever
, Judy Blume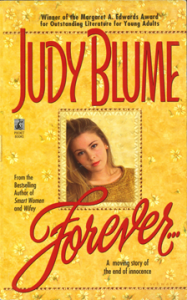 Are you there, reader? It's time for Judy Blume! Schneider notes the Blume's works were often targeted for mature themes including sexuality. Blume donated several copies of her classic young adult novels to the Hipple collection in 2010, including signed copies of Forever and Are you there God? It's me, Margaret. The collection including Blume's hand-written postcard in support of the Hipple collection, as well as several other volumes of her work. 
Ulysses
, James Joyce
Inspired by "Banned and Burned," we took a peek into the Special Collections stacks to highlight a few other previously or currently challenged books. Up first is a rare edition of James Joyce's iconic modernist novel, Ulysses. This 1935 edition was limited to 1,000 printings and illustrated by Henri Matisse. The library's copy is number 134 and signed by the artist, making it perhaps the department's most valuable formerly banned book. Ulysses was banned due to graphic sexual content, but those bans were lifted in the United States in 1933 and in the United Kingdom in 1936.  
Beloved
, Toni Morrison
Toni Morrison's powerful and haunting Beloved remains a challenged book more than 34 years after first hitting shelves. The author's sharp criticism of racism and the history of enslavement are shown through violent acts that have led to its banning in several schools across the United States. You can view a first edition of the book in Special Collections.  
The Hate U Give
, Angie Thomas
A contemporary book facing bans is Angie Thomas' 2017 hit, The Hate U Give. This work depicts themes of racism and discrimination in police-involved shootings has been banned due to language and the depiction of law enforcement. Special Collections holds a signed first edition of Thomas' work. 
Investigating why books were challenged in the past, and what books were challenged in the past can provide a fascinating window into history and culture.  Continue your investigation by exploring the Ted Hipple Collection of Young Adult Literature and the Children's Literature collection in Special Collections. 
REFERENCES