Find Reserve Items
The USF Library Course Reserves link in Canvas is the gateway to all materials on electronic reserve. Books and print materials on reserve are held at the circulation desk on the library's first floor.
Reserves at the Library
Electronic Reserves
---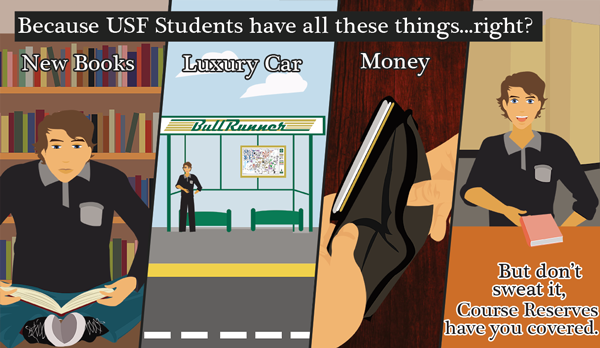 FAQs
---
What are reserves?
Reserves are materials required for coursework that are placed in a specially designated areas within the library and given shortened loan periods. Course reserves include library- and instructor-owned books, videos, audio recordings, and other relevant materials in support of classroom instruction.
---
Where is the reserve collection?
USF Tampa Library (1st Floor Library Services Desk).
USF St. Petersburg campus library (1st Floor Library Services Desk)
USF Sarasota (Information Commons)
---
How can I tell what is on reserve for a certain course?
Select the Course Reserves tab at the top of any library webpage and then search by either instructor's name or by course to find titles and call numbers of materials on reserve for your class.
---
I need to watch a reserve videotape and don't have a VCR, where can I watch it?
TV/VCR combo desk in the Digital Media Commons (1st Floor).
---
What are the fines for overdue reserve items?
$5.00 per hour. (Laptops & iPads are $10 per hour.)
---
How are Course Reserve items supplied to Students?
Faculty can request reserves items be made available to their students in two formats:
Hardcopy Format to be made available at the library reserve desk.
Digital or Electronic Format to be uploaded and made available to the student in Canvas.