Special Collections maintains a number of archival, manuscript, and photographic collections that document Tampa's rich history.
---
Explore this page
Hillsborough County Marriage Records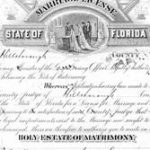 Dates: 1846 – 1988
Description: Marriage licenses, record books and indices on deposit from the Clerk of the Hillsborough County Circuit Court.
Click here to access records from 1878 – 1893 online »
---
Funeral Home Records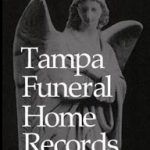 Description: In 1998, the Tampa firm of Blount, Curry and Roel donated the records of the F.T. Blount Funeral Home, the A.P. Boza Funeral Home, and the Lord & Fernandez Funeral Home. Also present are records for the Garden of Memories Cemetery, which Blount acquired in 1984.
Coverage: F.T. Blount Funeral Home Records: March 1924 – October 1991. A.P. Boza Funeral Home Records: January 1929 – October 1991. Also includes an index of clients buried in West Tampa's Martí / Colon Cemetery and forms generated by Boza's Riverside and Town & Country branches between June 1987 and October 1989. Lord & Fernandez Funeral Home Records: May 1947 – May 1951; January 1959 – March 1976. The forms, maintained chronologically by date, do not have a surname index. Garden of Memories Records: February 1984 – January 1989.
---
Aerial Photographs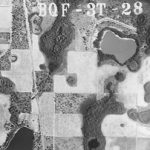 Coverage: Hillsborough County: 1938, 1957, 1960, 1966, 1972, 1976, 1988; DeSoto County: 1943, 1958; Hardee County: 1943, 1958; Polk County: 1941, 1943, 1958.
Description: This collection of aerial photographs originally came from the Hillsborough County Property Appraiser's Office. The 1938 and 1957 sets are partial, lacking many of the pictures covering the urban core and other areas of major development. The 1960 and subsequent sets are almost entirely complete, although some photos are missing from those sets as well. The 1938, 1957, 1960, 1966 and 1988 sets cover the entire county, while in 1976 and 1991, only selected areas were photographed. In 1966 and 1972, the whole county was photographed, but additional, more tightly focused coverage was provide for selected areas.
All of the aerial photos in this collection are black and white. The 1938 and 1957 aerials are small (9 ¼ x 9 ¼ inch) positive prints on paper. They were taken from high altitude and are 1:20,000 scale. The other sets are comprised of large mylar sheets resembling giant photographic negatives; they range in size from 20 x 30 inches for the 1960 set to 36 x 30 inches for 1991. The 1960-1991 images vary considerably in scale. The 1991 set covers only a very limited area of the county, and the individual sheets vary from 1:100 to 1:200.
The aerial photographs are retrieved using key maps that are marked to show the area each map sheet covers and the location code number for the sheet. There are individual key maps for 1938, 1957, 1960, 1988 and 1991, and the location codes for photos covering a given area varies from year to year. The aerials for 1966, 1972 and 1976 use a single key map, so the photos covering a given area will have the same location code for all three years.
Only the Hillsborough County aerials are indexed.
---
Burgert Brothers Collection of Tampa Photographs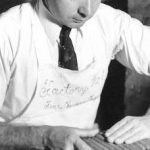 Dates: 1846-1960s (bulk 1920s-1930s)
Description: Al and Jean Burgert established the pioneer, commercial photography studio Burgert Brothers in Tampa around 1917. Primarily focusing on the Tampa Bay area- including Ybor City, Port Tampa, Temple Terrace and Ballast Point- Burgert Brothers photographers captured Tampa's development from small town to major city, with images of people, churches, residencies, street scenes and businesses.
Click here to access the collection online »
---
Robertson and Fresh Collection of Tampa Photographs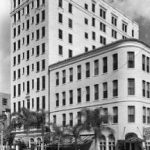 Dates: 1930s-1960s
Description: The Robertson and Fresh commercial photographic firm was active in Tampa from 1932 to 1960. William Vernon "Red" Robertson shot photographs while Harry Fresh processed and printed the images. The Robertson and Fresh Photographs provide a visual records of Tampa from the Depression to the prosperous post-WWII era.
Click here to access the collection online »
---
Stokes Collection of Florida Plant Railway Photographs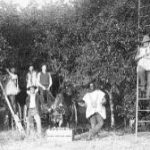 Dates: 1895
Description: Concentrating on the Pinellas Pasco region, professional photographer C. H. Stokes found his subjects along the route of the old Orange Belt Railway. Incorporated in 1893, the Sanford & St Petersburg Railroad took over the older railway's properties, and then became part of the Plant System in 1895. Both railway companies used the photographs to promote tourism and development.
Click here to access the collection online »
---
Earl R. Jacobs III Collection of Francis G. Wagner's St. Petersburg Photographs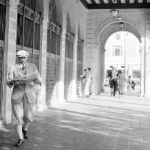 Dates: 1920s-1960s
Description: This collection documents the growth of St Petersburg from the 1920's to the 1960's. Photographer Francis G. Wagner [9 May 1891-2 Dec 1975], a native of Tontogany Ohio, came to St. Petersburg in the winter of 1914. He opened St Petersburg's first camera store, the Strand Camera Shop at 9 Second Street, in 1916. The Wagners sold the Strand Camera Shop to employee Charlie E. Jones in 1963. Jones closed the shop around 1980 and the space was rented to various businesses. Hired in April 1984 to clean out the storage loft, Earl R. Jacobs, III found and preserved more than one thousand negatives.
Click here to access the collection online »
---
Wehman Collection of Florida Spanish American War Photographs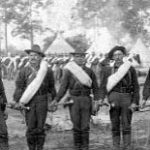 Dates: 1898
Description: A collection of Spanish American War photographs taken mostly in Tampa collected by the Wehman family.
Click here to access the collection online »
---
Tampa WPA Office Papers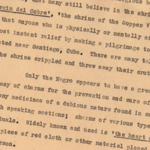 Extent: 24 linear feet (39 boxes)
Description: The bulk of this collection consists of manuscripts and revised typescripts of the Florida edition of the American Guide Series; drafts and revisions pertain to Hillsborough County, particularly the city of Tampa, with a substantial number of essays on Ybor City and its immigration history. Correspondence and research by Stetson Kennedy, one of the project's chief editors, is included. Also included are the correspondence and records of daily activities of Carita Doggett Corse, who served as the director of the Florida Writer's Project in 1935.
Click here to access the collection's finding aid »
Click here to access portions of the collection online »
---
Sape A. Zylstra Collection of Tampa Architectural Slides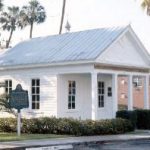 Description: Dr. Sape Zylstra has constructed within this collection a glimpse of the first century of Tampa's rich architectural history. From the earliest schoolhouse built by General Jesse Carter for his daughter to a Post-Modern home constructed by notable Tampa architect Eduardo Garcia, we get a peek at the fertile divergence of cultures drawn to Tampa.
Click here to access the collection online »
---
Morison Buck Biographies of Hillsborough County Judges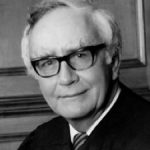 Description:Morison Buck, a native of Memphis, Tennessee, practiced law in Tampa from 1948 to 1977. He served as a United States Commissioner, as Tampa's Assistant City Attorney, as a Circuit Judge and, since 1991, as a Mediator for state and federal courts. The collection includes copies of "Chips off the Old Bench" columns written by Judge Buck for the Hillsborough County Bar Association.
Click here to access the collection online »
---
Florida Genealogical Society of Tampa Records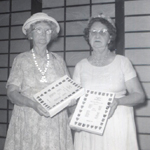 Dates: 1958-2000
Extent: 4.5 linear feet (7 boxes, 2 bound items)
Description: Established in Tampa on January 22, 1958, the Florida Genealogical Society states as its purpose: "To honor the memory of our forefathers. To search out and complete the broken lines of our descent. To acquire and preserve records of Genealogy and related History." Collection consists of the society's business records, yearbooks, photographs and publications.