Special Collections:
Houses rare, fragile, and unique materials ranging from a 4,000 year old Sumerian tablet to early printed books, photographs and prints, sheet music, ephemera, and history and literature collections. Learn more about our African American History collections below.
---
Explore this page
Armwood Family Papers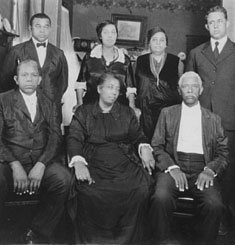 Dates: 1895 – 1991
Extent: 15.5 linear feet
Description: The Armwood Family Papers consist of professional and personal documents, including correspondence, photographs and other articles of historical significance, regarding this prominent Tampa family. Of particular interest are collection items related to Blanche Armwood, a pioneer African American educator whose achievements included establishing domestic science schools for black women and girls, serving as the Hillsborough County Supervisor of Negro Schools, co-founding the Tampa Urban League, and organizing numerous clubs and organizations dedicated to the betterment of the community. Other members of the Armwood family included Levin Armwood, Jr., Hillsborough County's first African American deputy sheriff, and Walter Armwood, who owned and operated the first African American owned drugstore in Tampa.
Click here to access the collection's finding aid »
---
Betty P. Brown Wiggins Collection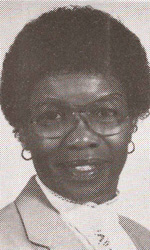 Dates: 1984 – 1993
Extent: 12 linear feet (22 boxes)
Description: Consisting of records produced by B.P. Brown Enterprises, Inc., a printing company that served clubs, churches, government agencies, businesses and organizations of Tampa, Florida, the Betty P. Brown Wiggins Collection documents the history of African American families and churches in Tampa as represented through such publications as souvenir program booklets, funeral notices, and stationery for community businesses. Recognizable customers include the Mt. Olive African Methodist Episcopal Church, the Alpha Kappa Alpha sorority, and the National Council of Negro Women. The Betty P. Brown Wiggins Collection is significant for its historic portrayal of the everyday lives of people in Tampa's African American community.
Click here to access the collection's finding aid »
---
Dupree Press Collection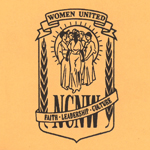 Dates: 1958-1992
Extent: 2 linear feet (4 boxes)
Description:The DuPree Press Collection consists of brochures, announcements, catalogs, and other publications printed by the DuPree Press for many of the Tampa Bay area's black organizations. Some of the organizations represented in the printings are: the National Organization of Black Law Enforcement Executives, the Tampa Alumni of Florida A&M University, various sororities and fraternities, and the National Council of Negro Women.
Click here to access the collection's finding aid »
---
Florida Negro Papers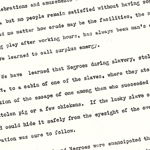 Dates: 1928 – 1948 (bulk 1933 – 1938)
Extent: 4.5 linear feet (9 boxes)
Description: In 1991, USF received the Florida Historical Society's permission to reproduce the Florida Negro Papers in order to make the collection available to researchers. The bulk of the materials, which cover a variety of topics, consists of interviews with African American, Native American and Hispanic residents of Florida and non-Florida slaves. The first-hand accounts provided by former slaves offer a glimpse into Southern daily life during the Civil War era.
Click here to access the collection's finding aid »
---
Florida Sentinel Bulletin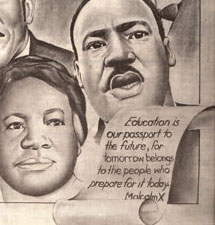 Dates: 1971-2011
Description: Since 1940, the Florida Sentinel Bulletin has provided a record of day-to-day life in Tampa's African American communities. Because more mainstream newspapers rarely covered the lives or activities of the black community, the Florida Sentinel Bulletin provides a unique perspective of the black community's history. The roles of black women and the black community's transformation during the Civil Rights Movement are of particular interest, as highlighted through coverage of the social, political, cultural and religious activities of this period.
Special Collections holds incomplete runs from 1971-2008; holdings from 1946-1970 are available on microfilm. Digital copies of the newspaper from 2007- 2010 can be found here. Issues are being continually added to this collection. For detailed holdings information, click here.
---
Cody Fowler Papers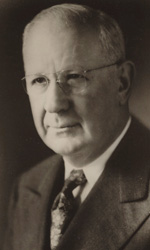 Dates: 1959 – 1977
Extent: 3 linear feet (6 boxes)
Description: Cody Fowler (1892 – 1978) was a prominent attorney who played a major role in furthering nonviolent racial integration in Tampa during the turbulent Civil Rights era of the 1960s. The Cody Fowler Papers cover Fowler's service as chairman of Tampa's Bi-Racial Committee (1959 -1964) and his role in the city's Commission on Community Relations (1964 – 1967). Fowler, who, with the Tampa NAACP, facilitated a plan to desegregate area lunch counters and remove segregation barriers in public facilities, was one of the founding members of Fowler, White, Boggs and Banker, a prestigious Tampa law firm.
Click here to access the collection's finding aid »
---
Ellen Haynes Green Collection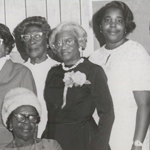 Dates: 1957-1992
Extent: 2.5 linear feet (5 boxes)
Description: Acquired in 1993, this collection contains the personal papers and related archival documents of Ellen Haynes Green. Green, born in Tampa in 1915, became involved with the Tampa chapter of the NAACP in 1955. Elected president in 1959, Green held various offices and particupated in both local and national civil rights activities before ill health ended her work with the NAACP. Green was also active in other civic organizations, including the National Council of Negro Women, he West Tampa Advisory Council, the Southwest Civic Club, and the Young Women's Christian Association (YWCA). The Ellen Haynes Green Collection documents Green's life and accomplishments as a civil rights leader. Included in the collection are documents relating to the NAACP and Mt. Zion A.M.E. Church, newspaper clippings, and photographs.
Click here to access the collection's finding aid »
---
Bank of America Black American Music Collection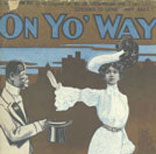 Dates: 1818 – late 1980s
Extent:54 linear feet (35 boxes)
Description: The Bank of America Black American Music Collection consists of approximately 4000 pieces of published sheet music reflecting the influences of African Americans on popular music in the United States. The music was created, performed, or published by African Americans or portrays African American themes throughout the nineteenth and twentieth centuries in the United States. The collection chronicles the evolution of African American inspired American music for a period of nearly 200 years and includes such items as music books, manuscript music, photographs, posters, handbills and other ephemera related to the collection of sheet music. This collection is useful to musicologists, sociologists, historians and visual artists. The illustrated covers and lyrics illuminate racial and cultural attitudes of previous generations. The collection was acquired in 1988 from a Michigan music store and made possible by a generous donation on behalf of Bank of America (then Nationsbank).
Click here to access catalog records for all of the scores in the collection »
---
Ruth Perry Papers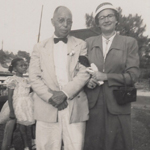 Dates: 1951 – 1968
Extent: 1 box
Description: The Ruth Perry Papers include letters, documents, and articles pertaining to the Johns Committee as compiled by the NAACP's (National Association for the Advancement of Colored People's) Miami branch. Ruth Perry, who served as secretary of the Miami NAACP from the 1950s to the early 1960s, wrote many of the articles in the collection for the Miami Times, a newspaper that served Miami's black community. These articles and related collection items document the Johns Committee's attempts to gain access to records maintained by Florida's NAACP branches. Also included in the collection are Perry's speeches (1953 – 1956), NAACP correspondence (1954 – 1965) and newspaper articles from various Miami periodicals (1951 -1968).
Click here to access the collection's finding aid »
---
Progress Village Papers
Dates: 1958 – 1970 (bulk 1959 – 1960)
Extent: 2 linear (4 boxes)
Description: Progress Village was Tampa's first low-income housing project. These records outline the planning and construction of Progress Village and include correspondence files, working papers, and related documents.
Click here to access the collection's finding aid »
---
Harold Reddick Collection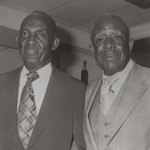 Dates: 1982 – 1991
Extent: 1 box
Description: The Harold Reddick Collection contains correspondence, interviews, awards and documents pertaining to the Civil Rights Movement and the Tampa chapter of the NAACP. Harold Reddick, a native of Jacksonville, Florida, worked as a porter for the Pullman Sleeping Car Company, eventually becoming involved in the BSCP (Brotherhood of Sleeping Car Porters) for over 30 years. In 1939, Reddick moved to Tampa, where he served as vice-president of the Tampa NAACP in the mid 1940s. Reddick's involvement helped steer the Tampa NAACP on a path that would serve as a model throughout the following decade. Dr. Jack Moore, former USF professor of American Studies, donated the Harold Reddick Collection in 1995.
Click here to access the collection's finding aid »
---
Robert and Helen Saunders Collection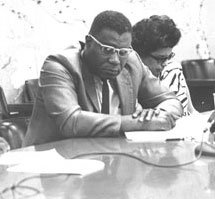 Dates: 1952 – 2001 (bulk)
Extent: 46 linear feet (79 boxes)
Description: The late Dr. Robert W. Saunders was a staunch political activist whose professional career included work as Field Secretary for the Florida NAACP, Chief of the Civil Rights Division for the southeastern region of the Office of Equal Opportunity, and Director of the Hillsborough County Equal Employment Opportunity Office. An active member of the NAACP's Tampa Branch, Dr. Saunders served in various posts, including that of president. His wife, Helen Strickland Saunders, served as secretary of the NAACP Tampa branch from 1964 – 1976 and as branch president from 1976 – 1981. The Robert and Helen Saunders Collection contains historically significant materials dealing with Civil Rights. Although the collection primarily centers on Tampa, Florida, materials relating to the Federal government's efforts to deal with poverty through the Economic Opportunities Act also are included. The collection consists of correspondence, documents, and publications covering the years of the Saunders' service with the Florida NAACP and the southeastern Equal Opportunity Office.
Click here to access the collection's finding aid »
---
Snow Family Papers/Robert Snow Collection
Dates:1826-1873
Description: The Snow's were a Hernando County, Florida family who owned the plantation Snow Hill, later renamed Chinsegut Hill. The contents of the collection include correspondence, financial records, promissory notes, bills of sale, deeds, receipts, and other business records dating from 1826 to 1873, with the bulk of these records pertaining to the transactions of William H. Mein, Francis H. Ederington, and Precious Ederington. Includes an Indian patrol warrant and original transaction records for the sale of slaves.
Click here to access the collection's finding aid »
---
USF Department of Anthropology African Americans in Florida Project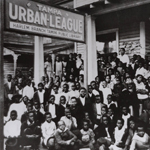 Extent: 10.5 linear feet (22 boxes)
Description: The USF Department of Anthropology African Americans in Florida Project primarily consists of materials gathered by the USF Department of Anthropology to support its African Americans in Florida research project. The collection also includes files of the department's Central Avenue Legacies Project, a study of Tampa's historic African American business district. Comprising the collection are oral history audio cassettes and transcripts, photographs, newspaper clippings, reproductions of journal articles, book chapters, theses and dissertations, and copies of state, city and federal documents. Also included are materials originally created and/or collected by the CETA Black History of Tampa Project, a federally-funded research project that took place in 1977 – 1978 under the direction of Otis Anthony.
Click here to access the collection's finding aid »
---
Florida Slave Narratives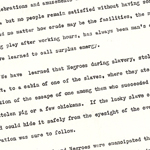 Dates: 1926-1936
Description: Compiled from 1926-1936, this collection of written interviews will give students the opportunity to experience history at a personal level, through the words of elderly African Americans who spent their own childhood and teenage years as slaves. The narratives are presented with the permission and cooperation of the Florida Historical Society, owner of the original set of typed documents.