The Research Platform Teams are designed to provide faculty and graduate students with responsive, collaborative services that connect researchers with the resources and services they need to elevate their research profile to the next level.
Research Platform Team Services
Pedagogy & Teaching
Research Platform Teams can support departments by teaching credit-bearing courses, assisting faculty with course design, and developing strategies to integrate primary-source library research into the curriculum. RPTs also offer workshops and skills training specifically tailored to faculty and graduate students.
---
Publication Support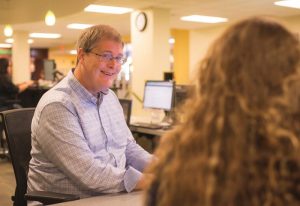 Members of our RPTs can help you in your scholarship in a variety of ways, from helping you target the best publications to assisting you with your copyright questions. Here are some of the ways we can help:
Assistance in open access publication navigation
Creating and maintaining your scholarly profile
Assisting with metrics for tenure & promotion
Finding solutions to copyright questions
Assisting graduate students in navigating the citation and publication landscape
Connecting scholars with our institutional repository
---
The Library's Digital Heritage and Humanities Collections GIS Lab supports the use of geographic information services by USF students, faculty, and staff. For information about integrating GIS into your research, please contact LibraryGIS@usf.edu .
---
Let the Library help you with your data management plan by providing you with resources that help manage your data, plan your preservation and dissemination strategy, and connect you with metadata standards that match your area of research.
---
Raising Awareness
Our Research Platform Teams strive to raise awareness within the scholarly community concerning USF's extensive and impactful research activities. We do this by helping our faculty and graduate students elevate awareness of their work through podcasts, social media, publication metrics support, and scholarly profiles and citation management strategies.
To follow the latest research of the faculty and Ph.D. candidates in the School of Geosciences, subscribe to the Calling: Earth podcast RSS feed here: http://callingearth.lib.usf.edu/
---
A Toolbox of Resources
Regardless of their area of focus, our teams draw upon support from across the Library, thereby obtaining expertise for such endeavors as collection and data management, Geographic Information Systems (GIS) and spatial analytics, intellectual property and citation impact, and publication strategies.
Our Team
Our Goal is to effectively transform the USF Libraries' traditional service posture of support for faculty into partnerships with faculty, by re-envisioning organizational workflows and developing imaginative strategies to elevate the profile of our shared USF community.
---
Maryellen Nash
Director of Research Platform Teams
I currently serve as the Interim Director for Research & Instruction, which is comprised of the Research Platform Teams, Special Collections, and Library Student Success units. I have earned Master's degrees in Library & Information Sciences as well as Instructional Systems Design. My professional interests lie in professional & organizational development, pedagogical theory, and educational psychology.
Matt Torrence
Librarian Lead for Geosciences
I currently serve as the librarian for the Natural Sciences, with a focused effort as the librarian for the Geosciences Research Platform Team, at the University of South Florida, Tampa Library. Along with the rest of the library professionals and subject specialists, I provide information expertise to students and faculty, with a special focus on the research, impact, and metrics needs of the clients and colleagues from topics related to the sciences. I work extensively in evaluating the resource requirements of these and other subject areas to enhance and improve library collections and services. My research focuses on public services, faculty and library collaboration, and research services to an academic library community.
Meghan Cook
Subject Expert for Geosciences
I am a Ph.D. candidate in the USF School of Geosciences, specializing in Geoscience Education. I have a Master's in Geology on igneous geochemistry and petrology, but I wanted to switch it up for my Ph.D. because I LOVE teaching others about the Earth. I have been teaching Earth Science/Geology at nearby community and state colleges since 2011, and I am interested in finding the process responsible for "making" a geoscientist.
Matt Knight
Librarian Lead for History
I am currently completing my dissertation at Harvard University on the Irish language revival in 19th-century Irish-American newspapers.
I work extensively with the Irish Studies Collection, the Farid Karam Collection, and the Dion Boucicault Theatre Collection. For the History Department, I teach "Irish Rebels and Revolutionaries," "The Irish in America," "History Internships in Libraries and Archives," and "20th-Century Ireland." I am currently working with History faculty to develop a new Research Methods course focusing on primary source research and utilizing library resources.
---
The RPTs are located on the 4th floor of the USF Tampa Library in the Florida Studies Center.