Reading Time:
3
minutes
By:  Amanda Boczar, Curator for Digital Collections and Jason Boczar, Digital Scholarship and Publishing Librarian

June 6th is the National Day of Caves and Karst, and we're celebrating with the official launch of the newly redesigned Karst Information Portal (KIP). For 2021 and 2022, the scientific community is also engaging in the International Year of Cave and Karsts, a global celebration organized by the International Union of Speleology.[1] Caves and karsts are geological formations that play a significant role in Florida's environment. Karsts refer to the terrain created by washed away limestone, a phenomenon that causes sinkholes, a common occurrence in Florida. Whether you're a seasoned scientist or simply interested in learning something new, KIP has a lot to offer!
---
What is KIP?
The Karst Information Portal (KIP) was created under the leadership Todd Chavez, Dean of University of South Florida Libraries, and Dr. George Veni, Executive Director of the National Cave & Karst Research Institute Executive Director Dr. George Veni. It was formed as a partnership between four institutions: the National Cave & Karst Research Institute, the University of South Florida Libraries, the University Libraries at the University of New Mexico, and the Union Internationale de Spéléologie (UIS) in June 2007. KIP has a truly global reach with research from and about diverse locations and published in many languages. Germany, France, China, and Brazil make up the top 4 non-United States countries where downloads are made. The wide reach and usage of KIP shows us how karst research is important around the world.
---
Meet the New KIP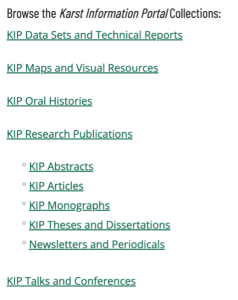 As part of a large-scale migration of USF digital collections to the Digital Commons platform (launching later this summer), the newly refreshed KIP has over 8,000 records and is steadily growing. To make the portal more browser friendly, the collections are broken down into genres of materials including data sets, oral histories, and articles.
The collection is fully keyword searchable to help connect the reader to the research they need. As a portal, KIP contains a mixture of fully downloadable content, as copyright allows, and links to outside resources, but it brings all the titles together in this searchable springboard to your caving interests.
---
Karst & FLENH @ USF Libraries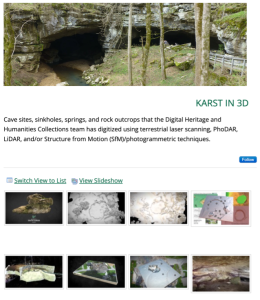 Caves and karsts are a significant part of understanding the world around us, making them a key research area for the USF Libraries' Florida Environment and Natural History (FLENH) collections. FLENH is a growing initiative for collecting in distinctive research materials tied to environmental issues and their intersections in the sciences, humanities, and policy worlds.
One of the newest areas of KIP is the Karst in 3D collection, created by the Libraries' Center for Digital Heritage and Geospatial Information (CDHGI). This exciting new collection uses 3D modeling technology to take us into karst formations in locations across the United States.
To dive into even more USF Libraries' content about caves and karsts, Librarian Matthew Torrance has interviewed dozens of researchers in the geosciences about their work for his hit podcast Calling: Earth. Check out the April 22nd episode with Dr. Patricia Spellman, Surface and Groundwater Hydrologist to hear her stories about cave diving and scholarship.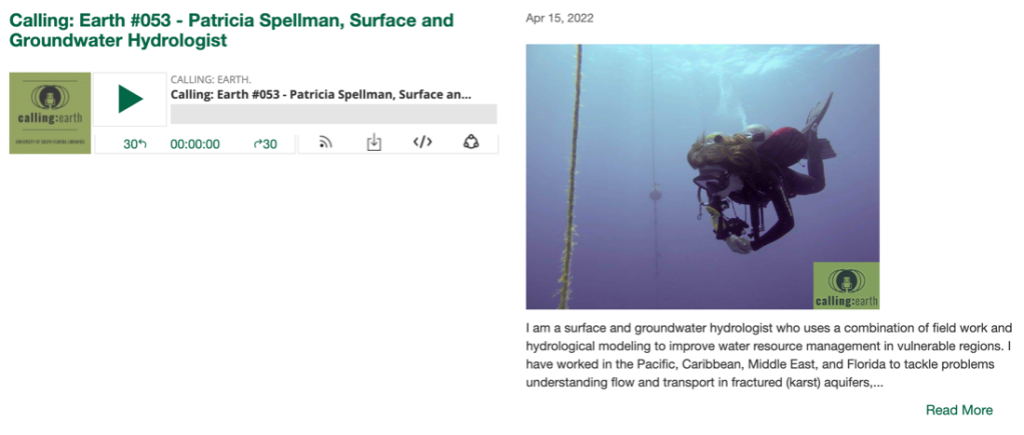 ---
Connect with KIP
The Karst Information Portal is located on the USF Libraries institutional repository Digital Commons @ USF. The KIP Brochure provides additional background on the project. If you'd like to learn more or get connected with KIP, please contact Jason Boczar (jboczar@usf.edu) for additional information on KIP.
---
Notes
[1] You can also check out the 2021 and 2022 Best of Karst events organized by the Karst Research Group at the University of South Florida (https://digitalcommons.usf.edu/bok/).