Reading Time:
6
minutes
Guest post from Richard Schmidt, Collection Specialist for Special Collections– Tampa campus. Richard specializes in digitization of rare materials.
The push for the USF Libraries to digitize the college's student newspaper, The USF Oracle, began several years before I was hired as a staff member in the building. Alumni and researchers alike have always been interested in being able to view campus newspapers, and the more that they could view online, the better. By the time I started working on the Digitization team in Special Collections in 2007, the effort to capture the day-to-day goings-on, as recorded by the newspaper, was well under way. The Oracle has maintained a largely daily schedule since its first official issue in September 1966, resulting in a staggering number of issues that needed to be scanned and edited before they could be uploaded to the library's digital repository.  
The USF Oracle did not begin providing simultaneous digital editions of the paper until sometime during the mid-2000s. So, the library was tasked with scanning everything from its earliest issues (1961-1966), when the publication used its former title, The Tampa Bay Times –University of South Florida Campus Edition. This is where my team and I come in. We began by scanning the 1967 newspapers on our Copibook overhead scanner. Its scanning bed is the perfect size for fitting newspaper pages one at a time. The process is tedious, but if you go slowly enough, page by page, making sure each is lined up properly, then a student or staff member can work fairly fast. An issue can be scanned in around 10 to 15 minutes, depending on how long an issue is.  
Even with more urgent and higher profile projects coming up over the years, the scanning of the years 1967 through the most current paper copies of The Oracle kept my team and I busy much of the week for a good, long while. As we pressed on, we couldn't help but notice how much more colorful the campus seemed to be in the late 1960s, according to staff writers of The Oracle anyway. There was a lot of coverage for early USF sports (pre-football team) like soccer, track, and swimming. Many of the staff writers focused on the rock bands coming through town, the civil rights protests, changeovers in staffing across the campus, cafeteria food, art happenings, and other campus activities.  
I've always been interested in the film, television, and pop culture side of history and I greatly enjoy seeing what films were playing on or around campus. So, I often pay less attention to what President Richard Nixon was up to at the time. Instead, I'm fascinated by what were people going to see in the theater, watching on TV, or doing with their spare time and money. That was when I noticed that the ads for the local Pizza Huts around the campus were particularly odd. When I spotted this advertisement, I was just in awe: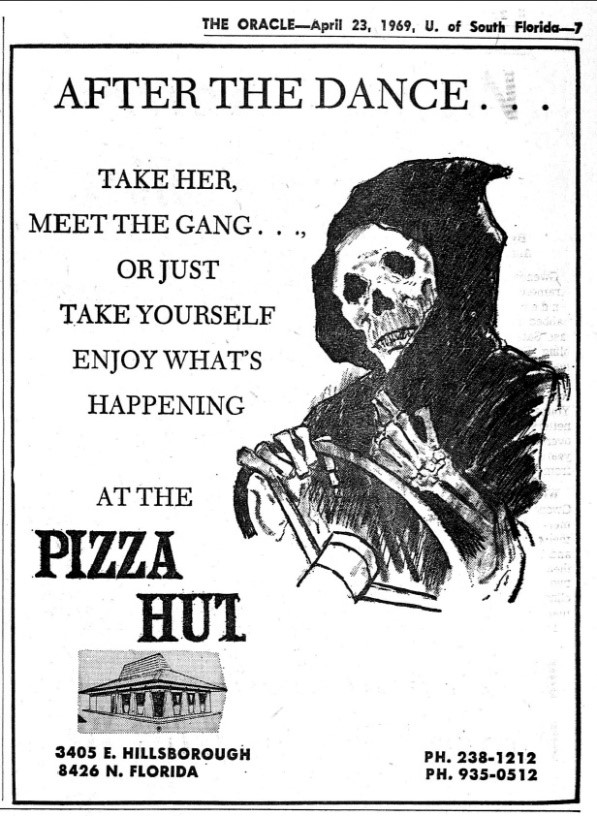 Had the local franchise pizza chain decided to save a few bucks on their advertising budget by letting the students that worked on The Oracle make their own ads to see what they came up with? Was there a promotion happening that needed some extra oomph from some creative copy editors? Were the original ads lost on their way to the mailroom? Whatever the case may have been, something was afoot at The Oracle in the pizza advertising department.  
This ad, the first anomalous Pizza Hut ad I encountered that gave me pause is from April 23rd, 1969. The paper starts off normally enough with a candid cover picture featuring a pair of fraternity dudes playing rickshaw to a pair of sorority girls playing horse and rider. The rest of the issue is rather humdrum with its Pepsi and "Mile High" 60 cent ham sandwich from the Science Center "Snack Bar" advertisements. Then things go off the rails on page 7 when the ad for The Pizza Hut containing the grim reaper behind the wheel of a car shows up. The reaper looks rather nervous as its disembodied voice proclaims in the ad "AFTER THE DANCE… TAKE HER, MEET THE GANG…, OR JUST TAKE YOURSELF ENJOY WHAT'S HAPPENING AT THE PIZZA HUT." Other than the bizarre punctuation and cryptic imagery, the bottom of the ad displays the pyramid-shaped roof of a typical Pizza Hut of the era, as well as the address and phone number. 
My first instinct was that this was a gag ad that had to have been for a Halloween dance, but the April date was evidence against that. I also suspected that this had begun as an anti-drunk driving ad. Now, it is encouraging inebriated students to proceed to the nearest Pizza Hut in order to sober up. Finally, I came to the conclusion that someone on The Oracle staff was given a very short deadline to come up something, anything to fill some space in the adverts as well as pleasing the whims of a possibly demented rogue pizza executive.  
Whatever the case, this ad, as a piece of pop art, inspired me to tweet about it. Most of my tweets are about movies and my mundane observations of the world, earning me anywhere from zero to twenty likes. Something about this grim reaper Pizza Hut ad however struck the imagination of a few of my followers, who retweeted it, expressing their confusion and delight over what this ad is even trying to sell. My favorite comments on it from Twitter were "Pimento mori" and "You can't out pizza the hut." Before I went to bed that night, I noticed that my post had around 100 retweets and 6,000 likes. In terms of Twitter success, by my standards, this was like winning the lottery. I decided that if it climbed any higher by morning, I would message my boss and explain the situation.  
The next morning, I checked my phone to discover that the tweet was now at 400 retweets and 31,000 likes! Before I could get to work and discuss what was going on with my superiors, I found an email sitting in my inbox from a reporter at Fox 13 Tampa Bay, who wanted to know who I was and what issue of The Oracle the ad had come from. Soon the grim reaper pizza tweet had reached its final rung of the viral ladder. Hovering around 500 retweets, 42,000 likes, and engagement with 2 million pairs of eyes. People were messaging me to let me know that folks were taking screenshots of my tweet and sharing it on other social media platforms beyond Twitter in case I wanted to do anything about it. I was too dumbstruck to care.  
To say I was baffled and terrified by all this attention is an understatement. I am not used to numbers like these, and that many people even knowing that I exist is frightening. New followers and conversations about what in the world is going on with that ad were flying in. And after a few hours of basking in my fame and fielding questions, I had to bail. I just muted the whole conversation and went about my day, hoping my boss would understand. Upon further investigation, the Pizza Hut ads in The Oracle for the entire year of 1969 are pretty bizarre and some of them are barely about pizza at all. In the years to come however, the ads became more subdued, less confusing, and sadly, rather boring. So maybe a drop in sales or a spike of grim reaper costume sightings in the parking lot resulted in less experimental advertising for the local Pizza Huts. The age of advertising by committee had begun for the franchise.  
Fox 13 came to talk to me and I did my best to explain why I loved working with these old newspapers, what caught my eye about these particular ads, what their strange messages were supposed to be accomplishing, and more importantly, why did my photo go viral on Twitter? With a cameraman and a reporter following me around the archive, I did my best to put myself in the shoes of someone who loved the tweet, or just found it amusing enough to show their friends. The best answer I could come up with was, to quote the grim reaper himself, "ENJOY WHAT'S HAPPENING". And that's just what the USF Libraries are doing as we continue to digitize and archive our remaining physical copies of The Oracle. We are up to the 1974 issues and are always on the lookout for new and eye-catching viral tweet opportunities.  
---
Want to see more?
Check out these ads from The USF Oracle in 1969 or browse all digitized issues of the Oracle, here!