Reading Time:
2
minutes
USF Libraries – Tampa Special Collections is home to all types of exciting resources from historic documents to rare books, vintage photographs, and digital recordings. Preserving and providing access to these materials requires periodic evaluation of the collections, media types, and their housing, leading to decisions about digitization. We recently had the opportunity to digitize seven reels of film and magnetic video from the Sam Gibbons collection, former Congressman and USF founder.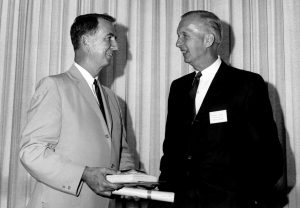 Congressman Gibbons dedicated his life to public service. From his participation in World War II, including the storming of Normandy during D-Day in 1944, to his rise through local, state, and federal governments, he played an active role in several defining moments of the twentieth century. While a Florida Congressman, and then State Senator, Gibbons played a key role in the formation of USF and the USF Foundation. He then served in the United States Congress for over thirty years, from 1962 to 1997, representing Hillsborough County on the national stage. The Sam Gibbons Collection includes more than 360 boxes of archival materials, focused on his time in Congress.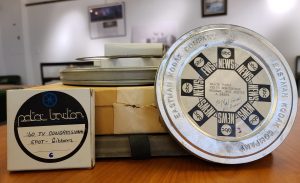 The newly digitized videos, ranging from just a few minutes to over one hour, showcase a few highlights of Gibbons' early time in Congress during the 1960s. These videos include campaign advertisements, news segments, and political speeches. Check out a preview of some of those clips below.
While most of the materials that USF Libraries digitize are available online, these items are a bit different. The copyright for the various clips are owned by several external entities, and thus broad open access online is not feasible. Still, the digitization was vital to access. The machines required to play film and magnetic reels are bulky, expensive, and difficult to use. In addition, film can decay over time, making data loss a possibility. By digitizing the items, we've preserved them for long-term use. The seven videos are viewable in our Reading Room, along with the rest of the documents in the collection. Researchers visiting Special Collections can easily browse these exciting parts of the collection from our researcher computers.  
---
Special Collections is open Monday-Friday 9am-4pm, by appointment only. You can request an appointment online. For questions, please contact spcinfo@usf.edu.