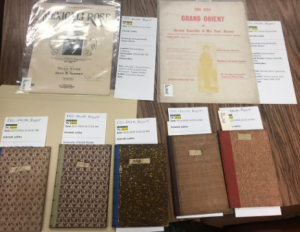 In honor of Hispanic Heritage Month and this year's theme:  Hispanics:  One Endless Voice to Enhance our Traditions, Digital Scholarship Services has digitized a small selection of musical and theatrical materials from our Special Collections Sheet Music and Centro Asturiano Collections.  First, in our newly created Sheet Music digital collection:  Two step : "Grand Orient" a souvenir of the Grand Orient Restaurant in Tampa, Florida and Mexicali Rose (Mexicali Rosa), issued in two languages with English by Helen Stone and Spanish translation by Manuel Sanchez De Lara.
We are very pleased to add a sampling of zarzuelas to our digital Centro Asturiano collection.  Zarzuelas, popular in Spain, the Caribbean, and Central and South America, are Spanish lyric-dramatic plays that alternated between spoken and sung scenes.  The zarzuelas from El Centro Asturiano, one of Tampa's early Spanish social clubs and mutual aid societies, would have been used in productions put on by and for the community of Spanish speaking members from many cultures.  Some even include hand written notes:
Find out more about Special Collections El Centro Asturiano Collection via the finding aid or search the collection in the catalog.