Overview
In response to the 2020-2022 strategic budget realignment process and a decade-long pattern of unsustainable annual cost increases, the USF Libraries are revisioning collection management.
Although the process for accessing full-text library resources may change, our commitment to providing USF faculty and students with access to the content they need for research and instruction is unwavering.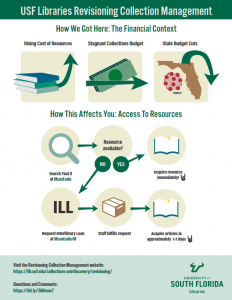 Our process is guided by the following principles:
continue support of faculty resource needs;
maximize control of the USF Libraries collection budget;
end reliance on non-recurring funding sources;
engage faculty in the decision-making process; and
refocus collection expenditures on perpetual rather than leased access.
info For more information, please see our brief slide deck, revisioning collection management handout, and infographic.
---
Communication
We firmly believe that transparency and efficient communication are key aspects of our Revisioning Collection Management process. In an effort to describe our process, relay collection decisions, and provide you with important information, we have created a suite of informational webpages, located in the "Revisioning Collection Management" section of the sidebar, at the right. See our Communications page for important notices from library administration.
Have questions or comments about our process or the future availability of a particular resource? Want to advocate for a resource that is pivotal to your research? Fill out our Questions & Comments Form. We value your concerns and welcome your insights.
Please note that the resource evaluation process is ongoing. We will review an estimated 84,000 titles by the end of March. Updates will be listed on the following pages:
---