Reading Time:
5
minutes
Just like many of our readers, the contributing authors of Digital Dialogs have been working remotely for the last few months from our homes. Like many, this transition presented a few challenges. Some challenges were to be expected—like internet connectivity issues, computer problems, and software glitches—while others were less so…
When we return to our desks each morning, we find mysterious coded messages on our computer screens, pens missing, our papers pushed to the floor, flash drives gone, and our mice hanging from the edge of our desks…
Is this the work of a ghost? A trickster? A burglar?
A fluffy head pops out of a drawer to give us a clue. So, who is the pen thief, the flash drive bandit, the commandeerer of vacated seats?
The answer is as cute as it is furry. All of the authors of Digital Dialogs are proud cat moms. And when we work from home, we have purr-sistent feline assistants. All of the objects and pieces of technology that were once meant to help boost our productivity quickly become objects for their amusement. They like to help us write, move our computer mice, and point out interesting things on our screens.
So, get to know the contributing authors of Digital Dialogs through the joys of working remotely with the help of our cat assistants, finding new ways to work from home and adapting to this crisis, together.
---
Meet the Authors:
Jane Duncan
Manager of Library Operations, Digital Scholarship Services
Jane is the proud mom of Eddie, a giant orange tabby. Eddie is a bit adventurous and a bit destructive:
"I can't have anything nice. Many people childproof their homes, I Eddie-proof mine. Some of his antics are disturbingly purposeful.  Once he carried a dishtowel into the bathroom and dropped it right into the toilet. Then, while I was sleeping, he found his way into my crochet project (tucked away in a box, in a bag, on a shelf) and managed to distribute 2 skeins of colored yarn through 3 rooms of my house, winding it through the bedroom, under the bed, through the living room and kitchen, under chairs, around end tables, behind the couch, and through a bookcase. Exercise for the human. He slept most of the next day."
As an assistant, Eddie is a good work companion… when he's not knocking everything off the desk with his gigantic fuzzy paws, or asking Jane to proofread his latest coded haiku:
akm;fajssodjfps jp9we8ur[98weu -98ur-928uer[urkls;aodfm.
Reuh[aon[aeotin[eotihn[e.
Auoirh]  oihgq[oeirhg[aoeirg[oqeirg[qoi.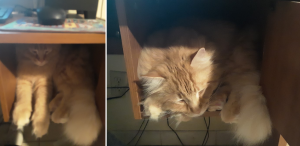 Whether he is standing on Jane's keyboard, jumping into his desk cubby, or meowing at her feet, Eddie is a happy addition to the office.
---
Barbara Lewis
Digital Learning Librarian & Library Liaison to Anthropology, Communication, History, Humanities & Cultural Studies, Mass Communications, Women's & Gender Studies, and World Languages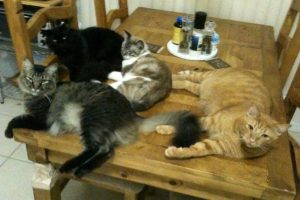 Barbara has four feline companions to keep her busy. During the workday, they keep her entertained with their playful antics. Either laying on the back of her chair or in her lap, they are never far away. Like Eddie, they too try to help with computer work by making strange windows pop up on Barbara's monitor overnight. So, off went the laptop, external keyboard, and mouse at the end of each workday.
---
LeEtta Schmidt
Copyright and Intellectual Property Librarian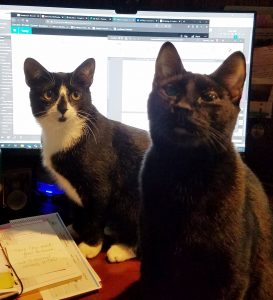 LeEtta is a mom to two cats, Spasmo and Gorgon. They are both about a year old. Spasmo is black and white, smallish, has disproportionately stubby front legs, and chatters like a monkey. Gorgon is all black, silent, and eats anything. Far from being standoffish, her cats seem to love having their humans working from home. As feline assistants, they make it their job to lounge on her desk and chase the cursor across the monitor. LeEtta doesn't mind though: "It encourages me to keep my desk clear of the papers and stuff that would regularly accumulate there. If I don't keep it clear, they will push everything off."
---
Carla Fotherby
Collections Specialist
Instead of commuting to the USF library building every workday, Carla commutes to her kitchen table. It saves on gas, but she now works among little tigers rather than humans. Every workplace has a learning curve, and these are some of the things that she has learned about her new coworkers since working from home:
My agenda book makes a comfortable cat perch.
When I type, they want more attention—I think they believe I am petting the keyboard. And, they don't lay on the keyboard as much as flop on it.
Buying canned air by the 6-pack should be considered a work-related expense, because I need to de-fur the keyboard each morning.
Cats can and do guard the house against intruders.
Naps are often and anywhere they choose—if only we were so lucky.

---
Lesley Brooks
Coordinator of Library Operations
Lesley is the proud mom of a three-year-old orange tabby. As an only child, Macey demands lots and lots of attention. When she thinks the computer has gotten enough of her mom's time, she likes to make her presence known by sitting on the computer's keyboard and pawing at the touchscreen, looking for the cursor. When the screen starts freaking out, it's time for her to move. After she has tried and failed to get back on the keyboard five times, she finally sulks and lays on Lesley's mouse. The little helper then spends most of the workday in her favorite spot, her mom's lap. There, she can remind Lesley when it is time for snuggles (which is quite often).