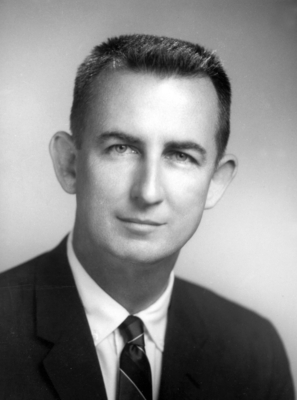 Florida House of Representatives, 1953-1958
Florida Senate, 1959-1962
U.S. House of Representatives, 1963-1997
Sam M. Gibbons was born in Tampa Florida in 1920. World War II interrupted his studies at the University of Florida, and he volunteered for the Army. He served as a paratrooper in the 101st Airborne Division and jumped behind enemy lines during the D-Day invasion. Following the war, he returned to UF and earned a law degree in 1947. In 1953 Gibbons was elected to the Florida House of Representatives, where he drafted a bill in June 1955 establishing the University of South Florida. He helped found the USF Foundation and served as its first president, expanded the City of Tampa by annexing suburbs, helped create the Southwest Florida Water Management District, and began programs to prevent government corruption. He joined the Florida Senate in 1958, served one term, and was elected to the U.S. House of Representatives in 1962.
As a member of Congress, Gibbons became known as a moderate Democrat interested in free trade and tax reform. He joined Congress in time to vote for the landmark Voting Rights Act of 1965, Medicare, President Johnson's War on Poverty, and the Gulf of Tonkin Resolution giving the president the power to wage war in Vietnam — a vote he came to regret. He funneled Urban Renewal funds into Tampa's crumbling inner city and championed free trade. In 1969, he joined the powerful Ways and Means Committee, where he became its chair briefly in 1996. He retired after a stormy stint as the voice of opposition to the new Republican majority in the U.S. House.
Shortly before his death in 2012, Gibbons joined longtime friend and colleague John Germany for a presentation at John F. Germany Library to look back at their experience in local and national politics.  The two men shared how they met and focused on events from the 1950s and 1960s that changed Tampa, including the creation of the University of South Florida.
The Special and Digital Collections Department (SDC) in the USF Tampa Library is proud to house the Sam Gibbons Collection, which consists primarily of materials documenting his career in the United States House of Representatives (1963-1997). The collection also includes materials related to Gibbons' legislative career in the Florida House (1953-1958) and Florida Senate (1959-1962).  Click here to access the finding aid for the collection.
In addition to Gibbons's papers, SDC also provides access to several interviews with the "Father of USF."  In 1985, as part of the USF 25th Anniversary Oral History Project, Nancy Hewitt interviewed Gibbons, where he described his involvement in the creation of USF.  In 1988, Robert Kerstein conducted an interview with Gibbons.  In this interview, he discussed Tampa's urban renewal projects, the annexations of Palma Ceia and Port Tampa, and how the Hillsborough County Planning Commission was founded. He also revisited his role in creating the University of South Florida and establishing its Tampa campus.  Finally, in a series of interviews conducted by Dr. Mark I. Greenberg and Andrew Huse in 2002 and 2003, Gibbons tells his life story including his ancestry, adolescence and education, activities in World War II, political life, and post-retirement plans.
For more information about Sam Gibbons and his legacy, please contact Special & Digital Collections at (813) 974-2731 or email the Special and Digital Collections Department.