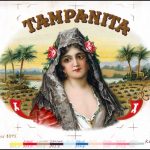 The cigar industry's pivotal role in the development of early Tampa makes collecting, preserving, and researching cigar and cigar box realia and ephemera an important focal point for Special & Digital Collections. The Department's near-complete run of the Tobacco Leaf industry journal and its collection of lithographic cigar box labels represent an important aspect of American and Florida culture.
In addition to cigar labels, USF's cigar art collection has a wide range of items, including cigar bands, cloth and paper cigar premiums, cigar advertisements, and several hundred cigar label progressive proof books. Progressive proof books were compiled for use by the lithographers producing cigar labels. Chromolithographic labels required separate stones for each color used. Each stone prepared for a label initially was printed in black ink and then printed in the color being used.
---
A selection of cigar labels and art is now freely available online.