The USF Libraries support our academic community in many unique ways, and our Oral History Program (OHP) is a prime example of this support. OHP is a free online repository of original interviews that explore Florida's political, economic, social, and cultural issues. Florida being a bellwether state, our issues are often reflective of international ones, and so these oral histories offer unparalleled opportunities for researchers to explore. These rich resources have two areas of focus: Environmental Studies and Sustainability, and Florida and Local History. As the program's new collections specialist, Matt Barganier will be preparing, transcribing, and annotating oral history audio recordings.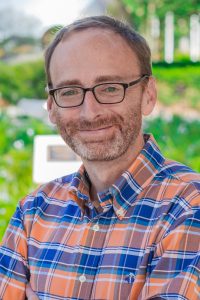 Matt started with us on May 20th, and is currently working on the Florida Fishing Captains project and the Environmental Land Acquisition and Protection Program project. He's also finishing transcripts relating to the founding and early years of USF. He shares, "This position seemed like a good fit with my educational background, professional experience, and personal interest in history." Plus, he enjoys being a part of a college campus again, surrounded by curious and inquisitive minds.
Matt has his Bachelor of Arts in History and Philosophy from Louisiana State University, and his Master of Arts in American Studies from the University of Alabama. "I'm intrigued by how ideas and material circumstances interact and influence events," he shares.
Matt grew up in rural southern Alabama, near Montgomery, and moved to Tampa for his wife Oana to begin her position here at USF in the Academy for Teaching and Learning Excellence (ATLE). Since arriving in Florida, Matt has been enjoying learning about local history, especially Tampa Bay's growth from the late 19th to mid-20th century. He also enjoys photography and visiting art museums, and his most recent reads have been children's books. "I have a toddler," he shares, "but I've also been dipping into Making a Poem by Miller Williams and 20th Century Pattern Design by Lesley Jackson.
"I don't write poetry, but I tend to pick up all sorts of books that look interesting in the moment when I'm standing in a library or bookstore. But well-written poetry can, I suppose, teach us something about efficient and evocative communication of all kinds," Matt shares. As for pattern design? "Well, it's all around us, so I guess it's a way to be interested in the world while you're looking at wallpaper in a waiting room, or what have you."
Matt is looking forward to contributing to OHP with high-quality transcriptions and annotations, making these oral histories more accessible and readily available to the public. "Sometimes it can take decades for scholars to write articles or books about primary documents, so as we release full-access to these materials, they're then ready for use as soon as possible, even for personal interests."
The Libraries' OHP is distinctive, and we're thrilled to have Matt's expertise to better and grow the collection further. You can find his office, #627, on the 6th floor in Digital Scholarship Services, and contact him at mbarganier@usf.edu and 813-974-4040.
Please join us in congratulating and welcoming Matt to the USF Libraries!