The USF Libraries' Digital Heritage & Humanities Collections (DHHC) initiative does substantial research in the field, documenting landscapes, monuments, and more. One of their largest research projects is in partnership with Cape Canaveral Air Force Station, where they are using the latest in 3D laser scanning and imaging to conserve and document Cape Canaveral's invaluable space history.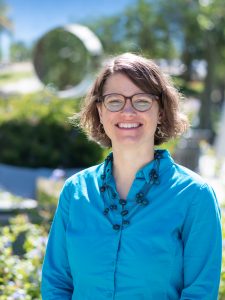 As the DHHC's postdoctoral scholar, Dr. Christine Downs leads a series of geophysical surveys at historical cemeteries on Cape Canaveral. "This is part of a larger project to document the cultural resources on the island, and provide support towards their eligibility to be added to the National Register of Historic Places," Dr. Downs shares.
Dr. Downs received her Bachelor of Science in Geology in 2010 from Salem State University in Salem, Massachusetts, and her Master of Science in Geology in 2012 from the University of Vermont in Burlington, Vermont. She came to Tampa, Florida to begin her doctoral program at USF, and completed her PhD in Geology in 2017. Dr. Downs specializes in shallow geophysics, focusing her research on the use of ground penetrating radar and other technologies to understand processes and features in the shallow subsurface. Her work has identified historic cemeteries and delineating historic structures, and monitors coastal groundwater processes, to name only a few.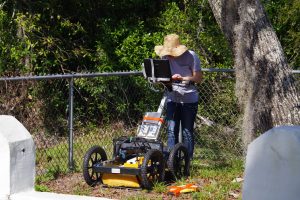 Dr. Downs was offered the postdoc position last November, and joined DHHC at the end of January this year. When Dr. Lori Collins, Director of the DHHC, offered her the position, she says, "I was delighted to stay in the area and be a part of the University from a research position. It allows me to stay in close contact with colleagues and connect with new ones."
Dr. Downs is from Lawrence, Massachusetts, a small city in northeast MA along the Merrimack River. Before moving to Florida, she kept a beehive and even harvested honey from it. Now a Floridian, she continues to enjoy biking and gardening, and is the President of the Association for Women Geoscientists Florida Chapter. When asked what she's most recently loved to read, she shares, "Well, I went from being a PhD student almost straight to new mom. So, I don't really have much brain power left for leisurely reads." Her favorite book is Life of Pi by Yann Martel though, and no, she hasn't seen the movie.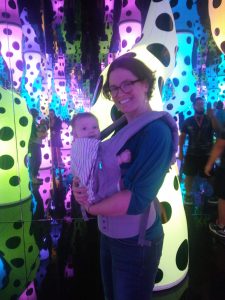 Dr. Downs is looking forward to preparing and publishing papers, being part of an innovative team, and integrating 3D technology with geophysical datasets. "There is a lot of technology at DHHC that is new to me. I'm excited to learn as much as I can," she shares.
Dr. Downs' office is located on the 1st floor of the Tampa Library in the DHHC. You can reach her at cmdowns@usf.edu and 813-507-1998. Find her work on her SelectedWorks and read her research publications on Scholar Commons.
Please join us in congratulating and welcoming Dr. Christine Downs to the USF Libraries!