The USF Libraries are in a period of rapid advancement and transformation, providing impactful services, first-class facilities, and sophisticated technology. In order to support our programs and resources, and guarantee student success, we too need support. That's why we're thrilled to welcome Christina Wisz to our team!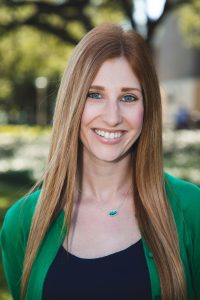 As Associate Director of Development, Christina will focus her efforts on all things development: gifts, donations, fundraising, scholarships, donor relations — investments into the future of the USF Libraries. Christina comes to us from the College of Behavioral and Community Sciences (CBCS), where she was the Assistant Director of Development since July 2018. She joined USF after a successful sales career as an account executive for Konica Minolta here in Tampa Bay.
"I came to the library because of the immense opportunity to benefit and impact students. The library is one of the most unique places on campus because it provides resources and services to all students at all levels regardless of their major or interests. The leadership at the USF Libraries has an amazing vision, and our trajectory is off the charts. We have come so far and accomplished so much and this is just the beginning — I wanted to be a part of that," she shares.
Christina grew up in Livonia, MI, a Detroit suburb, and moved to Florida to pursue her undergraduate degree at the University of North Florida in Jacksonville. She started out a music major with a focus in classical voice, but changed her trajectory and earned her Bachelor of Science in Communication, with a concentration in Public Relations and a minor in Political Science, in 2014 (she still loves to sing!). She was active in her sorority Kappa Delta, and for the last 3 years has been serving as a volunteer chapter advisor for the USF Delta Eta chapter.
Christina moved to south Tampa in 2014 and has been loving it ever since. "I feel so lucky to call this awesome city home," she said. She has a 3 ½ year old Maltese pup named Mia, and loves taking her to all the dog friendly spots. She loves reading memoirs and fiction thrillers, and recently enjoyed The Glass Castle by Jeannette Walls and The Secrets You Keep by Kate White.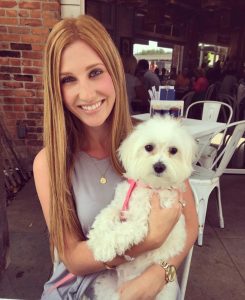 Christina started with us on February 11th and is already off to an incredible start. She's currently raising funds for building renovations, and on USF Giving Day, our Libraries' herdfunder, Give USF #LibrariesLove for 4th Floor Renovation, was one of the top 3 highest funded campaigns across campus!
Christina's office is located on the 6th floor, and you can reach her at cwisz@usf.edu and 813-974-3888.
Please join us in congratulating and welcoming Christina in her new role at the USF Libraries!