The USF Libraries strive to be at the center of 21st century learning and research. Our Digital Heritage & Humanities Collections (DHHC) initiative is a driving force in our mission, using sophisticated spatial technologies to digitally document the world around us, and create opportunities to enhance teaching, research, and creativity. As our new GIS Project Manager, Ben Mittler will advance our mission.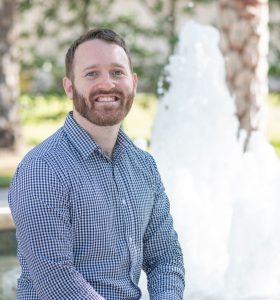 "Most GIS work involves problem solving. Whether it's finding a way to display a unique data set, creating a coherent map out of complicated data, or literally deciphering an error message. I enjoy problem solving, and I've always been one that thinks spatially, so what better profession than one that works with maps," Ben shares.
GIS is an evolving field, and GIS software is constantly becoming more advanced and integrated with other technologies. At the USF Libraries, we've noted these advancements and aim to be at the forefront of these technologies. That's why Ben joined the USF Libraries.
"Depending on your employer's goals, using the latest GIS software and technology may not be a priority. I wanted to be somewhere that would allow me to stay current with the latest and greatest in my field. After doing some research, I found that the USF Tampa Library was the perfect place," Ben shares.
Ben earned his Bachelor of Science in Biology and Master of Science in Aquatic Environmental Science from Florida State University. He grew up in Broward County, Florida, just outside of Miami in Cooper City. He's a Florida native, and moved to Tampa for his wife Sara Friedman who works with USF's Academy for Teaching and Learning Excellence (ATLE), also housed in the Tampa Library on the 6th floor.
When asked what Ben is looking forward to contributing in his new role, he says, "I'm most looking forward to finding new ways to utilize GIS within our workflows, and increase the visibility of our existing GIS projects." Right now, he's working on a number of projects involving the historic downtown area of Tampa.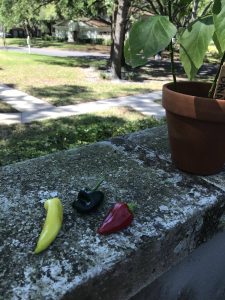 In Ben's time off, you can find him tending to his garden of peppers and making his own hot sauce. He's also a master trivia player, and loves a good strategy board game with friends. His favorite book is The Hitchhiker's Guide to the Galaxy by Douglas Adams.
Ben started with us on November 5, 2018, and his office is located on the 1st floor of the Tampa Library, in the DHHC offices. You can reach him at bmittler@usf.edu.
Please join us in congratulating and welcoming Ben to the USF Libraries!