The Tampa Library Services Desk is a one-stop service point for our USF community, and provides an abundance of specialized assistance and services. Whether it's checking out resources or finding a book on a shelf, the professionals at the Services Desk get materials in the hands of students that enable them to be successful. As the new Library Specialist, Austin Thommas will be in charge of Course Reserves, securing course-related materials for students that are selected by faculty.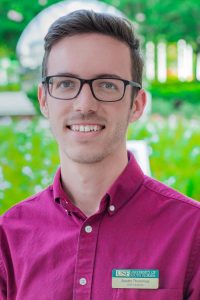 "I am looking forward to streamlining the process behind Course Reserves, and creating a smoother transition between faculty making requests, and the books being placed on the shelves for students to utilize. I am excited that I get to work with student assistants that I can see growing professionally and academically through their college careers," Austin shares.
Austin started with us as a student assistant himself in March 2015, and joined us as a staff member in January 2019. As a student, he initially helped with UBorrow, "unmediated borrowing," which allows students and faculty to request materials from 37 state university libraries throughout Florida. Later, he moved over to the Services Desk and recalls, "I really enjoyed the people I worked with. I understood the importance of what happens at the Library, and how it helps everyone on campus. After graduation, I kept my eye open for an opportunity to get back into the Library."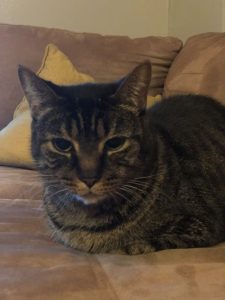 A recent bull alum, Austin graduated with a Bachelor of Arts in Anthropology in 2018, and was a member of the USF Herd of Thunder. "Music plays a huge part in my life," Austin shares. He was a member of two music fraternities, Kappa Kappa Psi and Phi Mu Alpha, and played the alto saxophone from the 5th grade until the day he graduated last spring. Austin is from Ft. Myers, Florida, and came to USF for his undergraduate degree. He enjoys reading and playing videogames, and has an identical twin brother who graduated from Florida Gulf Coast University in Ft. Myers. You can usually find him re-reading Inheritance by Christopher Paolini, the 4th and final book in The Inheritance Cycle high fantasy saga.
Austin continues to be a friendly face behind the Services Desk on the 1st floor, and is excited to be in charge of the Reserves Collection, teaming up with our Textbook Affordability Project. He's currently preparing the collection for the transition to Summer B and then to Fall 2019. "I have always thrived in educational settings, and really enjoy the feeling of knowing that I provide a service that helps students and faculty," Austin shares. You can reach him at adthommas@usf.edu and 813-974-4182.
Please join us in congratulating and welcoming Austin in his new role at the USF Libraries!