Meghan Cook has been a friendly face in the USF Tampa Library since 2018, where she makes up half of the Geosciences Research Platform Team (RPT). As the subject expert for Geosciences, she and her fellow RPT teammate, Matt Torrence, provide support for faculty and graduate students in the USF School of Geosciences in research discovery, publication, grant writing, teaching, and informed collection management.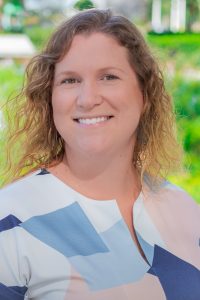 The pair also host Calling: Earth, a podcast produced by the USF Tampa Library in cooperation with the School of Geosciences, where they educate listeners about the world of Geosciences research emerging from USF faculty and graduate students.
Meghan started at USF in 2002 as an undergrad, and has since earned her Bachelor and Master of Science in Geology from the USF School of Geosciences. Currently, she is in the school's Ph.D. program specializing in Geoscience education, and after her doctorate is complete, she intends to enroll in USF's Library and Information Science graduate program.
This past Fall, Meghan was awarded the Up and Comers Award from Against the Grain (ATG), a news organization that reports on "issues, literature, and the people that impact the world of books and journals." Awardees are new to the field in libraries, or are in the early years of the profession. Meghan was recognized as an award winner at the 2019 Charleston Conference Reception in November.
Just this past month, Meghan was also awarded the Association for Women Geoscientists' (AWG) Jeanne E. Harris Chrysalis Scholarship, which provides end-of-degree funding to a geoscientist "who has contributed to, and will continue to contribute to, both the geosciences and the larger world community through her academic and personal strengths."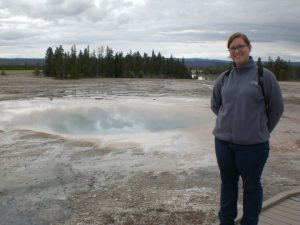 The scholarship award is named after Jeanne E. Harris, who helped found AWG and was an exceptional leader in the geologic community. "With Jeanne's guidance, the Chrysalis Scholarship made it possible to provide tangible help to women on the threshold of their future careers."
Meghan is indeed a future leader in Geosciences and Library Science, and is passionate about the future of both fields. Congratulations Meghan! We are so lucky to have you!
---
Below is Meghan's ATG Up & Comer Q&A published in the December/January issue of their journal. (Photos have been added.)
What attracts you to a career in libraries:
Not necessarily to be or become a librarian, but to create a bridge between my discipline of interest (geosciences) and the world of information available to students and educators.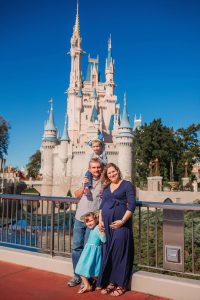 Proudest moment of your career so far:
Winning this award! Also, anytime I am able to facilitate a service or product the library offers to my fellow graduate students that make their life easier.
Family/Pets:
My husband and I have 2 children (with one on the way), 2 cats and a fish. [Editor's note: Baby number three, Gwen, was born in March 2020!]
In my spare time:
I go to Disney World with my family and work in my garden. I am a big fan of Florida native plants so I work on trying to keep my garden as native as possible.
Favorite books:
Any Clive Cussler books and books/journal articles that help me complete my Ph.D.!
Mentors/People who inspire me: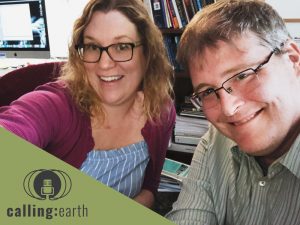 Matt Torrence who is the other half of the Geosciences Research Platform Team, Drew Smith who is a librarian at the USF Libraries and gives great advice and strategies on how a non-librarian can navigate the library world, Jeff Ryan, my Ph.D. advisor, and my Mom who is always there for me and keeps me grounded.
The change I hope to make in the profession:
I hope to blend my expertise in the geoscience world with the information science world to create a hybrid liaison model of sorts to support the needs of both the geosciences and the library.