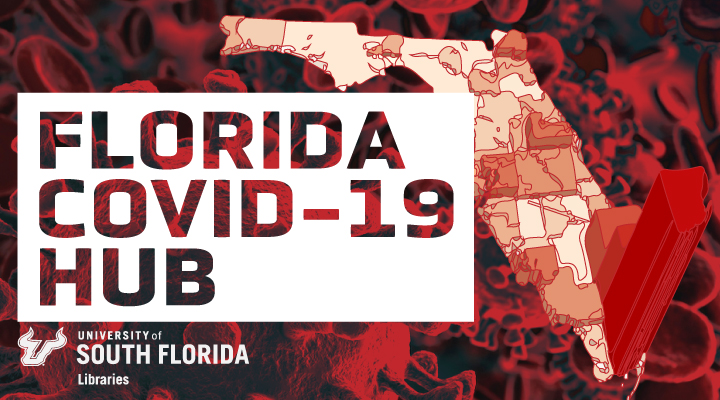 In response the COVID-19 pandemic, the USF Libraries Geographic Information Systems (GIS) Unit of the Digital Heritage & Humanities Collection (DHHC) team created the Florida COVID-19 Hub, an innovative resource center that provides up-to-date data and mapping tools for tracking the virus and aggregates news, social media, and other related sources of information concerning Florida's response to the pandemic. The Hub archives and collects data from important sources, such as the Florida Department of Health and Johns Hopkins University, and provides tools specific to the Tampa Bay region.
Just weeks after the Hub launched, Truist supported the Florida COVID-19 Hub with a generous $25,000 grant contribution as a part of their Truist Cares initiative, which is the financial services company's $25 million philanthropic pledge announced in March to support basic needs, provide medical supplies, and relieve financial hardship due to COVID-19. Truist is the sixth largest U.S. bank holding company, and formed when SunTrust and BB&T combined in a historic merger. Their gift the to USF Libraries established the USF Libraries COVID-19 Research & Information Fund, which supports the immediate and long-term technology needs the Hub.
"In this rapidly evolving situation, having access to real-time data and tracking capabilities is critical to slowing the spread of the virus," said Jim Daly, West Florida regional president for Truist. "We are pleased to support the University of South Florida Libraries in this important effort."
The Hub shows Florida's confirmed cases, results pending, how many residents have been tested, and deaths, and includes a map showing cases in Florida by county, symbolized with red circles to emphasize the largest outbreaks.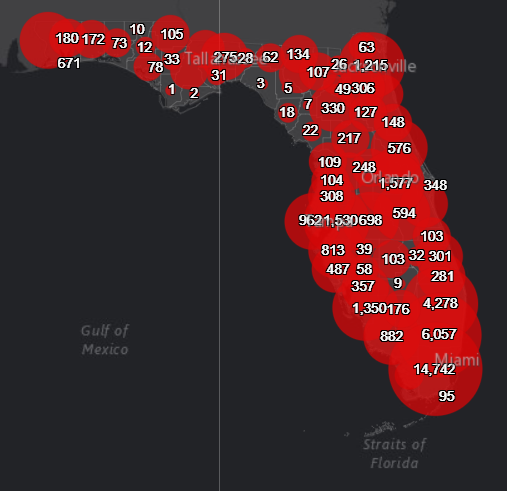 Twitter feeds are embedded for the Florida Department of Health, the University of South Florida, Hillsborough County, and Pinellas County, as well as links to different sources of spatial data. Most statistics are shown live, in real time, and new features are being added on a daily basis.
Benjamin Mittler, GIS Manager at DHHC, said that new features for the Hub include looking at issues relating to crisis management and re-opening. "For the last several weeks, we have been focusing on hot spot analysis and consideration for areas that will remain vulnerable or problematic after the lifting of restrictions," Ben shared. "One area of concern has been nursing homes and long-term care facilities, and while others have focused only on counts, we have been looking at cases and deaths in terms of spatial locations. This will allow for a better understanding of issues in terms of local and county resources and needs, and can be related to other data that can assist in understanding response, mitigation, and problem-solving approaches." (Ben is also being recognized as a USF Hero for his work on the Hub.)
Data relating to the COVID-19 pandemic, or any emergency disaster, helps to inform discussions, decisions, and directions for response, and the Hub serves as a platform for documenting the pandemic for ongoing needs, research, and analyses, and creates an archive for reflection into the future.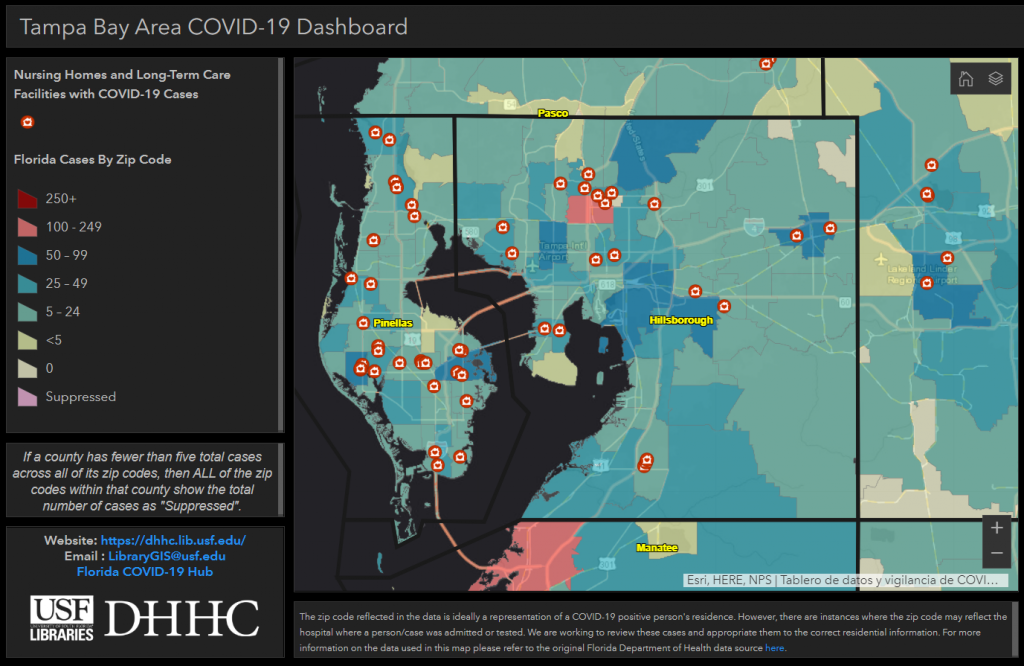 The Hub's development is overseen by DHHC Co-Directors Lori Collins, PhD, and Travis Doering, PhD, with Ben Mittler as Lead Developer and Designer of the Hub. Graduate student researchers are assisting with project needs, like map development, data download, and archival materials collection—learning applied technology skills even in this time of crisis.
Staff and proper tools and equipment are vital to support the ongoing efforts and abilities of the Hub, which ensures digital data and tools are available for students, educators, and researchers, as well as empowering information for the general public.
"At the USF Libraries, we are working hard to provide our community with relevant and potentially life-saving data and information during this pandemic. Through our Florida COVID-19 Hub, and with the generous $25,000 grant from Truist, our team is empowered to continue serving the University, the Tampa Bay region, and beyond," said Todd Chavez, Dean of the USF Libraries.
Additional donations will strengthen the USF Libraries' efforts to gather data, communicate information, provide experience for students, perform research, and inform the community. Those interested in supporting the Hub can learn more and make a donation online via the USF Foundation at usf.to/hub.
Together with Truist and the USF Libraries, help keep our community informed and safe during the COVID-19 pandemic.