Trey Stamm is graduating with a Bachelor's in General Biology this Spring, with a concentration in Ecology and Evolution, as well as a minor in Biophysics. He started working at the USF St. Petersburg's Nelson Poynter Memorial Library (NPML) as a Student Assistant in the ID Center, from November 2017 until March 2020, when the campus closed due to the pandemic. He began working for Access Services at NPML in February 2021. Trey loves to go fishing and boating, as well as just being around nature in general.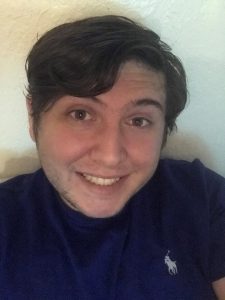 HOW HAS THE LIBRARY CONTRIBUTED TOWARD YOUR ACADEMIC GOALS?
The Library has given me a quiet work environment as well as great jobs that keep me focused.
HOW HAS WORKING AT THE LIBRARY AIDED IN YOUR CAREER GOALS?
Working at the Library aided in my career goals by providing me with a chance to apply myself to various tasks, including the creation of spreadsheets which is very important in the Biology field.
WHAT ARE THE NEXT STEPS IN YOUR CAREER?
I am helping a friend start an aquaculture business which is a fish farm. To do this we are researching sustainable farming options of Mangrove Snapper.
WHAT ADVICE WOULD YOU GIVE SOMEONE ON A SIMILAR PATH AS YOURS?
Advice I would give to others in the Biology major is to get the classes that need labs done first. The hardest thing is planning literally anything fun for your last year if you still have labs to do because they take up a lot of time. Also, check in weekly with your professors about research or internship possibilities, as…the plans fluctuate often. Always be on top of it in case you need to reach out to a different professor.
WHAT HAVE YOU ENJOYED MOST ABOUT WORKING AT THE LIBRARY? WHAT WILL YOU MISS MOST?
What I will miss the most is the people that I have worked with the past four years, as they have always been great to talk to and work with. I will be sure to keep in touch with them.
HOW HAS IT BEEN WORKING AND STUDYING DURING A PANDEMIC?
It's been interesting. A lot of classes were made harder, a couple were made easier. Each semester has been an interesting ride, but I really wish it could all have been in person. I miss the interaction with classmates in person as well as in-class discussions.
FACED WITH THESE CHALLENGES, HOW DID YOU BALANCE IT ALL?
I was able to balance it all by making sure to keep track of the assignments I still needed to do. The difficult part came when the professor was teaching a class remotely for the first time, … [some things are] just simply not possible right now, like field notebooks. This was of course balanced carefully by going to places I remember around campus that have organisms, and planning a day to go to Boyd Hill with a friend.
WHAT'S ONE SKILL OR FACT YOU LEARNED ABOUT YOURSELF OVER THE PAST YEAR OF THE PANDEMIC?
My ability to wear a mask for an extended period of time.
IF YOU WEREN'T SOCIAL-DISTANCING RIGHT NOW, WHAT WOULD YOU BE DOING?
I would probably be planning more days with friends that I didn't get to see often during the pandemic.
---
Congratulations on graduating, Trey! And thank you for your many years of service to NPML! We wish you luck! GO BULLS! 🤘