Reading Time:
2
minutes
Tina Pierson is the Overnight Library Specialist, working the Circulation Desk at the USF Tampa Library. She is graduating this spring with her Master of Library and Information Sciences (MLIS). She enjoys crafts of any kind and cooking, and making homemade gifts for the holidays.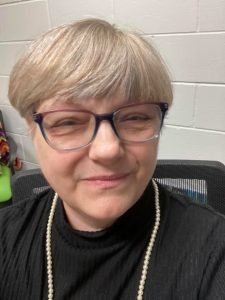 How has the Library contributed toward your academic goals?
Working at USF has allowed me to further my education.
How has working at the Library aided in your career goals?
Absolutely, I earned my MLIS while working in the preferred environment. I gained hands-on experience while earning my degree.
What are the next steps in your career?
I will be searching for a position as a librarian in Florida.
What advice would you give someone on a similar path as yours?
Learn everything you need academically while always remembering we are serving others. Connecting with those we serve is essential.
What is one skill or fact you learned about yourself over the past year/through the pandemic?
I have learned to value my time and not take for granted the simple pleasures in life.
What has been most exciting to get back to now that things are returning to a new normal?
I didn't realize how much I missed Friday night dinner's out and cultural events. I plan on attending more events that we have in the Tampa Bay area.
---
Congratulations on graduating, Tina! We are so lucky to have you and thankful for all your many contributions to the USF Libraries. GO BULLS! 🤘