Reading Time:
5
minutes
On February 28, 2022, President Joe Biden proclaimed March 2022 as Irish-American Heritage Month. Today, nearly one in ten Americans trace their lineage back to Ireland. In his Proclamation he stated:
The United States and Ireland are deeply and forever intertwined: linked in memory and imagination — in joy, sorrow, and resilience — by our common love and common dreams. We share, in every heart, an unrelenting optimism — a flicker of hope that guides us through even the darkest of nights.
As we celebrate Irish-American Heritage Month, let us honor the journey and contributions of Irish Americans who helped shape this land of opportunity and define what it means to be American. Let us reaffirm the legacy of friendship and strong family ties between the United States of America and Ireland — united by our common purpose, by our histories, and by our futures.
Irish-American Heritage Month also coincides with Women's History Month, and so at the USF Libraries we want to celebrate both, bringing you a spotlight on an incredible Irish-American woman in our Anglo-Irish Literature Collection: Mary Jane O'Donovan Rossa.
One hundred years ago, on January 16, 1922, Great Britain formally handed over Dublin Castle to the Provisional Government of Ireland (Rialtas Sealadach na hÉireann)—ending more than 700 years of British rule in Ireland. Nine months later, on October 25, 1922, the Irish Free State (Saorstát Éireann) officially became a member of the British Commonwealth of Nations.
As this centenary is celebrated by the Irish worldwide in 2022, we will hear plenty about the great heroes Michael Collins, Patrick Pearse, James Connolly, John Devoy, and Jeremiah O'Donovan Rossa—men who dedicated their lives to freeing Ireland and who helped lay the foundations for the Irish Free State. But we will hear precious little of the women who fought just as diligently. Truly, if there were any justice, we would all be toasting the achievements of Mary Jane O'Donovan Rossa this St. Patrick's Day.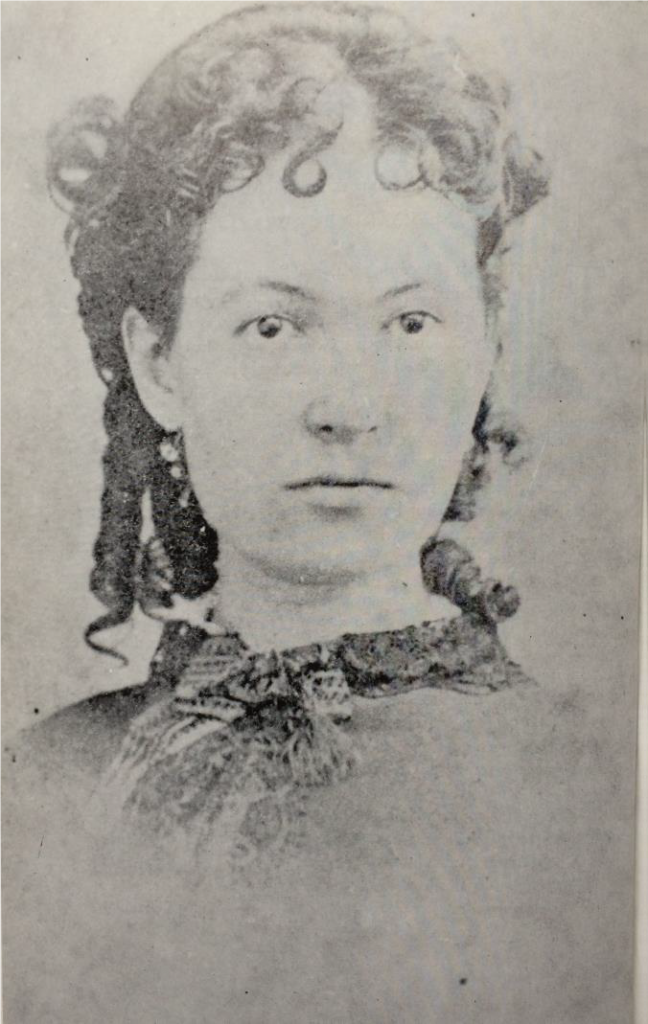 Mary Jane was nineteen in 1864 when she married Jeremiah O'Donovan Rossa, an internationally renowned member of a nationalist movement pledged to free Ireland. Known as the Irish Republican Brotherhood (IRB) in Ireland and the Fenian Brotherhood in America, this group had reportedly mustered more than 100,000 men, some battle-hardened Civil War veterans, for a planned Irish insurrection in late 1865. That same year, Mary Jane helped found the Ladies Committee in Ireland, joining the Fenian Sisterhood in America as auxiliaries of the IRB and Fenian Brotherhood.1 Considered primarily fundraising organizations by the public, these women were, "the keepers of important secrets, traveling from point to point bearing important messages, and were the chief agents in keeping the organization alive."2 They were propagandists and organizers, running safe houses and conveying fugitive members to safety.3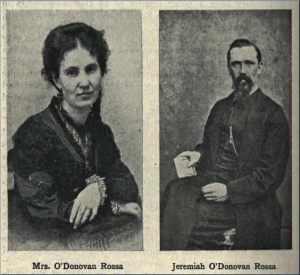 If the Victorian ideal of "true womanhood" demanded "piety, purity, submissiveness, and domesticity,"4 these women clearly did not read the proper journals, instead proclaiming:
We are an organized body of ladies, whose object is the attainment of an Irish government for Ireland… We are enrolled in a sacred army; we believe wholly in the forcible logic illustrated by walls of glittering bayonets, in the eloquence of musketry, the appealing charms of the cannonade… They call us rebels; and we glory in the name. We are rebels against England's right to set her heel upon our hearts, treading out the life she could not annihilate; we are rebels against evictions; rebels against the Famine graves of Ireland; rebels against tyranny… Narrow is our pathway to freedom, dark our way, and a river of blood must flow through green Erin.5
As intent as the Ladies Committee and the Fenian Sisterhood were on supporting the planned insurrection in Ireland, however, a wave of arrests in Ireland in the final months of 1865 stifled the promised rebellion.
Mary Jane's husband Jeremiah was one of those imprisoned, and she toured the United States to raise awareness, sympathy, and finances for the IRB and Fenian prisoners in British jails. Her events consisted of lectures, poetry readings, and songs, acting as a catalyst for keeping her husband's imprisonment and the cause of Irish freedom in the minds and the hearts of the Irish in America. These events proved to be incredible propaganda for the Fenian cause and raised considerable sums of money. Mary Jane's popularity soared, and "The Prison Widow" was respected even by those who did not take up the Fenian cause. At the Republican National Convention in 1869, one delegate proclaimed that Mary Jane's example justified why women should have the vote!6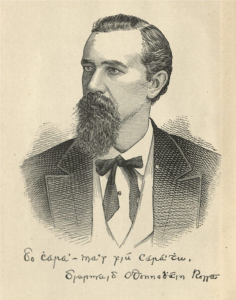 As successful as Mary Jane's nationwide speaking tours were, she could not just purchase the freedom of her husband and the Fenian prisoners. Instead, she managed to raise such a public outcry that in June 1871, Jeremiah and four others were released from prison—if they vowed to never again return to Ireland. Jeremiah quickly became a pillar of the Irish-American nationalist agitation and a scourge of the British government. He helped raise "Skirmishing Funds," which were used to establish a dynamite school in Brooklyn and later fund a terrorist campaign of dynamite attacks on Britain from 1881-1885—all the while controlling the physical-force message in his newspaper, the United Irishman. If Jeremiah tended to steal the spotlight in the fight for Irish independence, Mary Jane worked tirelessly behind the scenes, crafting his image and effectively editing the United Irishman for years.
But perhaps Mary Jane's most important decision came upon the death of her husband in 1915. Mary Jane felt that his remains should be taken from New York to Ireland, and a grand funeral should be held to celebrate the life of this tireless warrior against British rule in Ireland. At this event, Patrick Pearse delivered the funeral oration that would serve as a battle-cry across Ireland and pave the way toward rebellion in 1916.
Without the tireless efforts of Mary Jane O'Donovan Rossa to see her country free, Pearse might never have spoken, Jeremiah may have died forgotten in prison, the Petticoat Revolutionaries of the Ladies Land League and the Irish women so instrumental in labor activism in the United States may not have gained such strength, and the history of Ireland might look very different today. As it stands, whether you are celebrating St. Patrick's Day, Irish-American Heritage Month, Women's History Month, or the centenary of the formation of the Irish Free State, think about toasting to the memory of Mary Jane O'Donovan Rossa, a true Irish-American rebel and icon. Sláinte!
---
1 Judith E. Campbell, "The Bold Fenian Wife," in ed. Miriam Nyhan Grey, Ireland's Allies: America and the 1916 Easter Rising (Dublin: University College Dublin Press, 2016), 61-74, at 62.
2 John Devoy, Recollections of an Irish Rebel. A Personal Narrative. New York: Chas. P. Young Co., 1929.
3 Eva Ó Cathaoir, Soldiers of Liberty: A Study of Fenianism, 1858-1908 (Dublin: Lilliput Press, 2018), 200-202.
4 Ely M. Janis, "Petticoat Revolutionaries: Gender, Ethnie Nationalism, and the Irish Ladies' Land League in the United States," in Journal of American Ethnic History, 27, no. 2, 2008, 5-27, at 6.
5 Irish-American, 25 February 1865, 4. From a speech dated 6 February 1865 in Chicago, IL, given by Ellen O'Mahony.
6 'Irish Republican Convention', Daily Inter Ocean, 7 July 1869. See also Campbell, "The Bold Fenian Wife," 64.