Reading Time:
4
minutes
The month of June celebrates Pride and the LGBTQIA+ community and the ongoing strides being made to fight for equality, create awareness, build acceptance, and celebrate accomplishments. At the Tampa Special Collections, we host more than two dozen archival collections and thousands of monograph and journal volumes written about or by the LGBTQIA+ community. The LGBTQ+ Collections focus on documenting history, culture, politics, community relations, and public health—and major themes throughout the collections include identity, sexual orientation, gender identity, gender studies, feminism, activism, and legal rights.
As an active collecting area, the department was thrilled to welcome two interns in past spring semester to improve and promote these collections. The Digital Humanities and Ted Hipple Conscious Editing interns each had very different goals for their work in Special Collections, but their final projects equally highlight and celebrate the LGBTQ+ community past and present.
Queer Life and Literature in the 19th Century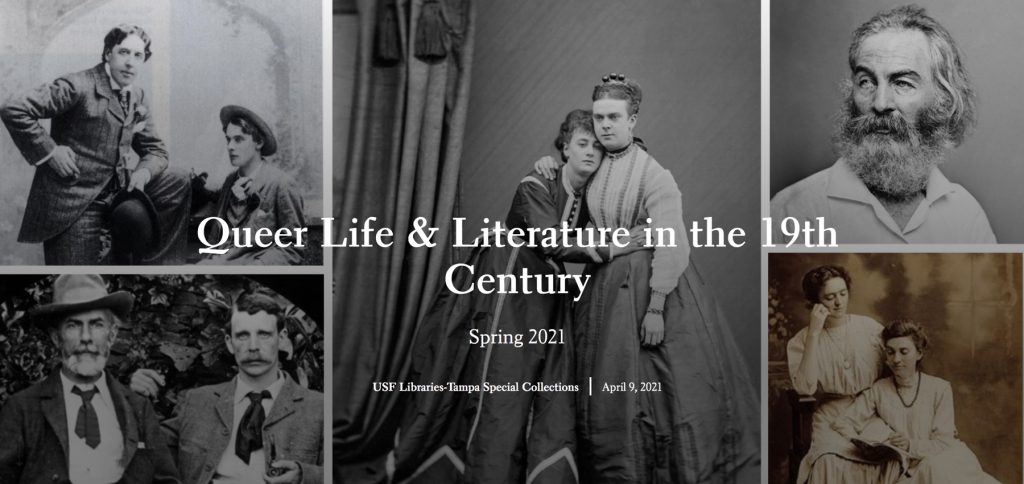 History and English double-major Emma Frank joined the department in Spring 2021 as a Digital Humanities Intern. Emma wanted to create more resources focused on LGBTQ+ history based on her experiences using the Bobby Smith Photograph Collection in one of her courses. Emma's keen eye for research and interest in untold stories drew her to the Ellis Hughes Diaries from the Second Seminole War. The diaries provide stunning visuals and compelled her to explore queer life and literature in the nineteenth century. Hughes, who was a travelling Army surgeon, spoke in his diaries about his conflicted feelings on homosexuality. Emma suggests, "the diaries reveal a clear internal conflict between homoerotic desire and Christian beliefs."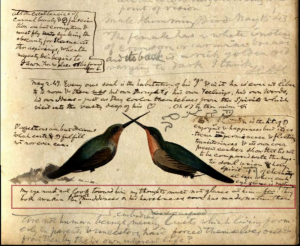 Emma's internship allowed her to conduct research, study digital humanities and digital pedagogy, and develop a StoryMap exhibit that investigates themes and events in queer history and literature as seen through the lens of items in Special Collections. With Hughes' fascinating diaries as her launching point, Emma was then inspired to use the case of Oscar Wilde and how his writings and trials served as an important turning point in LGBTQ+ history. The exhibit features items from the LGBTQ+ archives, as well as the Queer Literature, Rare Books, and Book Arts collections.
Click here to browse Emma's exhibit.
Conscious Editing and the Ted Hipple Collection
Maria "Mimi" Coto graduated in the spring with a dual-BA in English and Women's and Gender Studies, and was the Ted Hipple Young Adult Literature Collection Conscious Editing intern in Special Collections. Her internship had a broad scope, and allowed her to focus on many areas including conscious editing of catalog records, promotion of the Hipple collection, and processing of archival manuscripts. Mimi found herself embarking on a newfound passion for conscious editing while working with the YA collection, as well as expertise in Women's and Gender Studies.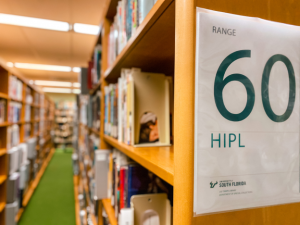 Mimi presented her research at the Undergraduate Research Conference in April 2021 titled, "LGBTQ+ Inclusion through Conscious Editing," which won Best of Arts and Humanities. Mimi describes the goals of conscious editing as allowing library professionals "to actively monitor and change archival descriptions, resulting in updated language and an increase in diversity. The importance of updating text's subject headings is tied to making them more searchable with contemporary and inclusive language. This includes removing offensive or outdated language, improving ease of access for research, as well as promoting inclusivity within libraries."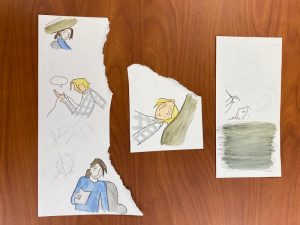 To capture all of her hard work, Mimi created an exhibit introducing the Hipple collection with an emphasis on LGBTQ+ authors and themes. Her list of new conscious editing terms will be formally submitted later this year to the Library of Congress to add to their controlled vocabularies for subject headings. Mimi will be starting USF's MA in English Literature program this fall.
Explore Mimi's exhibit here.
Celebrate With Us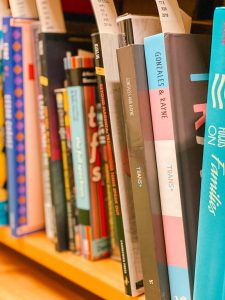 Learn more about the LGBTQ+ collections by exploring the LGBTQ+ Archives and Book Collection Guide.
If you're interested in visiting Tampa Special Collections to conduct research using the LGBTQ+ collections, you can search for archival materials through ArchivesSpace and books in the Library Catalog.
Tampa Special Collections is currently open by appointment only for USF students, staff, and faculty. You can request an appointment here.
Learn more about current internship opportunities here.