Reading Time:
2
minutes
Skyya Edwards is a Student Assistant at the USF Tampa Library, working at the Front Desk. She is graduating this spring with her Bachelor's in Film and New Media. Skyya loves to dance, eat, sleep, and watch TV, and enjoys colorguard and listening to music.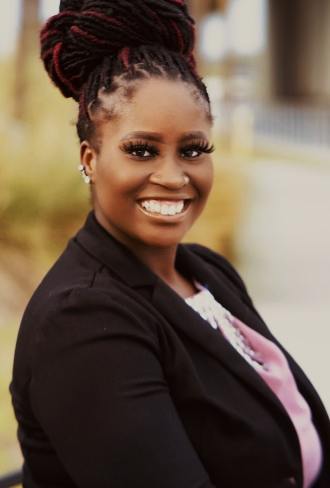 How has the Library contributed toward your academic goals?
I learned more about my personal study habits and how drastically they change over time.
How has working at the Library aided in your career goals?
I learned how to work with different personalities and take criticism.
What are the next steps in your career?
Expanding my knowledge and skills during my film and digital media internships.
What advice would you give someone on a similar path as yours?
Don't be afraid to take risks! Live in every moment! Enjoy every opportunity to the fullest!
What have you enjoyed most about working at the Library? (What will you miss most?)
Meeting new people and helping others be successful. I will also miss making people laugh and smile.
What is one skill or fact you learned about yourself over the past year/through the pandemic?
Depending on what subject the class is, whether it should be in person or online. Not all classes should be online in order for me to be successful.
What has been most exciting to get back to now that things are returning to a new normal?
Seeing people and making someone's day!
---
Congratulations on graduating, Skyya! Thank you for your many contributions and wonderful energy. Good luck with your future endeavors. GO BULLS! 🤘