Samantha Sonntag is a Student Assistant in the Stacks department at the USF Tampa Library, graduating this Spring with a Bachelor's in Integrative Animal Biology (Human), with a minor in History! She just started playing bass guitar a few months ago, and admits it's taken over her life, "I can easily spend hours practicing!" she shares.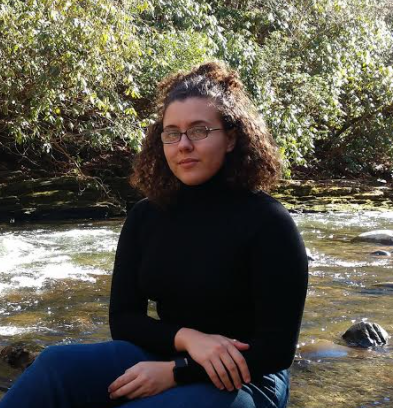 HOW HAS THE LIBRARY CONTRIBUTED TOWARD YOUR ACADEMIC GOALS?
I have utilized the Libraries' resources for many papers and research projects. The ability to access a large variety of scientific journals through the Library was very beneficial to me throughout my academic career at USF.
HOW HAS WORKING AT THE LIBRARY AIDED IN YOUR CAREER GOALS?
Working at the Library has allowed me to meet many different people who are headed in many different directions. We all know that networking is a significant skill to cultivate regarding career success,  and this is something that I was able to work on during my time at the Library with both staff and other student employees.
WHAT ARE THE NEXT STEPS IN YOUR CAREER?
I intend to earn the Master of Science in Biotechnology from USF and pursue a career in the industry.
WHAT ADVICE WOULD YOU GIVE SOMEONE ON A SIMILAR PATH AS YOURS?
It is okay to feel like you aren't sure what you want to do in life. In STEM, it is easy to think that you must set an ultimate goal for yourself early on, and that if you stray from that path, there is a sense of loss. I changed my mind dramatically from what I had always imagined myself doing, and I did not know what I wanted until my last semester. Talk to your friends if you feel this way; it is much more common than you think.
WHAT HAVE YOU ENJOYED MOST ABOUT WORKING AT THE LIBRARY? WHAT WILL YOU MISS MOST?
I genuinely enjoyed talking with all my coworkers. I made friends from this job, and that isn't something I've had working in other places.
HOW HAS IT BEEN WORKING AND STUDYING DURING A PANDEMIC?
I think the virtual style of classes and the lack of campus life put a depressive mood over most students. Personally, I am extremely disappointed in how my last few semesters have been because of this. Thankfully, most of my professors and their TAs have created virtual classroom environments that are welcoming and conducive to learning. While it is true that some classes have been seriously lackluster, I have had many where I am thankful for the hard work that went into converting the courses into virtual formats, and the flexibility that the instructors have shown since this all began.
FACED WITH THESE CHALLENGES, HOW DID YOU BALANCE IT ALL?
Luckily, I did not have many burdens to balance.
WHAT'S ONE SKILL OR FACT YOU LEARNED ABOUT YOURSELF OVER THE PAST YEAR OF THE PANDEMIC?
I learned that when the constant hustle and bustle feeling of the semester stops, it is easy to feel like you're not getting anything accomplished. However, I did get the chance to explore personal hobbies and do more things that I probably wouldn't have done before the pandemic began.
IF YOU WEREN'T SOCIAL-DISTANCING RIGHT NOW, WHAT WOULD YOU BE DOING?
I would be doing a lot more traveling without the pandemic. At least the isolation gives me more time to plan road trips!
---
Congratulations on graduating, Samantha! And thank you for your many contributions to the Tampa Library. Good luck, and GO BULLS! 🤘