Dr. Henrietta M. Smith, Professor Emerita in the USF School of Information, passed away April 21, 2021 at the age of 98. She was a scholar, writer, librarian, and nationally known storyteller.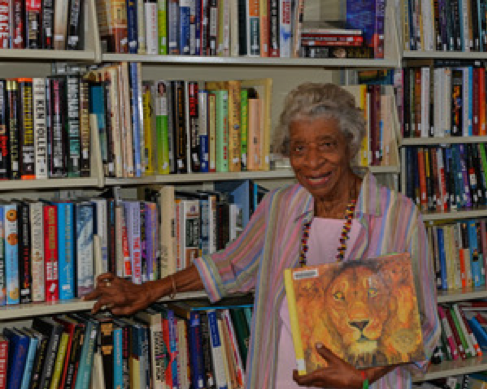 Dr. Smith studied English and History at Hunter College in New York, and received her BA in 1943. She received her BS and MS in Library Science in 1946 and 1959 from Columbia University, and in 1975, completed her doctorate in Curriculum and Supervision at the University of Miami. In 1985, she was recruited to teach at USF in the School of Information, and was the first Black professor at the School of Information. She specialized in Children's Literature, Multicultural Literature, and Storytelling, and taught until her retirement in 2014.
In 2000, the Henrietta M. Smith Residency Program Endowment at the USF Libraries was established in her honor. The residency supports diversity and inclusion in the field of librarianship. USF librarians Tomaro Taylor and John Abresch were the first Henrietta Smith residents, and both have continued their careers in librarianship at USF, serving our community for a combined 35 years.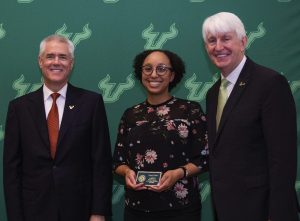 When asked how the residency has benefited her career, Taylor shared, "Residents benefit from the guidance and mentorship of established academic librarians, who are there to help the new librarian's professional identity evolve. The residency provided [me] the unique experience of developing close, collaborative relationships with colleagues within, across, and beyond the USF Libraries, as well as engaging in professional development and scholarly publishing opportunities."
Dr. Smith will be missed and forever remembered as a leader for women's rights and increasing diversity, equity, and inclusion in higher education and librarianship. Read more about her and her legacy in USF School of Information's Henrietta M. Smith: In Memoriam. Information about visitations and services can be found in her obituary.
To honor Dr. Smith, gifts can be made to the Henrietta Smith Residency Endowment at the USF Libraries. If you are interested in learning more, contact Christina Wisz, Associate Director of Development at cwisz@usf.edu, or 813-974-3888.